BBC Documentary On PM Modi: Students DU barred from writing exams plan to fight back
BBC Modi Documentary: "If I apologise, it will [mean] I have committed an act of indiscipline which I did not," said a DU student.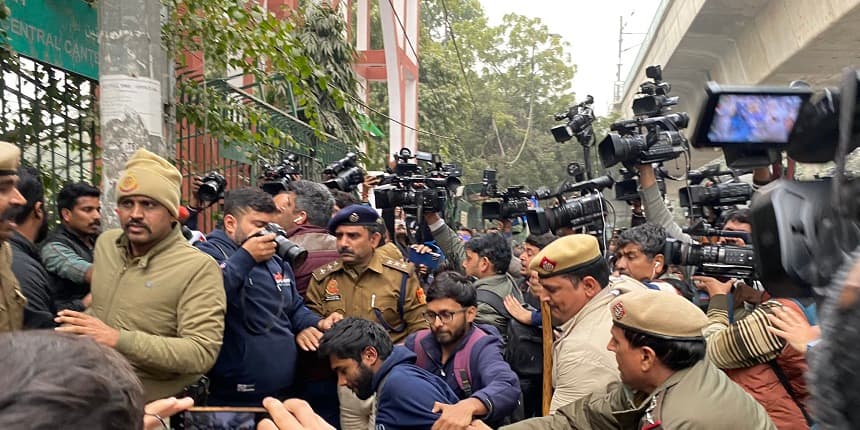 Sanjay
|
Mar 21, 2023 - 5:09 p.m. IST
NEW DELHI: The two students barred by Delhi University (DU) from taking examinations for one year for attempting to screen the 'banned' BBC documentary on the prime minister, Narendra Modi in January, have alleged that they are being targetted for their "dissenting voices''. They said they will challenge the "confidential memorandum" issued to them in court if DU does not withdraw it.
Suggested: Browse the list of colleges/universities accepting CUET 2022 Score. Free Download!
Don't Miss: CUET Cut Off 2022 (UR-OBC-SC-ST). Check Now
Also See: DU Admission Process. Check Now
In separate confidential memoranda issued on March 10, DU barred two students from taking exams for a year – Lokesh Chugh, a PhD scholar in the anthropology department and Ravinder Singh, pursuing masters in philosophy. While Chugh is media in-charge of Congress-affiliated National Students' Union of India (NSUI), Singh is a former law student and member of Bhagat Singh Chhattra Ekta Manch (BSCEM). The memoranda said that the documentary, India: The Modi Question, is "banned". While Chugh claimed that he was not present in the screening event, Singh said he was among the detained students. Both have questioned the DU authorities for taking "harsh action" against them.
They said that their careers are at stake as their future academic plans will be delayed by a year for allegedly participating in "an act of indiscipline", as the memorandum says. Another student who has been given a "less strict punishment" and asked to tender an apology, said he won't and will challenge the notice in court.
"It is a direct attack on dissenting students' voices. The government is afraid that students can create a movement against them. Hence, they place their own people in college administration who are trying to curb every dissent arising in the campus," Singh told Careers360.
"I know how to respect the decorum of university. I was not there in the screening event and I am shocked that the DU administration has taken action against me. Keeping my organisation's view in front of the media does not create any ruckus or indiscipline in the lawns of DU. It is clear I am being targetted for my views and affiliation with NSUI," said Chugh.
On January 27, DU's Art Faculty witnessed protests over the attempt to screen the BBC documentary on the 2002 Gujarat riots and then chief minister Narendra Modi's alleged role in them. Student activists of National Students' Union of India (NSUI), Bhagat Singh Chhattra Ekta Manch (BSCEM) and the Bhim Army Student Federation (BASF) were also detained by Delhi Police during the screening event. On January 28, DU set up a seven-member committee headed by chief proctor Rajni Abbi – former Delhi mayor from BJP – and asked it to submit the report to the vice-chancellor, Yogesh Singh, by January 30.
Also Read | Bid to screen BBC documentary at DU aimed at 'creating chaos'; won't allow indiscipline: VC Yogesh Singh
'Targetted Action'
Based on the committee's report and recommendations, DU's disciplinary authority on March 10 debarred Chugh and Singh. Another six students have been given "less strict" punishments.
The students alleged that they are being targetted as they belong to "dissenting" student organisations. They also questioned the affiliation and ideologies of committee members who probed the January 27 incident.
Ashutosh Singh Boddh, BCom final year student of Satyawati College and DU unit in-charge of Bhim Army Students Federation (BAF) has been "directed to submit written apology" for his "misconduct" and "act of indiscipline" for participating in the showing of "banned BBC documentary".
"There were around 100 students present during the screening and Delhi Police had detained around 25 students on the day of screening but action has been taken against eight students only. It is an attack on dissenting voices within the campus. They do not want to face any criticism," Boddh said.
"We were manhandled during the event.Following the incident, DU had formed a committee in which all the seven members are affiliated to RSS in some way or another. You can check their social media handles and you will get to know about their beliefs and views on dissenting voices," he added. The Rashtriya Swayamsevak Sangh is the ideological parent of the Bharatiya Janata Party (BJP).
Apart from Abbi, the other six members of the committee who probed the January 27 incident are Ajay Kumar Singh from the department of commerce, professor Manoj Kumar Singh, joint proctor, professor Sanjoy Roy of the department of social work, professor Rama, principal of Hansraj College, professor Dinesh Khattar, principal of Kirorimal College, and Gaje Singh, chief security officer.
Singh, who graduated from DU's law faculty last year said: "It is disgusting to say that screening a documentary and that too by a reputed media organisation like BBC is committing a crime. Prof Rajni Abbi, DU's chief proctor is a former Bharatiya Janata Party (BJP) mayor. Even after being a professor at law faculty, she does not respect the fact that the Supreme Court is yet to decide whether or not BBC documentary should be banned. Hence, we need to understand how they are serving and to whom they are serving."
Abbi did not respond to Careers360 calls.
Chugh said he was not there at the screening event and he is "shocked" that the DU administration has taken action against him. "On January 27, I was present in live media debates with Delhi University Students Union (DUSU) president Akshit Dahiya at several TV channels and was giving media bytes too. Neither did I attend the screening nor was I detained or named in the FIR. If action is taken against me for putting out my views on a BBC documentary, why is Akhil Bharatiya Vidyarthi Parishad's (ABVP) Akshit Dahiya being spared ? If you are taking action against me for my views, is it not a violation of my freedom of speech and expression ?" he asked.
Also Read | BBC Documentary Screening: Students detained, ruckus at universities
'BBC documentary blocked not banned'
DU said in the memoranda that "there was a ban on showing of the BBC documentary by the Government of India" and "act of participation in showing the banned BBC documentary is an act of indiscipline".
On January 19, the ministry of external affairs (MEA) had described the BBC documentary as a "propaganda piece" that "lacks objectivity and reflects a colonial mindset". On January 21, the ministry of the information and broadcasting invoked its emergency powers under the IT Rules 2021 to direct the removal of the documentary links from YouTube and Twitter.
While hearing a petition seeking to restrain the union government from blocking the BBC documentary, the Supreme Court on February 3 asked the centre to produce the original records relating to the order on the next date of hearing. The matter will next be heard in April 2023.
The students facing the heat of DU administration questioned the move of the university to take action against them when the matter is pending in apex court.
"I don't think it is an act of indiscipline when students were watching documentaries on their laptops and mobile phones at Arts faculty. If legal action is to be taken, then Delhi police should do it. Why is DU taking action against its own students? The ministry of information and broadcasting has blocked this documentary and not banned it," said Chugh.
"Even though the Supreme Court is yet to give its verdict on whether the documentary needs to be banned or not, the DU administration is dubbing it as 'banned documentary.' We will first approach the administration to take confidential memorandum back but if they don't do it, we will challenge this memorandum in court also and we are pretty sure that it won't stand beyond a hearing," said Singh.
Careers at stake
Both Chugh and Singh said that their future plans will be derailed due to the punishment.
"My studies will be affected as I have to approach authorities and maybe have to go to court. If the administration does not take back the memorandum, it would take me three years to complete a two years masters course. I am planning for my PhD and now it will be delayed for a year because I won't be allowed to sit for the examination for a year. What would I do in this year ?" asked Singh.
Chugh submitted his PhD thesis on March 4 and was served a memorandum on March 10 saying that he won't be allowed to sit for any exam for a year. "I have approached authorities and told them to watch video recordings of the protest to see whether I was there or not. I appealed to them to take back this notice but if they don't, we will definitely go to court," he said.

Also Read | PM Modi: 'Ignore those who throw allegations at you'
Meanwhile, Boddh won't apologise. "If I apologise, it will send a message that I have committed an act of indiscipline which I did not," he said.
He further said: "Hard action has been taken against Singh and Chugh. Both are upper caste students. I think hard action has not been taken against me as I am a Dalit student and they were fearing that it may turn out to be an incident like that of Rohith Vemula of University of Hyderad. In 2016, a committee was formed which initiated action against Vemula and he was also debarred from taking the exam and was asked to vacate the hostel. Similar kind of thing could have happened here too if they had debarred me from taking exams and hence they did not take harsh action against me."
---
Follow us for the latest education news on colleges and universities, admission, courses, exams, schools, research, NEP and education policies and more..
To get in touch, write to us at news@careers360.com.
Know More About
NIRF Rank
13
Rating
3.9/5
Download Brochure