'I want to reduce cost so students can make career choices freely': BITS VC
Group VC of BITS Pilani, Hyderabad, Mumbai, Goa and Dubai, V Ramgopal Rao, on curriculum change, fees, dual-degrees with RMIT Australia.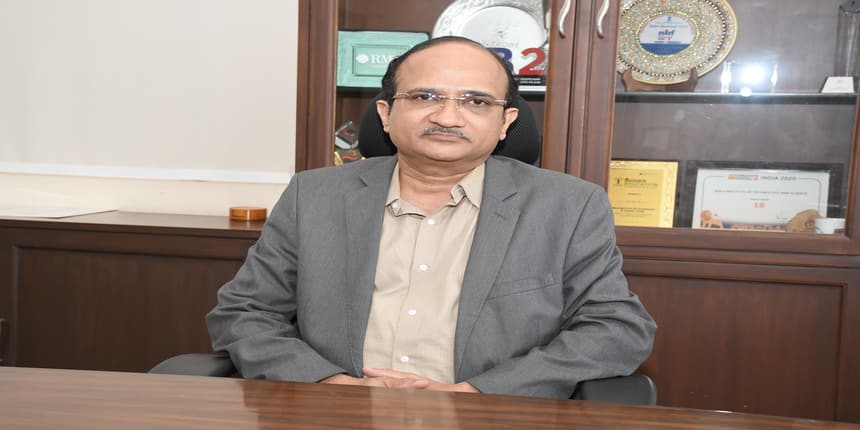 NEW DELHI: The Birla Institutes of Technology and Science (BITS) will see changes in the curriculum, set up a diversified financial model, and launch dual degrees in collaboration with foreign universities. Former director of the Indian Institute of Technology (IIT) Delhi, V Ramgopal Rao, recently became the group vice-chancellor of BITS Pilani, Hyderabad, Goa, Mumbai and Dubai. He spoke about engaging BITS alumni, the collaboration with RMIT University Australia, curriculum change, and efforts to ensure that fees and education loans don't restrict career choices. Edited excerpts below.
Q. What are your plans for these institutions?
A. In the private sector, BITS Pilani is the most trusted brand and is also an Institution of Eminence. It is a 60-year-old Institute. All norms here are like any older Indian Institutes of Technology (IIT). This has its own pros and cons. It's good in the sense that BITS has gained the trust that we associate with publicly-funded higher educational institutions. But this also means we are limited by all the restrictions of the government system. I don't call it negative but when I look at a private system like BITS, we need to take all the positives of a government system and also retain the flexibility of a private system. That's what we will have in mind as we move forward.
If you look at countries like the US, many top institutions there are privately-funded and there is a financial model and a certain way in which they have achieved that excellence. I think replicating that in India is urgently needed. This is something that I would like to accomplish – show how a privately-funded institution can be as good as a government institution or even better.
Live Updates | JEE Main Result 2023
Q. Are you working on anything with specifically the students in mind?
A. The only issue about BITS is, being a 100% self-financed institution, the tuition fee is on the higher side right now. This is because of the lack of a diversified financial model. The career choices of the students at times depend on the student loans they have taken. Not many are able to pursue higher studies or even take risks in starting companies after graduation. I think we can do something about it and we need to consciously work towards diversifying our financial model. If you look at MIT or Harvard or Stanford – and other privately-funded institutions – the tuition fee component is about 20 to 25 percent. The remaining two-thirds of the revenues come from other sources. They include overheads on research, philanthropy and then the endowment funds. Some of these, like research overheads, endowment funds etc., are missing in the Indian system. We need to work on this. I had started an endowment fund at IIT Delhi. Something on the same lines is needed at BITS Pilani too.
BITS has 1,50,000 alumni. We will be strongly connecting with the alumni base. We are planning to undertake a visit to the US and Canada this July-August to connect with the alumni in multiple cities. We will also be looking for recruitment of high-quality faculty at BITS during this trip. We will also be keen to recruit some international faculty from neighbouring countries who are studying in top institutions. BITS is a trusted brand and also has some highly distinguished alumni. The goal will be to engage them.
Q. You have said there will be a major curriculum change. What are you planning?
A. The curriculum revision is more to keep pace with the changing technology and pedagogical trends. The last major curriculum revision was in 2011. New courses and programmes are introduced every year. I am talking more about flexibility for students, multiple new programmes of study keeping in pace with the changing technology trends, more hands-on training programmes, and experiential learning. Now students have multiple ways of receiving information. BITS has also been following a zero-attendance policy for a long time, which everybody talks about with pride. Students don't go to class for attendance but to learn something and that is also a challenge. The burden is now on the teachers to get the students to the classroom. A lot of innovation in pedagogical techniques is therefore required. BITS had pioneered many innovative teaching-learning techniques.
Also Read | AICTE's minor degrees are helping fill BTech seats in engineering colleges
In the current times where students are bombarded with information from all sides, the traditional pedagogical techniques are bound to fail. We need to evolve new techniques and approaches – flipped classroom, design thinking, experiential learning and more laboratory training. The role of a teacher in the current context is more like that of a mentor, coach, curator, and collaborator. Given its history, BITS will take the lead in these teaching-learning methodologies. There are over 3,000 BITS alumni in faculty positions all over the world. We also have many alumni in technical leadership positions. Through these consultations, we will evolve a curriculum which is more modern, appropriate for the 21st century and takes into account all the technological advances that have taken place all over the world. We will also be implementing the provisions present in the new National Educational Policy.
Q. How are the BITs institutions in India different from that in Dubai?
A. Right now, there is one senate which decides all the programmes which are mostly uniform across the four campuses. There are however differences based on the regional requirements. BITS Mumbai has come up very recently. They are mostly into management; they also started a new school of law. The remaining four campuses are much more tightly integrated. In the future, we will also be looking at integrating the different programmes across the campuses. For example, a five-year degree programme where the student can start in one of the other four campuses and move to the Mumbai campus for the last one-and-a-half years and get a degree in law or management. We are also looking at integrating the Mumbai campus more tightly with the rest. Both law and management have seen an infusion of many advanced technologies in the recent past.
Also Read|Fill 27,693 vacancies in IITs, NITs, central universities by 2023-end: Panel to education ministry
What happens in Dubai is different. The admission processes are also slightly different. As most of the students, there are international students, they follow SAT and other admission criteria. Some of the programmes offered there are also different considering the local requirements. The fee structure is different. The faculties, however, are all centrally hired. Many faculty from the Indian campuses have moved to Dubai and many have also joined fresh there. The faculty standards are maintained across all campuses.
Q. BITS is also setting up a new academy with Royal Melbourne Institute of Technology (RMIT) Australia.
A. With RMIT, which is among the top institutions in Australia, we will be offering more dual-degree and joint-degree programmes. Students get dual degrees if they meet the requirements of the degree here and also the requirements of RMIT. Also, a joint PhD programme, where students can spend time there, is being set up. We will be offering joint programmes even at the BTech level and of course at the master's and PhD levels. The scope of this collaboration between BITS and RMIT is much broader compared to other ongoing joint degree programmes in the country. It will be applicable in all the BITS institutions except Dubai.
---
Follow us for the latest education news on colleges and universities, admission, courses, exams, schools, research, NEP and education policies and more..
To get in touch, write to us at news@careers360.com.
Know More About
NIRF Rank
18
Rating
4.4/5
Download Brochure