How Chandigarh University rose to the top in tourism and hospitality management
Chandigarh University's tourism and hospitality management programmes have hands-on training from the first semester.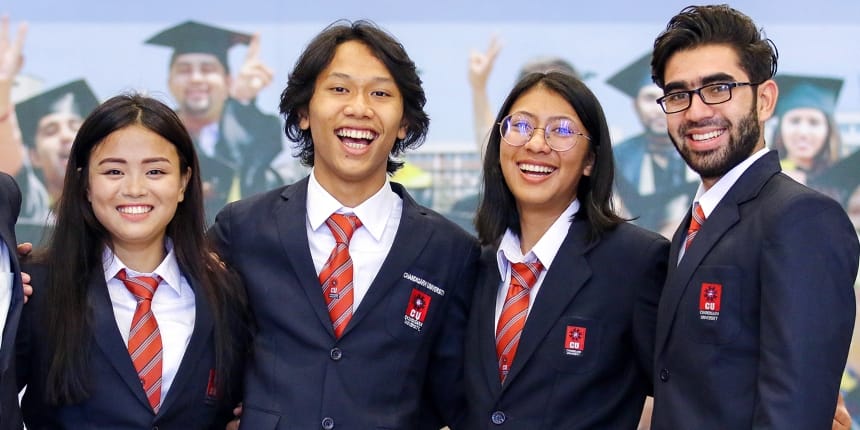 NEW DELHI: When the QS World University Rankings by Subject 2023 were announced in March, Chandigarh University was the only Indian university to be ranked in the top 101-150 institutions for hospitality and leisure management. The university was also ranked 25th in Asia for the same subject.
Officials attribute much of the university's success to the strong club systems that allow for hands-on learning. It also provides flexible degree options and free access to online repositories through various tie-ups. Teachers and officials at the university believe that its performance in the QS World University Rankings is due to a strong reputation among employers, which is one of the five parameters the rankings consider.
Chandigarh University's University Institute of Tourism and Hospitality Management (UITHM) offers two programmes each in the hospitality and tourism departments which cover a range of hospitality, restaurant, tourism, hotel management courses.
In hospitality, the institute offers BSc Hotel and Hospitality Management and BSc Culinary Sciences. The BSc Hotel and Hospitality Management is also offered as a four-year course along the lines of the National Education Policy (NEP) 2020 wherein students can graduate with a degree in three years and an honours degree in four. The tourism department offers BSc in Travel and Tourism Management and MBA in travel and hospitality management.
The club system
Officials at UITHM credit much of its good performance to the strong club system that is present at the Chandigarh University. Students at the university have to mandatorily be part of clubs such as those for bakery, housekeeping, event management, and others. These clubs have a mixture of students from different departments and semesters and they have to conduct events every week.
"Every Wednesday and every Friday we organise a Khana Bazaar. Students make the food, serve it and there will be event management students organising the thing. By the time the students graduate, they will have practical knowledge. Because they work in groups with other students, their interpersonal skills, leadership skills, are honed," said Manish Sharma, principal, UITHM, Chandigarh University.
Also Read| Campus Placement: How new universities find jobs for freshers without a 'brand' or alumni
Practical learning and flexibility are key features of the curriculum, said teachers.
"Throughout India, similar setups are present in all institutes. But there are some attributes only our department has. For instance, we have practicals in our tourism courses like itinerary designing, costing, practical courses around tourism geography. Secondly, we are one of the only private institutes to implement NEP. Through this, we give students the flexibility to leave the degree either in the third year or in the fourth year with honours," said Sandeep Guleria, professor, tourism, UITHM, Chandigarh University.
Minor degrees and online learning
The university also offers minor degrees. In hospitality management, students can choose from three minors in event management, catering and restaurant management, nutrition and dietetics. In tourism, students can pick either business analytics or digital marketing as a minor degree.
Unlike specialisations, which the courses still provide, minor degrees allow students to learn more about the minor subject from the first semester itself.
The university has also tied up with the University of North Alabama in the United States of America, the Vancouver Island University in Canada, and the International Management Institute in Switzerland to offer '2+2' courses which will give students the opportunity to study two years in India and two years abroad.
Chandigarh University also offers online courses in collaboration with platforms such as Coursera and LinkedIn.
"Those courses are open and they cost a fortune but since we have an agreement, any student from Chandigarh University can learn free of cost. For instance, if a student wants to learn Excel, all he has to do is sign in using his Chandigarh University email id. It is not limited to the subjects taught in the courses, there are many varieties of courses," said Sharma.
The university also encourages students to apply for online courses provided by the central government through National Programme on Technology Enhanced Learning (NPTEL) and has appointed a counsellor to help students find and apply for courses.
"The whole idea is to make them life-long self-learners. Of course we handhold them because students are coming here straight after their Class 12 and MOOCs are new to the Indian education system," said Sharma.
Hotel management internships, placements
Students also have to attend a six-month mandatory industrial training. Officials said that this is where the club activities help most.
"By the time the student goes for industrial training, their performance is much better than that of other students. He works with seniors or faculty members [in clubs]. So, by the time he is in the internship, he knows how to behave and what to do in the team," said Sharma.
Students are also given the opportunity to work in five-star hotels abroad.
"We also send one of the largest chunk of students involved in these programmes to the USA. This year, I think, 48 of our students have gone to the US for internships. From the entire country only 100 students have gone, I think, and 48 out of those are our students," said Sharma. "Apart from this, students go to all the five-star hotels in Thailand and Kuala Lumpur, to intern. As far as jobs are concerned, we have agreements with many hotels here. Most organisations have been coming here for the last five-seven years and this speaks well of our students," said Sharma.
Also Read| 'You will be able to study engineering with music soon': Siksha 'O' Anusandhan VC
Often, students return from internships with offers of permanent jobs.
"Except for students who want to go for higher education, set up start-ups or join family businesses, we are able to place all. All the travel agencies, tour operators, are hiring our students," said Guleria.
"The highest package at the institute was Rs. 24 lakh last year and there are more than nine students who were placed with packages of Rs.7 lakh per year. On an average, they will get Rs. 3-4 lakh," said Sharma.
Post-covid boom in hospitality
The hospitality and tourism industry was hit hard by the Covid pandemic and the measures to control it. Admissions at Chandigarh University had plummeted during the pandemic years.
"In the Covid times, the numbers were low because airlines were down, hotels were shut and there was a shunting of employees from the hospitality sector. That fear among parents and general people was there. It impacted us a lot. We are now reviving. The hiring is now above average," said Chetan Chauhan, professor of hospitality.
With the industry getting back to its pre-Covid levels of operation, and the university's performance in the QS Rankings, teachers expect to soon see the pre-pandemic admission levels.
"When I interact with parents, they are aware of our rank. It helps us justify ourselves and why we are the best. We can show what makes us different and how the curriculum can give practical knowledge. Every teacher has industry experience of over eight years on average. Such things make us stand out from our peers," said Chauhan.
Chandigarh University officials also see huge opportunities opening up in the coming years.
"Because of Covid, hospitality and tourism have seen fewer graduates over the last few years. This has caused a dramatic shortage in the workforce," explained Sharma. "With more and more infrastructure being developed and the sector opening up, there is a huge shortage, not only in India but internationally as well."
---
Follow us for the latest education news on colleges and universities, admission, courses, exams, schools, research, NEP and education policies and more..
To get in touch, write to us at news@careers360.com.
Know More About
NIRF Rank
29
Rating
4.2/5