'Online classes cannot replace what teachers are doing': DUTA President
DUTA president Rajib Ray said that the push for online courses in funding of public education may dilute the value of a degree.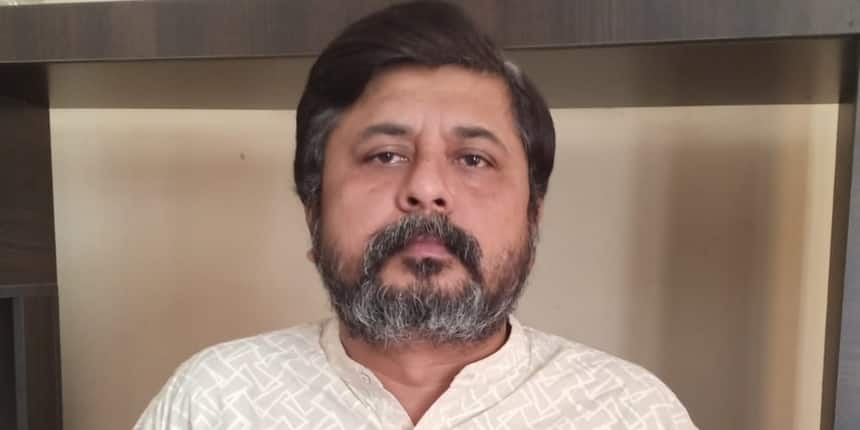 NEW DELHI: The Delhi University Teachers' Association has been one of the most vocal opponents of the National Education Policy (NEP) 2020 and in August, resisted the decision to implement it from 2022. So bitter was the opposition to online courses, the academic council had to defer the decision on allowing them in degree programmes. DU Teachers' Association president spoke to Careers360 about the connection between the push for online courses in funding of public education and why it may dilute the value of a degree.
Recommended: Know Your Admission Chances in DU Colleges Based on Your 12th Percentage. Click Here
Q. How do you see the NEP recommendations, including the blended learning approach?
A. We have to look into public-funded mass education and quality. It has to be a mixture of quality and quantity. The obvious reason why they are doing it is to control expenditure. If they have teachers physically present, they will have to pay for them. But if I have a module which can be repeated over a long duration of time, which can be prepared for maybe three months for less than Rs 90,000, you would require that amount of money in a single month on a single teacher. So, a module which can work for DU, for all state universities, 40-odd central universities may be cost effective.
Also Read| 'UGC must revisit curriculum, student-teacher ratio': Central University of Punjab VC

But Indian universities like DU are also producing a high number of PhDs every year and the question of the employment of these highly-qualified teachers is also very important. If the workload [based on which the number of teaching posts is computed] goes down in the name of online courses, we'll lose teachers. Online classes cannot replace what the teachers are doing.
Then, people from all over the country are applying for undergraduate courses in DU. Of course there is a digital divide. These resources are being created but are we reaching the people who really do not have the resources? I seriously doubt that. Having a mobile phone does not make someone e-literate.
Q. Who do you think these courses are for?
A. We have reached a Gross Enrolment Ratio of 27 or 28. This is based on UGC reports that I doubt but the target is to reach 50 by 2030. What they are trying to do is to get an age-group or a section of people to online courses and correspondence courses. There will always be a market for those people who want a degree. A degree is something the Indian middle class want to empower itself with.
Q. Is there a question of quality when it comes to online courses?
A. What is actually required is a huge influx of funds into higher education which is not happening. To give an example, in central universities, the expansion after the introduction of the 27% OBC reservation should have been complete by 2010. Teaching posts were supposed to be increased in two parts. But the second tranche is yet to come up. This is Delhi University. In September, 2019, posts were allotted to colleges but they have not even been advertised so far.
On December 5, the ministry called us and told us that additional EWS teaching posts will be given in 30 days. Eight months has gone, where are the EWS teaching posts?
Then, if you increase the course duration by a year, you'll have 25% more students and you need infrastructure. Where are the classrooms and teachers? Has a single Paisa come for that? None. The government is not giving funds to central universities.
Also Read | Online journalism degree to include credit system, practicals, hands-on training

Since this is an easy situation, it is possible many will opt for these online courses. That will enable them to get them credit which will be in the credit bank and they can collect credits from different places. The process required to get to the degree has already been diluted.
They want to teach 40% courses via digital platforms because they are not going to increase expenditure. The only money being spent is for marketing the National Education Policy.
Funding does not just mean teacher's salary. It means new infrastructure, new courses. Now, the public institutions are open for every strata of society which is not be the case in the coming phase.
We have to expand mass education and also take quality very seriously. We have to take very seriously the private well-funded institutions. In management, law, nursing, privatization happened many years ago. Many well-funded institutions are coming up in liberal arts, sciences, and social sciences. The best of central universities and the best of public higher education institutions in the country should also rise to the occasion. If they kill us by not funding, what happened in schools will happen here – the middle classes will move to the private sector.
Most of the universities funded by UGC started as philanthropic initiatives in pre-independence era but today nobody wants to do that – everyone wants to make profit out of them. UGC is allowing courses in self-financed mode and students end up paying much more. In the name of making it a level playing field for private universities, students from underprivileged backgrounds are going through hell.
Q. What are your main objections to online education?
A. Our objection is largely what they are trying to do with the present structure.
The present structure visualises moving 40% courses moving to online. This is being described as "student friendly". On the face of it, it looks like the student will have choice. But in reality, that will not be the case. A choice-based credit system depends on what the institutions are willing to offer. So, can I take up philosophy and maths? History and psychology? You can't because the government is not giving institutions money to recruit those teachers.
Also Read | MBA: Institutions are now offering hospital management programmes online

So, students may lack options in their area of interest in the college they are primarily admitted to. They will look outside. Who will be moving out? Students from less popular colleges to the more popular ones. A few institutions will make money. Many colleges in DU maybe successful but what will happen to others?
I don't mind online courses supplementing the regular programmes. You add a new paper which you are not doing in a traditional manner – that is fine. But here it is replacing what is being taught in higher education institutions. You are replacing teachers with uniform modules created through different platforms. That will take away employment opportunities for many.
Q. How will this affect poor students?
A. You'll have to get teachers, get infrastructure to students. How many students have more than this four inch by two inch mobile phones? How many would have a tablet or laptop? 50% of my students do not have Wi-Fi at home. I doubt it'll be better in other institutions.
I do not want to speculate on this but it will be the poor who will move out in the multiple entry and exit system. Right now, there is pressure to complete a degree in three years. But with the changes, they will consider getting a diploma. The structure should be different for a diploma. If the diploma is just one year of the degree structure, you will not be fit to do anything.
---
Follow us for the latest education news on colleges and universities, admission, courses, exams, schools, research, NEP and education policies and more..
To get in touch, write to us at news@careers360.com.
Know More About
NIRF Rank
11
Rating
3.9/5
Download Brochure