'Every student gets a level playing field', says VC FLAME University
Recently established, FLAME School of Computing and Data Sciences focuses on research in computing technologies.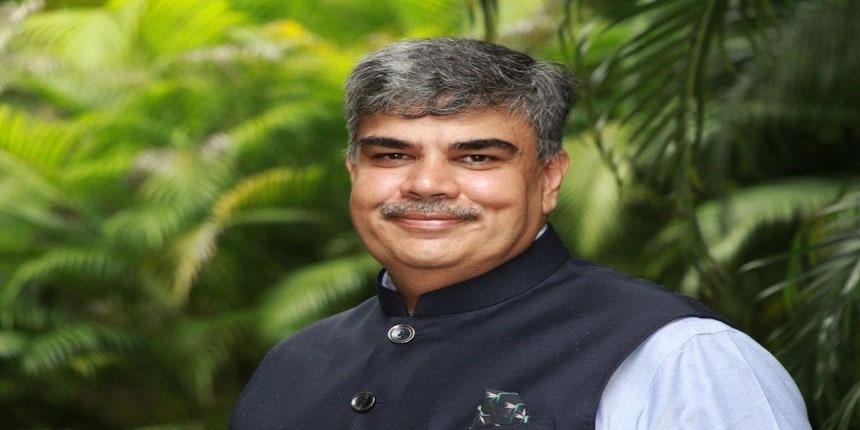 NEW DELHI: FLAME University has launched an MSc in economics, established the new School of Computing and Data Sciences and a summer school to offer a host of offline and online courses. The private university in Pune, Maharashtra, offers over 350 combinations of major and minor courses. Vice-chancellor Dishan Kamdar spoke to Careers360 about liberal arts education, FLAME's alumni and education policy.
Q. India has started realising the value of multidisciplinary liberal arts education. Given this context, what new courses are you planning to launch?
A. It is heartening to note the increasing interest in liberal education among the students in India. As the pioneer of liberal education in India, it reinforces the founding vision of FLAME University.
We offer the largest portfolio of courses with more than 400 unique courses and more than 350 combinations of major and minor courses.
At the undergraduate level, we have introduced new interdisciplinary majors in data science and economics, computer science and design and design management. We have also introduced the choice of an optional fourth year in line with the new National Education Policy.
At the postgraduate level, we have recently introduced MSc in economics. The programme is designed to create a knowledge base to analyse economic problems using modern data science methodologies – how to access and process big data using advanced econometrics and computational techniques to answer questions from varied areas in economics.
A PhD programme offered in the areas of data science, psychology, economics, management, environmental studies, humanities and sociology has been introduced to develop the next generation of knowledge creators.
Recently we have also launched the FLAME Summer School which provides university students across the world an opportunity to experience the interdisciplinary ethos of FLAME University. Courses are offered across disciplines from areas like creative writing, economics, entrepreneurship, psychology, computer science, geographic information systems, international relations, art history, South Asian history, theatre, and media studies. The courses are taught by our faculty along with international faculty from our international collaborations. While most courses will be delivered in person, some will be offered online.
Also Read | UGC has 'no proposal' to absorb ad-hoc teachers: Education Ministry
Q. Several liberal arts universities are launching science and technology-oriented courses. Is FLAME also planning to?
A. FLAME University has recently established a new school: FLAME School of Computing and Data Sciences with the vision to be one of the leading centres of education and research in computing technologies. It offers majors in computer science, computer science and design, data science and economics, and a doctoral programme in data science.
It also enables an opportunity for the faculty at FLAME to work on interdisciplinary and cutting-edge research in this field. The faculty at this school come from diverse industry and academic backgrounds ranging from computer science, mathematics, statistics, engineering, geoinformatics, bioinformatics, and business.
Q. You have had a few batches of graduates so far – what have they gone on to do?
A. Our alumni are present around the world and have gone on to pursue higher education in some of the leading institutions, like Harvard University, University of Oxford, Columbia University, Yale University, University of Pennsylvania, University of Chicago, The Johns Hopkins University, University of California - Berkeley, Northwestern University, London School of Economics, INSEAD, University of Texas, Tufts University and many more.
Many of them work in consulting, tech, financial services, media, think tanks, and consumer businesses. To name a few of the top companies where they are working - Deloitte, McKinsey, Amazon, Google, Microsoft, Credit Suisse, JP Morgan, BBC News, Lowe Lintas, The New York Times, Carnegie India, World Bank, United Nations, Hindustan Unilever, Nestle, The Walt Disney Company, etc.
Other than joining the corporate world or pursuing higher education, our graduates have also made many distinct choices about their careers and are making remarkable achievements. Some of these include starting a school of public policy, creating music in bollywood, producing independent short films, and becoming performing artists, while others are making a change in the world by winning IBM's Call for Code Challenge 2021 for their venture called "Saaf Water". One of our alumni has been awarded the "Sanctuary Young Naturalist Award" for her incredible and ethical work as a conservation leader who strives to balance wildlife, communities, and ecosystems. Some graduates are starting their entrepreneurial ventures while some others are striving to scale up their family businesses.
Also Read | NIRF Ranking 2022: IIT Madras claims best institute title in India again
Q. There have been massive changes in the admission system in central universities. The University Grants Commission is also eager to have more universities participate. What admission policy has worked for you and do you see FLAME accepting Common University Entrance Test scores?
A. FLAME University's admission policy seeks to select the best performing and well-rounded applicants. FLAME has developed an internal assessment process that considers, but is not limited to, the following aspects of a prospective student's application: admission test, personal interview, past academic record, essay, extracurricular activities or achievements, statement of purpose, work experience (if any).
Candidates are shortlisted based on their overall performance on these parameters. FLAME has found over the years that students who perform well in the academic programmes at the university are those who don't just have consistently good academic scores, but also, logical reasoning, competency in language, an ability to observe, identify and convey ideas, lucidity of thoughts, a sense of vision and purpose, motivation levels, ability to work in groups and above all a zeal to learn. Evaluation by multiple parameters is also consistent with empirical research on the selection that shows greater efficacy of admission processes that use multiple parameters.
For its various undergraduate, postgraduate and doctoral programmes, FLAME already accepts various admission entrance test scores. The admissions committee of FLAME University will be evaluating CUET as one of the options for admission for next year.
Q. What are your views on the NEP's proposals for higher education?
A. What makes this policy radical is that it requires education to be interdisciplinary. The focus on making education multidisciplinary is significant. It will benefit students and have far-reaching effects. With a creative combination of subjects, cutting-edge curriculum, flexible options, and multiple entry and exit options during the undergraduate course, students can explore their areas of interest. This kind of approach will foster intellectual curiosity, a critical thought process, self-reflection, leadership and teamwork skills, a sense of commitment, professionalism, and a heightened sensitivity to one's socio-cultural environment.
The NEP also heralded the extremely pragmatic step of opening up opportunities for the top 100 international institutions to set up campuses in India.
At FLAME, we have an interdisciplinary approach to education and hope that these policies will open up a new world of opportunities for students.
Also Read | UGC's inclusion guidelines cover disabled, LGBT students, acid-attack survivors
Q. Since you launched, have you seen changes in your student community? Do you take special steps to ensure diversity?
A. The student's intake has seen steady growth over the years and has become more diverse. We make focused efforts to ensure diversity in the student profile and as a result today we have students from over 30 Indian states and union territories, more than 125 cities, and 10 countries. The female-to-male ratio stands at 65:35. A third of our student body is on various types of scholarships that we provide – merit-based, need-based, and sports scholarships.
We support students through peer-mentoring and faculty-mentoring with one faculty and one peer mentor for every eight students. There are full-time and visiting counsellors as well. There's a special programme in place to help students with special needs. Our objective is to ensure support for our students at all times. At FLAME, we make sure that every student gets a level playing field to excel in what they love.
---
Follow us for the latest education news on colleges and universities, admission, courses, exams, schools, research, NEP and education policies and more..
To get in touch, write to us at news@careers360.com.
Know More About
Rating
3.5/5