NMC allows FMGs to intern in over 670 hospitals; frames internship guidelines
NMC allows FMGs to intern in over 670 hospitals; frames internship guidelines
The NMC has allowed foreign medical graduates (FMG) internship in these 673 teaching and non-teaching hospitals as a 'one-time measure' and the list is valid only till May 2024.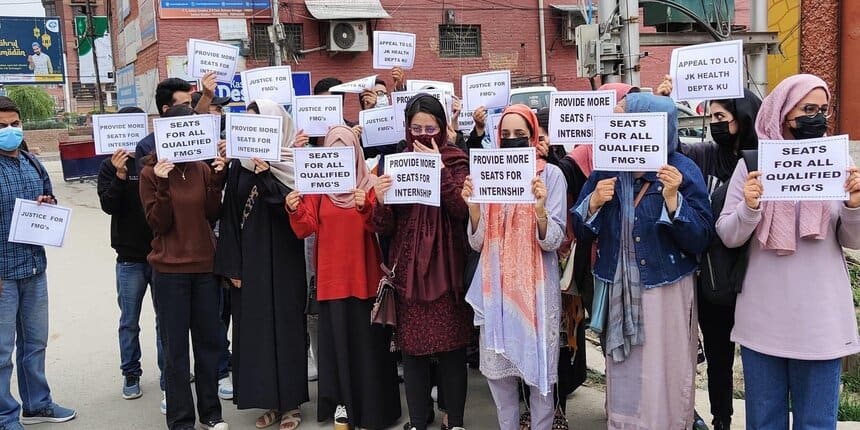 Sanjay
|
May 10, 2023 - 8:34 p.m. IST
NEW DELHI: In a major relief to Foreign Medical Graduates (FMGs), the National Medical Commission (NMC) on Tuesday provided "one-time relaxation" to them to complete internship in India. It has validated the list of recognised non-teaching hospitals for Compulsory Rotating Medical Internship (CRMI) issued by the erstwhile Medical Council of India (MCI) for one year (upto May 2024), for internship for FMGs only. The commission has listed more than 650 hospitals including non-teaching hospitals across India where FMG graduates can complete their internship.
"This relaxation is granted only as a one-time measure. The allotment of FMGs in these non-teaching hospitals shall also be done only through concerned state medical councils," NMC said.
According to the latest NMC circular, there are 673 hospitals where FMGs will be allowed to complete their internships. The circular has been issued by NMC at a time when medical graduate students in India that completed their MBBS in a foreign country, have been demanding the concerned authorities in different states to take actions for the smooth process of their FMGE internships.
The number of hospitals in different states and UTs approved by erstwhile MCI for purposes of compulsory rotating internship training are given below:
FMG: Number of hospitals offering internship
| | | |
| --- | --- | --- |
| Serial No | State | No of hospital |
| 1 | Andhra Pradesh | 30 |
| 2 | Andaman and Nicobar Island | 1 |
| 3 | Assam | 21 |
| 4 | Bihar | 29 |
| 5 | Delhi | 21 |
| 6 | Gujarat | 49 |
| 7 | Himachal Pradesh | 6 |
| 8 | Kerala | 20 |
| 9 | Madhya Pradesh | 45 |
| 10 | Maharashtra | 74 |
| 11 | Tamil Nadu | 40 |
| 12 | Karnataka | 62 |
| 13 | Odisha | 17 |
| 14 | Punjab and Haryana | 42 |
| 15 | Jammu and Kashmir | 2 |
| 16 | Nagaland | 1 |
| 17 | Rajasthan | 62 |
| 18 | Tripura | 1 |
| 19 | Uttar Pradesh | 72 |
| 20 | West Bengal | 33 |
| 21 | Dama and Diu | 1 |
| 22 | Dadra and Nagar Haveli | 1 |
| 23 | Manipur | 1 |
| 24 | Military Hospitals | 15 |
| 25 | Railway Hospital | 27 |
| 27 | Total | 673 |
Also Read | NMC issues state-wise list of medical colleges allowed to conduct internship for FMGs
CRMI Regulations 2021: Internship within two years of MBBS
The apex regulator of medical education and profession has issued clarifications regarding mode and method of conducting medical internship of FMGs in India. It has requested all state medical councils and directorates of medical education to ensure the implementation of guidelines while allocating medical colleges to FMGs
According to NMC guidelines, the FMGs are required to undergo supervised internship in India for a minimum term of 12 months in medical colleges or institutions approved for providing CRMI to Indian medical graduates. The allocation of medical colleges to these FMGs will be done by the concerned state medical councils based on merit.
"The Internship shall be completed within two years of passing the final MBBS or Foreign Medical Graduate Examination (FMGE) or National Exit Test (NExT) Step-I examination, whenever in force," NMC stated.
FMG Internship: Online classes, Covid-19
In the latest circular, NMC clearly states that it has not approved or validated the medical qualifications (both theoretical and practical) through online mode only. It said that the online study of medical qualification (theory along with practical) is not a valid mode of study.
However, during the Covid-19 pandemic, online classes conducted by medical colleges in India were made valid on the condition that these classes "will be supplemented by practical and clinical training as per current curriculum in all MBBS subjects in the colleges and affiliated hospitals," NMC said.
Two-years internship
NMC has said that the provision of two years internship is applicable only to those FMGs who were in their last year of their study of medical qualification and returned to India due to COVID-19 or Russia-Ukraine War.
"After successful completion of the medical qualification, such FMGs are required to qualify FMG Examination (FMGE) and subsequently undergo CRMI for a period of two years (schedule of 12 months to be repeated) in a hospital attached to a medical college only," the commission said.
Other FMGs are biund to acquire a valid medical qualification and qualify FMGE to undergo CRMI for a period of one year.
Also Read | NMC gives relaxation to foreign medical graduates who had to return from Ukraine and China
FMG Internship: Domicile State
NMC has asked the state medical council to not not deny allotment of medical colleges for internship to FMGs on the basis of their domicile.
"An FMG can complete his/her internship from a medical college in any State and UT, if found eligible otherwise," NMC said.
In case, an FMG has already completed first one year of his/her internship in any medical college in India, he/she shall be free to complete remaining part of his/her intemship (2 year of internship) from another medical college in any state and UT, as per the availability of seats for conducting internship for FMGs.
FMG internship stipend
In May 2022, NMC had requested all directorates of medical education and state medical councils to ensure that no internship fee is charged by the medical colleges from FMGs. It also asked them to provide stipend and other facilities to FMGs as equivalent to Indian medical graduates.
However, considering the requests and representations from various state governments, UTs and medical colleges wherein it was intimated that there has been no budgetary provision in their allocation of annual budget to provide stipend to FMG, the NMC in October 2022 clarified that the amount of stipend to be paid to the interns is to be decided and fixed by the appropriate authority applicable to the institution.
Also Read | AIIMS excluded from list of medical colleges offering mandatory internships to FMGs: NMC
The implementation of stipend guidelines for FMGs is solely at the discretion of the concerned state authorities under which the medical college or institute is located, NMC said.
"However, stipend is payable to FMG interns only during second year of internship, as one year is in lieu of the missed clinical training during MBBS course in foreign medical college," NMC said.
---
Follow us for the latest education news on colleges and universities, admission, courses, exams, schools, research, NEP and education policies and more..
To get in touch, write to us at news@careers360.com.