NMC 'lax' for private, 'strict' for government medical colleges': Doctors, students on derecognition
NMC 'lax' for private, 'strict' for government medical colleges': Doctors, students on derecognition
NMC has derecognised 38 medical colleges for MBBS a month before NEET counselling 2023 due to attendance, CCTV issues. Many find the reasons 'lame'.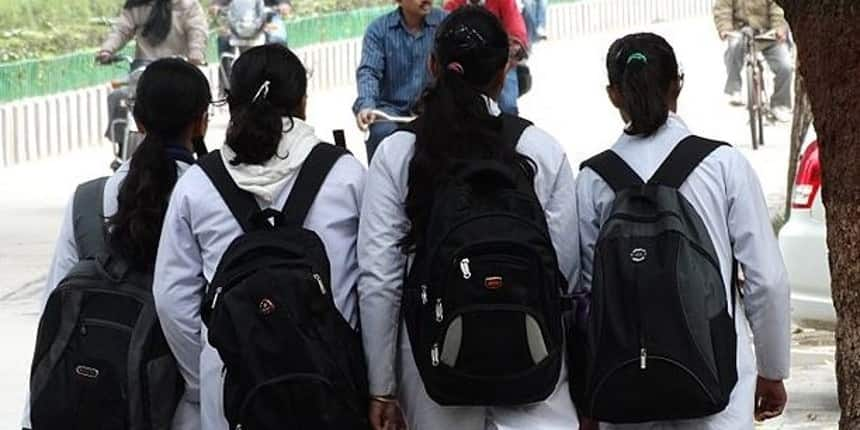 Sanjay
|
Jun 3, 2023 - 1:47 p.m. IST
NEW DELHI: The National Medical Commission (NMC) has withdrawn recognition of around 40 medical colleges, most of them government-run, across the country allegedly for not following standards set by the medical education regulator. About 100 more medical colleges in Tamil Nadu, Gujarat, Assam, Punjab, Andhra Pradesh, Puducherry and West Bengal may also face similar action.
The colleges were not found to be complying with the NMC norms. Several lapses related to CCTV cameras, Aadhaar-linked biometric attendance procedures and faculty rolls were found during NMC inspections, an official source told news agency Press Trust of India (PTI).
Doctors and students have questioned NMC's reasons for derecognising public colleges, including ones with storied reputations such as Stanley Medical College, Chennai, on what they see as a minor, administrative issue. They pointed out that much graver breaches – such as absence of staff and infrastructure – in private colleges and even All India Institutes of Medical Sciences (AIIMS) are allegedly ignored. Plus, the NMC has steadfastly refused to make its medical college inspection reports public.
A total of 38 medical colleges lost recognition for their MBBS seats. Among them are three prominent Tamil Nadu government medical colleges– Stanley Medical College, Chennai, Government Medical College And Hospital, Dharmapuri and KAP Viswanatham Government Medical College, Trichy. Assam Medical College, Dibrugarh, Gauhati Medical College and Hospital, Guwahati and Fakhruddin Ali Ahmed Medical College and Hospital (FAAMC) Barpeta are among government colleges from Assam which have lost recognition. Puducherry's Indira Gandhi Medical College and Research Institute (IGMC and RI) has also lost the recognition.
NEET counselling 2023 impact
The NMC's action comes ahead of National Eligibility cum Entrance Test -Undergraduate (NEET UG 2023) counselling 2023 and could impact the intake of students in MBBS course, said medical education experts. Counselling for the admission to new MBBS batch is likely to start July onwards and NEET UG 2023 was conducted in the first week of May.
The recent action by NMC against colleges has also worried students currently enrolled in MBBS courses. They are anxious about the validity of their degrees and documents.
'Very lame' reasons for NMC action
Students and faculties of medical colleges which have been derocgnised by NMC said that their colleges lost recognition due to two major reasons – faculties not marking their attendance on Aadhaar Enabled Biometric Attendance System (AEBAS) and colleges not being able to send CCTVs feed to Command and Control Centre at NMC. Several argued that these are "not valid reasons" for withdrawing recognition of UG seats from prominent medical colleges.
"College administration is telling us that our college has lost recognition due to non-functioning biometric attendance. We only had a manual attendance system but as per NMC rules biometric attendance system should have been installed here. Initially, it was installed here but it was stopped due to Covid-19 pandemic. Most of the colleges regained this attendance system six months back but our college did not. But after NMC's action, the college administration is putting a biometric-based attendance system everywhere and I think NMC will reverse its decision soon," said a student from Dharmapuri Medical College which has 100 MBBS seats.
"In terms of infrastructure, we do not have a proper playground for us but faculty strength is fine here and we have regular classes. Withdrawing recognition and putting the careers of students at risk because of the new attendance system is not a valid reason" said a student of KAPV Medical College Trichy which has 150 MBBS seats.
A student of Stanley Medical College, Chennai said NMC cancelled the recognition of the college because NMC found that the college does not have an Aadhaar-based attendance system and CCTVs in place. Stanley Medical College, Chennai has 250 MBBS seats.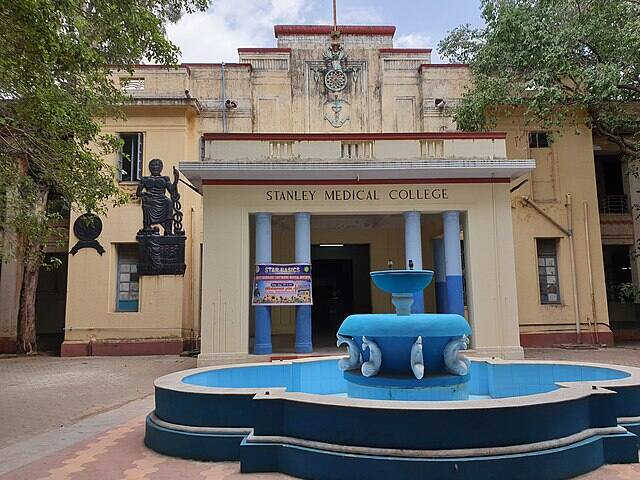 Stanley Medical College Chennai has 250 MBBS seats. There's a question mark over its NEET counselling 2023 participation. (Image: Wikimedia Commons)
"The reason behind cancellation of recognition of our college is very lame. How can a college of this reputation run without CCTVs ? We have CCTVs in our college. We have all the basic infrastructure needed to run a medical college. In Tamil Nadu, many private colleges with OPD number less than 50 are running MBBS and PG medical courses but no action has been taken against them. AIIMS Madurai does not have a proper building but has been granted UG seats and students are taking classes in other medical colleges. NMC does not have any problem with it," she said.
'Plain stupidity': What doctor says
NMC has been consistently directing all medical colleges to take steps to implement Aadhaar Enabled Biometric Attendance System (AEBAS), Hospital Management Information System (HMIS) and connect their CCTV feed to Command and Control Centre at NMC. The commission observed that despite repeated reminders, several medical colleges have not implemented them. In July last year, the NMC advised colleges to install a total of 25 CCTV cameras in the campus.
Dr Aviral Mathur, president, Federation of Residents Doctors Association (FORDA) said the derecognition of medical colleges by the NMC is a positive step to maintain educational standards, but it should be accompanied by measures to minimise disruptions for students and address healthcare gaps in the affected areas.
"By taking such action, the NMC aims to protect the interests of aspiring doctors and maintain the integrity of the medical profession. However, this could disrupt the educational journey of current MBBS students and delay their progress towards becoming qualified doctors…. This can further strain the healthcare system, especially in underserved areas where medical resources are already limited," he said.
Also Read | NExT exam regulations 'shortly'; NMC directs medical colleges to announce MBBS completion date
Dr Rohan Krishnan, an orthopaedic surgeon in New Delhi and an adviser to Federation of All India Medical Association (FAIMA) has termed NMC's action on Stanley Medical College, Chennai as "plain stupidity" as it is one of the best medical colleges in Tamil Nadu. He also questioned the functioning of NMC.
"Colleges which are not following the norms and regulation should be derocgnised and there should be zero compromise on quality education. Rules are very lax for private colleges and very strict for government colleges. How come private colleges remain well-prepared before every NMC's surprise inspection ? This means that someone from NMC is informing them about the dates of inspection. NMC should introspect how surprise inspections are no more surprising to private colleges. It stinks of corruption. NMC has not met our expectations and there is a lot to improve," he alleged.
NMC officials visit colleges for inspection every year to check infrastructure, faculties and other details to decide whether to grant them subsequent approval for medical courses or not. They prepare medical college inspection reports and take action on the basis of those reports.
"NMC does not have resources to upload medical college inspection reports on their website. According to NMC regulations, every medical college should have at least 25 CCTV cameras with the feed going to NMC. There are more than 600 medical colleges in our country and there will be more than 15,000 CCTV cameras. What resources do they have to monitor live streaming of 15,000 CCTV cameras on a daily basis ? Based on the CCTV footage, NMC cannot verify whether students are being taught by qualified teachers or not. How can they verify the educational qualification and proficiency of a teacher through CCTV footage," said Dr Mohamed Khader Meeran, activist and also the author of Patients' Rights in India.
Questioning the mandatory AEBAS, Meeran said NMC is violating the Supreme Court's judgments on use of Aadhar card data.
"NMC's regulations say that every medical college should have biometric attendance and should be updated in a real-time dashboard but nobody followed. If you want to take action for rules violation, all the medical colleges would be derecognised. But nothing happened. Supreme Court's Aadhar judgement from 2018 states that the government should arrange alternate mechanisms for those who do not wish to aadhar-based identity and data. Now, NMC is saying that every college should have an Aadhar-based biometric attendance system. It is a violation of Supreme Curt rules for those who do not want to share Aadhar data," he said.
Also Read | Strong action taken against medical colleges not maintaining proper faculty, says Mansukh Mandaviya
Impact of NMC's action
NMC withdraws recognition of colleges if its officials find that norms and guidelines are not followed by colleges. Now, NMC will take up hearings and appeals by the colleges which have lost recognition. The hearings will continue for over the next two months and colleges will have to improve their functioning to meet NMC norms and guidelines to get recognition again.
In case a college fails to correct the deficiencies and does not get its recognition again, it won't be allowed to admit a fresh batch of MBBS students which will affect the functioning of hospitals and health services.
Students at Trichy Medical College have completed their internship as part of MBBS curriculum but their graduation ceremony which was scheduled on June 9 has been cancelled by the college administration because of this recent action by NMC.
"I think we might face problems with getting our provisional medical licence and other documents because of the sudden withdrawal of our college's recognition by NMC. We won't be able to apply or sit for the NEET PG exam without having our documents.Without getting recognition back, our college won't be able to admit 100 fresh MBBS students through NEET UG 2023 counselling," said a student of Trichy medical college.
More work for PG students
PG students are worried they will be facing a huge patient load in case a new batch of students doesn't come.
"You can't run such a big college without a proper number of UG interns and PG students. Interns help us in managing the patients and we will be facing a huge workload if a batch goes missing. Students who wanted to join Stanley college for their MBBS degree would think twice before taking admission here," said a PG student from Stanley Medical College, Chennai.
A PG student at Dharmapuri Medical College said that patients will be the ultimate sufferers because if a batch of MBBS does not join in the first year. "This means there will be a shortage of 100 intern doctors in the next four years. You can not run a hospital in the absence of such a huge number of doctors," he said.
Faculties and medical experts have asked students not to worry as college administrations will get the recognition after appeals to NMC and union health ministry.
Dr Srihari Singaram, who retired from Trichy medical college said: "I am not sure about the exact reason for cancellation of recognition but I can assure you that the college was not lacking in infrastructure or the required faculty. College administration is visiting New Delhi to meet NMC officials and get back the recognition. I don't think students will suffer and college will get recognition back."
---
Follow us for the latest education news on colleges and universities, admission, courses, exams, schools, research, NEP and education policies and more..
To get in touch, write to us at news@careers360.com.
Know More About

Download Exam Brochure