'Romance of learning will still be offline': IIM Kozhikode Director
IIM Kozhikode is the first IIM to launch an MBA in liberal studies and management and introduce supernumerary seats for international students.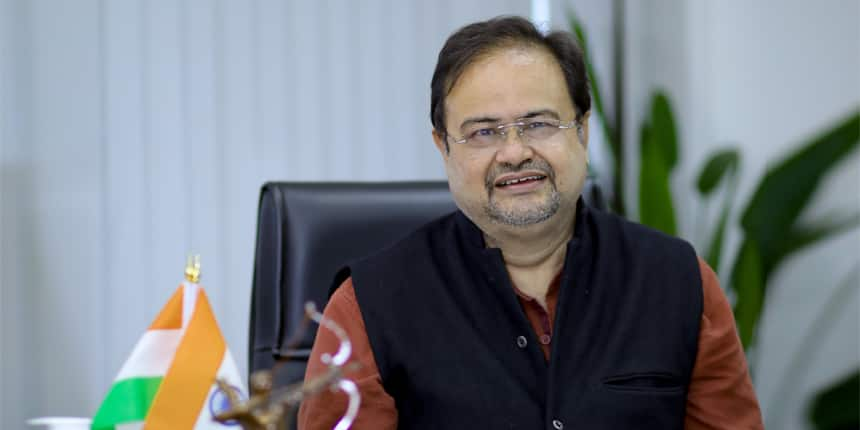 NEW DELHI: Indian Institute of Management (IIM) Kozhikode was the first to frame an admission policy that encouraged women to join, the first to introduce an MBA in Liberal Studies and Management and the first to introduce a supernumerary quota of seats for international students. IIM K's director, Debashis Chatterjee spoke to Careers360 about his plans for the institute, why Covid's impact on higher education may be "just the disruption that the education sector needed" and why the study of liberal arts will be critical for future managers
Q. Do you have or plan to start online programmes for students soon?
A. We were the first management institute in Asia to launch satellite learning and pioneered the interactive learning programme for working executives in India, in the internet's formative years, way back in 2001-02. We have been successfully delivering and expanding the reach of our online programmes since then. COVID-19 has hastened the switch to a complete 24×7 process which needs not just infrastructural support but also concrete familiarization.
Also Read: How B-schools became centres of public policy training
Q. Did you make any changes in the course delivery to overcome the impact of Covid?
A. Of course! This was just the disruption that the education sector needed to get us all to rethink how we educate and question what we are preparing our students for. This was also an opportunity for mass experimentation in remote learning and teaching. The necessity to keep the show running eventually witnessed the deployment of digital technologies to transform the education sector radically.
The mode gave us the chance to explore a sweet synthesis of the two worlds – offline and online. Institutions can opt for the online mode to provide the informational and functional skills required in pursuing higher education. On the other hand, they can leverage the offline mode of interaction to develop higher-order thinking and the dissemination of experiential foundational values, which mandate deeper understanding through profound human to human contact. Going forward, digital education is likely to be integrated into mainstream education. Digital will be the nuts and bolts of learning. However, the romance of learning will still be offline.
Q. Should B-Schools change their curriculum keeping the present situation in mind?
A. Top B-Schools have always been a step ahead of the curve and focused on a dynamic curriculum. They lead by example by predicting and then processing the future changes to equip their students with skills to face an ever-changing world.
It is also pertinent to understand that management education draws heavily from scientific methods of fact-finding in controlled environments. In reality, business is often done in environments in which judgements are made with incomplete and incoherent data. The scientific method of teaching and learning alone is not sufficient for preparing future managers. There is a dire need for an alternative form of management education. Thus at IIM Kozhikode, we introduced the MBA in liberal studies and management, a first-of-its-kind initiative by any IIM, to equip future managers with the earnestness to deal with human beings with equal effectiveness. The NEP 2020 also speaks about a multi-disciplinary approach as a future course of action. We were able to anticipate the same and commendably set ourselves in that direction.
Also Read: 'We don't get worked up about rankings': IIM Udaipur Director
Q. How do you make your students job-ready?
A. The IIM system does not prepare the students just for time-tested academic excellence but also for a range of activities that have a profound effect on the way they grasp knowledge and use it to improve their skillsets. Be it the case studies, the peer to peer learning, bringing in the best faculty and business leaders, alumni to campus. It is a constant dynamic process that not only makes them industry ready but also inspires them to adopt and inculcate other aspects like honing their soft skills, communication skills along with managerial skills to enable them to take on unpredictable challenges head-on in the future. Be it offline or online, we have always kept the conversation and training going on for the students supported by a huge repository of accessible online resources. Conventional teaching methods have gone hand-in-hand with interactive modes to enhance the learning experience of the student. The very aspect that blended learning provides greater flexibility and freedom to a student is what enabled them to think out of the box and re-define their creative abilities.

IIM Kozhikode, the first IIM to launch MBA in liberal studies
Q. IIM Kozhikode is also actively inviting foreign students to its management programmes.
A. As a means to encourage foreign students, IIM Kozhikode has made a bold leap forward by announcing 50 supernumerary seats for international candidates for three of our leading, full-time MBA programmes in the coming academic year. IIM Kozhikode has further endeavoured to assimilate foreign candidates through this initiative and add to its rich academic and cultural landscape by introducing a special scholarship scheme that earmarks three grants for every 10 students, enrolled through this 'supernumerary' drive.
Also Read: 'The age of private universities has arrived': SP Jain President
Q. What has been the impact of the pandemic on the job prospects of fresh management graduates?
A. There is no doubt that the disruption posed by the pandemic has brought with it certain challenges. From an IIM Kozhikode perspective, our recently-concluded summer placement season attracted participation from 132 recruiters, including 64 new recruiters, who offered internships to 559 students, at an average stipend of Rs. 2 lakh, a 6.4% increase to last year's figures.
This was our largest batch ever, involving three full-time postgraduate programmes including the flagship PGP. The ability to secure a broad mandate of offers amidst a challenging economic and business environment was possible due to encouraging participation from recruiters and through the ever-strengthening IIMK alumni support. It is also pertinent to note that the economy has also started picking up which is also a good sign as we confidently move forward
with healthy optimism for the final placements.
Also Read: 'We want to create new knowledge': Dean, Mahindra University's School of Management
Q. Finally, where do you see IIM Kozhikode 10 years from now?
A. As mentioned before, we had foreseen long before that geographical and physical barriers in education can only be bridged by technology. It is that experimentation that gave us the confidence as we took on the challenge of the upsetting of a well-synchronized academic calendar. Other leading B-schools too followed suit. The pandemic also happened to coincide with the introduction of the new educational policy (NEP 2020) which is yet another golden reset button for our education system. Anticipating which, we had already taken the leap embracing a multi-disciplinary approach by being the first IIM to introduce MBA in Liberal Studies and Management.
The next 10 years will thus be crucial as the study of liberal arts will propel the next generation of managers who rule by the brain but also listen to their hearts. IIM Kozhikode will also be attracting a large number of foreign candidates into their folds with the thrust on internationalisation by the government. India as a global learning centre will flourish and I hope to see IIM Kozhikode leading the charge. I also hope that the cause of gender diversity that IIMK has been passionately practising and propagating for the past decade positively influences many more institutions in the higher education space in India and it lays the foundation for an 'equal' and 'representative' future for our country.
Going forward, digital education is likely to be integrated into mainstream education. Digital will be the nuts and bolts of learning. However, the romance of learning will still be offline.
---
Follow us for the latest education news on colleges and universities, admission, courses, exams, schools, research, NEP and education policies and more..
To get in touch, write to us at news@careers360.com.
Know More About
NIRF Rank
4
Rating
4.3/5
Download Brochure