'Scammed by the government': IIT, NIT graduates in TEQIP programme managing shops, coaching online
'Scammed by the government': IIT, NIT graduates in TEQIP programme managing shops, coaching online
IIT, NIT graduates tasked with improving engineering college standards through a central government scheme are out of jobs, in debt.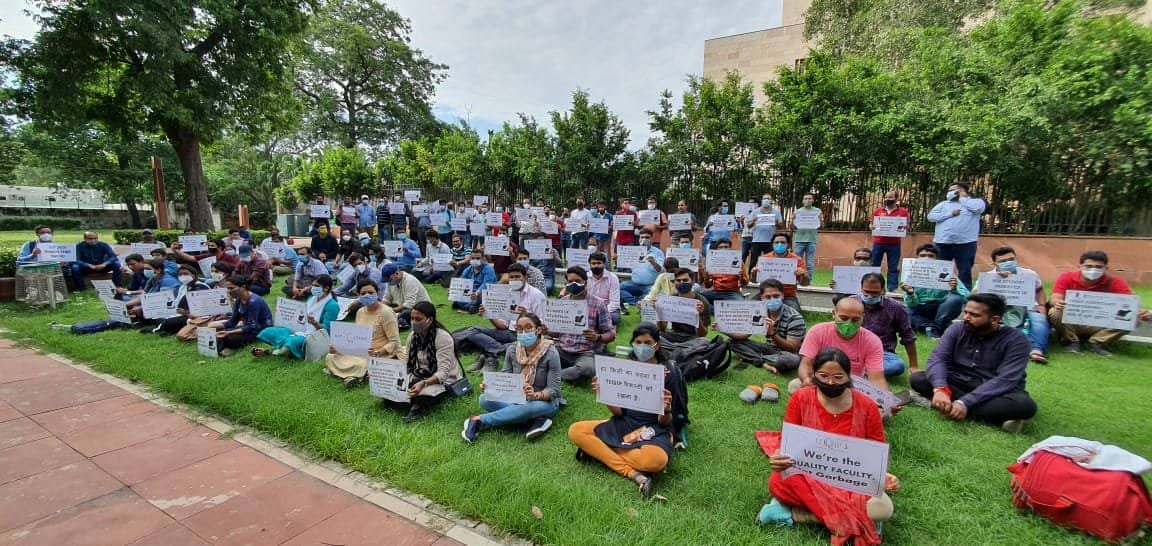 Sanjay
|
May 27, 2022 - 12:20 p.m. IST
NEW DELHI: When Dharmendra Kumar Singh from Bihar's Rohtas district got admission in MTech in Indian Institute of Technology (IIT) Roorkee after clearing Graduate Aptitude Test in Engineering (GATE) in 2015, his achievement made it into the local papers. He was a source of inspiration, not just for friends and family, but the entire district. Seven years on, he's more of a cautionary tale.
Register here to get latest updates on JEE Main 2022 exam, free sample papers, pattern, preparation tips.
Don't Miss: Exclusive Guide for JEE Main Session 2 (July) - Just Study 40% Syllabus and Score upto 100%. Check Now
Also See: JEE Main 2022 Qualifying Cutoffs for NITs, IIITs, GFTIs. Check Now
Suggested: Predict your JEE Main 2022 Percentile by using JEE Main Rank Predictor. Use Now
B.Tech at UPES. Ranked Top 100 in NIRF, Grade A by NAAC, 50 LPA Highest CTC. Last Date to Apply - 30th June 2022. Apply Now 
"I have become someone through whom a message is being sent out to the society that one should not go for technical education," he said. He is a "source of demotivation", as he puts it.
Unemployed, Singh is "somehow surviving" on Rs 3,000 per month earned by privately tutoring three school children in Kanpur. Forced to borrow from friends to make ends meet, he is also in debt.
His crisis came with the Technical Education Quality Improvement Programme (TEQIP) III with which the government sought to improve technical education by sending graduates from top engineering colleges to underserved regions to teach. BTech and MTech graduates from top institutions, such as the Indian Institutes of Technology (IIT), were appointed to teach in state institutions in backward regions.
Also Read | Reforming MTech: IITs, other engineering colleges are launching PG degrees in new fields
Singh was appointed assistant professor at Harcourt Butler Technical University (HBTU), a state technical university in Kanpur, Uttar Pradesh in 2018. His monthly remuneration was Rs 70,000.
The project came to an end in September 2021 after two extensions by the central government. Although a few states recruited the TEQIP teachers, UP did not. Other teachers are managing shops, coaching online or have joined private institutions at very low salaries.
TEQIP: Engineering colleges, states
The first phase of TEQIP, from 2003 to 2010, focused on developing infrastructure at technical institutions; the second, TEQIP-II focussed on setting up laboratories in those colleges; and TEQIP-III focused on appointing assistant professors to improve the quality of engineering education and get the programmes certified by the National Board of Accreditation (NBA).
Funded by the World Bank, TEQIP III, worth Rs 2,600 crore, started in 2017. Engineers who had qualified the Graduate Aptitude Test in Engineering (GATE) were recruited to teach in engineering colleges in poor, mostly-rural districts of seven low-income, three hill and eight northeastern states and Andaman and Nicobar Islands.
Also Read | Engineering: 60% seats vacant, BTech in regional languages see a slow start
More than 1,200 graduates of IITs, National Institutes of Technology (NIT) were selected by expert teams. A total of 1,225 candidates joined 53 colleges by January 2018. The candidates were selected for three years as temporary faculty-members. An agreement between the states and centre said the former would absorb the candidates based on their performance but most have not honoured it.
The term of the project expired in September 2020. The central government extended it for six months twice till September 2021. In July 2021, the education ministry wrote to states requesting plans for continuation of TEQIP faculties. In a reply to a query filed under the Right to Information Act (RTI) by a former TEQIP faculty, the education ministry in December 2021 informed that 1,186 TEQIP faculties were working in 71 institutes in 10 states and two UTs till September 2021. These were: Odisha, Madhya Pradesh, Uttar Pradesh, Bihar, Chhattisgarh, Rajasthan, Jharkhand, Uttarakhand, Assam, Tripura, Andaman and Nicobar Islands, Jammu and Kashmir. In August-September 2021, research scholars from some of the top engineering colleges recruited by the central government under the TEQIP held protest in Delhi demanding appointments in their project institutes.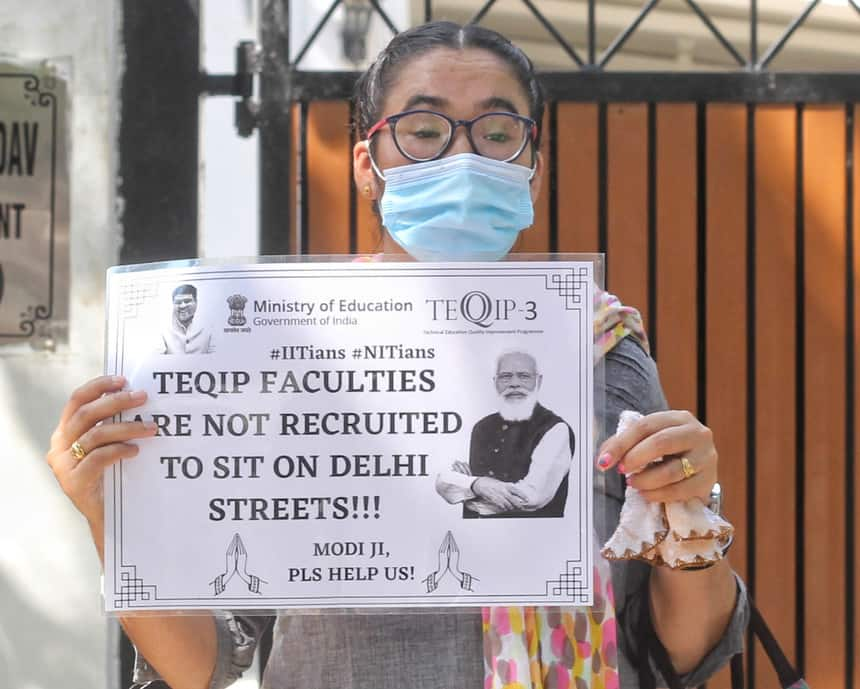 A TEQIP faculty holding a placard during protests in New Delhi. (Picture Source: TEQIP faculty)Bihar, Assam, Tripura, Uttarakhand and Rajasthan have extended the service tenure of TEQIP faculties till March 2023. Jharkhand has extended the tenure of faculties working till March 2023 at only one institute out of five. TEQIP faculties in remaining states did not get any relief.
Also Read | ISRO's Translator: How CSTT builds vernacular glossaries of engineering, scientific terms
'Feel ashamed'
TEQIP teachers left in the lurch feel "ashamed" for being unemployed despite holding IIT and NIT degrees. They are disappointed with the government's attitude towards high-qualified teachers. Many have been forced to pick up low-paying jobs and they feel that they have been scammed.
Singh, who was working as a guest faculty at NIT Hamirpur before the TEQIP project derailed even that, is being "trolled" for being unemployed in his village.
"I got married after getting a job and my wife used to live with me in Kanpur. I lost my job after September 2021 and I was compelled to send her to her mother's home as I am financially unable to meet the basic needs of my family," he said. "I come from a very poor farmer's family and I took loans to fund my education and I am still paying the loan to banks. I want to do a PhD but due to financial strain, I can't afford it now."
Partha Saha, a resident of Assam's Barpeta who worked as TEQIP faculty in HBTU between 2018 and 2021 now mans a small grocery store in his village. After completing his masters from NIT Silchar in 2017, he was selected for TEQIP.
"This was my first job and it turned out to be a disaster. I have huge mental pressure right now and I have to start from the beginning again even after three years of work as a teacher," he said.
Also Read | IIT Patna CSE team working on curbing hate speech online. First stop: Twitter
Over the years they spent teaching, many grew too old for a range of other opportunities. "I am overage and became ineligible to apply for government jobs. Franky, I feel ashamed now to talk to my family, relatives and even to my students," he said. "I used to motivate my students to go for higher studies and they still text me. But, now if I tell them their professor is in this condition due to the government's mismanagement, how will they feel motivated?"
Engineering PhD at risk
Abhijeet, who doesn't use a last name, holds an MTech degree from IIT Kanpur and worked as TEQIP faculty at College of Engineering and Technology (CET), Bhubaneswar. He has been working with an online coaching firm for two months.
"It is a freelance job and I will make a maximum of Rs 20,000 per month if I work day and night. I had zero income after September 2021 and now I make a maximum of Rs 15,000 a month," said Abhijeet. He has been lying to his relatives, telling them he's still teaching engineering.
Also Read | NAS 2021: Punjab, Rajasthan top performers across school levels, subjects
There's another crisis looming ahead. "From my salary, I used to pay my Phd fee of Rs 40,000 quarterly. Now, a notice has been issued by my institute for termination of my PhD degree because I could not pay the fee. After working very hard while serving as TEQIP faculty for three years, now I am on the verge of loosing my doctoral degree," he said. "My career has been destroyed. It has turned out to be a scam in which well-educated citizens of the country have been scammed by the governments."
40% increase in accreditation
According to a 2021 report by the education ministry's National Project Implementation Unit (NPIU) for TEQIP-III, technical colleges saw a 40 percent increase in NBA certification, which the All India Council for Technical Education (AICTE) has mandated for all engineering colleges. Institutions where qualified candidates were placed as TEQIP faculties saw a higher percentage of GATE-qualified students and retention of students from historically-marginalised Scheduled Castes, Scheduled Tribes and women students rose, the report said.
Also Read | No JEE Main needed? AICTE scheme allows 'gifted students' admission without exams
A 2020 report of National Institute of Labour Economics Research and Development, an autonomous institution under the centre's think-tank, NITI Aayog, described the TEQIP teachers as a "lifeline" for many institutions. "An abrupt closure of TEQIP-III will further deteriorate the faculty position," the report said while recommending extension.
"We (TEQIP faculties) performed way better than regular faculty. I supervised 13 MTech students and published three papers in peer-reviewed journals. We worked day and night to get NBA accreditation for the college and now we have been rewarded by being thrown out," Abhijit said.
"It is a kind of indirect murder. The government does not want well-qualified and deserving faculties to teach in government colleges. In this situation, faculty are forced to look for jobs in private colleges for survival. Now, I am getting only a Rs 25,000 salary at a private college in Delhi," said Gaurav Sharma, who worked as TEQIP faculty at Baba Ghulam Shah Badshah University, Rajouri, Jammu and Kashmir.
Appeals and vacancies
The education minister Dharmendra Pradhan informed the Parliament in April 2022 that 6,558 teaching and 15,227 non-teaching positions are vacant in the central universities. In March 2022, Union Minister of State for Education Subhas Sarkar informed Parliament that over 4,300 teaching posts are vacant in IIITs across the country. Former TEQIP faculties have appealed to the central government to consider them for these positions.
Also Read | IIT Placements: Are non-tech students in IITs getting a level-playing field?
Rabel Guharoy, former TEQIP faculty at Jharkhand's University College of Engineering and Technology (UCET), Hazaribagh, said that like others, he was motivated by the prime minister Narendra Modi's focus on rural development through technical education.
"We never imagined that we would be treated like this by our government. With so many vacant positions, the central government can give a chance to us in the central universities. When we met education ministry officials, they told us that PhD is not mandatory to teach in colleges from 2023 onwards. However, they have not given us in writing that we will be getting jobs as assistant professors in the colleges," he said.
Asim Kumar Mishra, former TEQIP faculty in Veer Surendra Sai University of Technology, Burla, Odisha, already has a PhD. He has been unemployed since 2021. "I thought that I will be absorbed as a regular faculty member after the completion of the project," he said. "I am expecting that the government will help us by absorbing us as faculty in central universities.
---
Follow us for the latest education news on colleges and universities, admission, courses, exams, schools, research, NEP and education policies and more..
To get in touch, write to us at news@careers360.com.
Know More About
Exam Date

21 Jul, 2022 - 30 Jul, 2022
Download Exam Brochure