JEE Main 2021, NEET, CBSE- Students demand postponement of exams and syllabus reduction
JEE Main 2021, NEET, CBSE- Students demand postponement of exams and syllabus reduction
Students flood the Education Minister's Twitter handle with requests of JEE Main 2021, NEET postponement and syllabus reduction ahead of his webinar scheduled on December 10.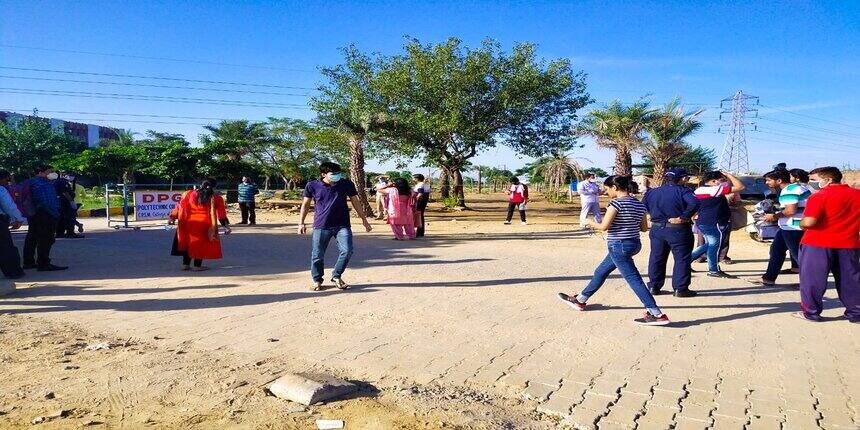 NEW DELHI: Ahead of the Union Education Minister Ramesh Pokhriyal 'Nishank' interaction with the students, his Twitter handle is flooded with the requests and suggestions of the students regarding CBSE Boards 2021, JEE Main 2021, and NEET 2021. Students are posting their requests using the hashtag #EducationMinisterGoesLive. It is now trending on Twitter.
Recommended: Start your JEE Preparation with AI Based JEE Coaching to Get LIVE Classes, UNLIMITED Mock Test, 24*7 Faculty Support & Much more. Enquire Now

Latest: Apply to these TOP institutions with your JEE Main score - Check List here  
COVID-19 has definitely affected the studies of the students. Although online classes were going on, students say that the course is still not completed. Many say that they have not got proper time for preparations. While students have to handle their CBSE Board exams; they are worried about competitive exams like JEE Main 2021 and NEET 2021 too. Students are demanding to reduce the JEE Main and NEET syllabus too as the CBSE Board syllabus has been reduced.
Students demand postponement of JEE, NEET, CBSE exam
Most of the requests are related to the reduction of the syllabus of JEE Main 2021, NEET, CBSE exams. Another request that has swarmed the Twitter handle of the minister is to postpone the JEE Main January 2021 exam. While some are requesting to postpone the JEE Main 2021 January exam till March; some have also requested to postpone it till June.
Along with the aforesaid demands, students have also put forward a request for an additional attempt for JEE Advanced 2021. Many such students who were not able to appear for the exam or were not able to prepare for it have already reached IIT Delhi in this regard.
It should be noted that the Union Education Minister, Ramesh Pokhriyal will be online tomorrow, December 10 through a webinar to discuss the problems and suggestions of the students on CBSE Board 2021 exams and competitive exams like JEE Main 2021 and NEET 2021.
Some of the tweets of the students are as follows-
The Second wave of COVID has hit India much harshly

No physical classes have been held so far

So The exams should be postponed till June

JEE-MAIN 1 (May)

Boards (June)

Jee Main 2 ( August)

Jee Adv/ NEET (Sept)
#EducationMinisterGoesLive@DrRPNishank Please save us
Students share the concern as the COVID19 cases are continously increases. Most of the schools and colleges are still closed. Besides, there preparation is also hampering due to less guidance.
Sir your decision is going to decide our future
Plz donot push the kids into graveyards

Plz no schools are open till now

So The exams should be postponed till June

JEE-MAIN 1 (May)

Boards (June)

Jee Main 2 (August)

Jee Adv/ NEET (Sept)

T-47 pic.twitter.com/gElEXATFEx
If exams are scheduled as follows then we'll get sufficient time to prepare and excel in exams.
JEE-MAIN 1 (May)

Boards (June)

Jee Main 2 (August)

Jee Adv/ NEET (Sept)
#EducationMinisterGoesLive
Requested you to provide two more chances of iit jee advance I.e. in 1st in 2021 & 2nd in 2022 for the students who have passed their class 12th in 2020 (session 2019-20)
As the class 11 th and 12 tu syllabus is reduced, but for neet whole syllabus is there. How we will prepare for competitive exams as it is not taught in school.#EducationMinisterGoesLive
Dear Teachers, Parents & Students, happy to share that I am going live on Dec10 at 10 am to talk about upcoming competitive/board exams with you.
Drop your concerns below using #EducationMinisterGoesLive. pic.twitter.com/oThssOJBTE
As of now, it has been confirmed that the 2021 CBSE Board exams will be conducted as usual offline exams and the possibility of the online exams has been denied. The National Testing Agency has not released the JEE Main 2021 exam date and NEET 2021 exam date yet but it is expected that the schedules for such competitive exams will be out soon. For now, tomorrow's webinar by the education minister can provide a clear view of the course of action of the agency.
Also, Read
Write to us at news@careers360.com