KCET 2022: Karnataka Govt to challenge HC order on considering 50% second PUC marks of repeaters
KCET 2022: Karnataka Govt to challenge HC order on considering 50% second PUC marks of repeaters
Karnataka High Court directed KEA to redo KCET 2022 ranking list with 50% second PUC marks and 50% CET marks of all students.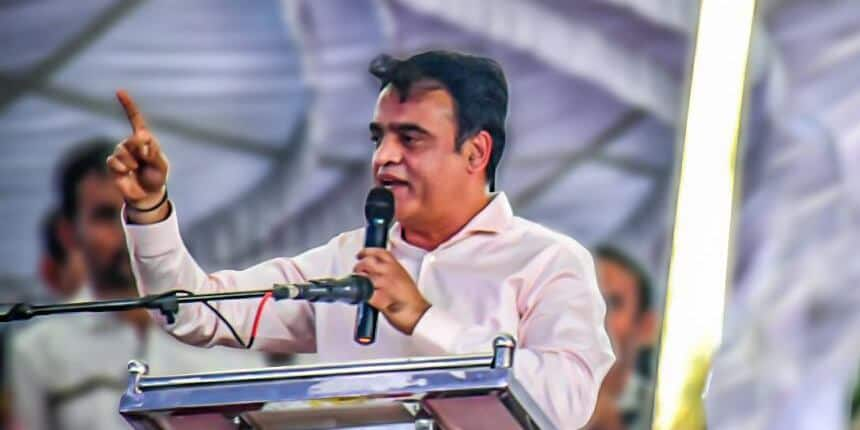 NEW DELHI: The Karnataka Government has announced to challenge the High Court order directing the Karnataka Examinations Authority (KEA) to consider 50% second PUC marks of students of 2020-21 batch to prepare Karnataka Common Entrance Test (KCET) 2022 rankings. Karnataka Higher Education minister CN AshwathNarayan termed the HC order 'unfair' for students of the current batch.
Latest: KCET 2023 Sample Papers for Physics, Chemistry and Mathematics. Free Download
Don't Miss: KCET Free Mock Test to boost your preparation. Click Here
Recommended: KCET 2023 Preparation Tips. Check Now
Colleges Accepting Applications: To check the list of Institutions accepting B.Tech/ B.E Applications. Click Here
Also Read | AP EAMCET 2022: Minimum qualifying marks in intermediate exams relaxed
"1.5 lakh secondary PUC students of the current year will be unfairly treated by the High Court's decision to consider the 2020-21 class secondary PUC score in the current year's CET ‍ranking list. Keeping this point in mind, it has been decided to approach the court again with appropriate documents," the minister said in a tweet today.
ಪ್ರಸಕ್ತ ವರ್ಷದ CET ರ‍್ಯಾಂಕಿಂಗ್‌ ಪಟ್ಟಿಯಲ್ಲಿ 2020-21ನೇ ಸಾಲಿನ ದ್ವಿತೀಯ PUC ಅಂಕ ಪರಿಗಣಿಸುವಂತೆ ಉಚ್ಛ ನ್ಯಾಯಾಲಯ ನೀಡಿದ ತೀರ್ಪಿನಿಂದ ಪ್ರಸಕ್ತ ಸಾಲಿನ 1.5ಲಕ್ಷ ದ್ವಿತೀಯ PUC ವಿದ್ಯಾರ್ಥಿಗಳಿಗೆ ಅನ್ಯಾಯವಾಗಲಿದೆ.

ಈ ಅಂಶವನ್ನು ಗಮನದಲ್ಲಿಟ್ಟುಕೊಂಡು ಸೂಕ್ತ ದಾಖಲೆಗಳ ಸಮೇತ ಪುನಃ ನ್ಯಾಯಾಲಯದ ಮೊರೆ ಹೋಗಲು ನಿರ್ಧರಿಸಲಾಗಿದೆ.

1/2 pic.twitter.com/OS0xA0hiKY

— Dr. Ashwathnarayan C. N. (@drashwathcn) September 5, 2022
"Actions will be taken at the earliest to overcome the problem of technical inconvenience and to start the counseling as soon as possible. Our government under the leadership of Hon'ble Chief Minister BSBommai is fully committed to safeguarding the welfare of students," he added.
The Karnataka HC on Saturday dismissed a notification issued by the KEA by which second-year pre-university exam marks of students from the 2020-21 batch were not considered for rankings in the entrance to professional courses.
For students of the 2021-22 batch, the usual 50 per cent Common Entrance Test marks and 50 per cent second-year PU marks were considered. But for students of the 2020-21 batch, only the CET test marks were considered as per this note. The KEA's rationale for not considering second-year PU exam marks of 2020-21 students was that they were promoted based on internal marks as exams were hampered during the COVID-19 pandemic.
Also Read | CUET PG 2022: Exams for 3 papers on 2 different dates, NTA releases schedule
The single-judge bench of Justice S R Krishna Kumar quashed the July 30 note of the KEA and directed it to redo the entire rank list after considering 50 per cent PUC marks and 50 per cent CET marks of all students. The court, quashing the note said, considering PU second year marks as 'nil' "would lead to and result in absurd consequences which cannot be countenanced in the facts and circumstances of the instant case."
Now, the entire CET ranking for entrance to professional courses has to be redone on the 50-50 formula. This year, there were around 24,000 students from the 2020-21 batch who were relating their appearance for the CET exams. These students who passed PUC in 2020-21, writing the CET in 2022, approached the High Court.
---
Follow us for the latest education news on colleges and universities, admission, courses, exams, schools, research, NEP and education policies and more..
To get in touch, write to us at news@careers360.com.