Kota Suicides: 'Students who come for JEE, NEET preparation become extremely unempathetic'
Kota Suicides: 'Students who come for JEE, NEET preparation become extremely unempathetic'
A 16 year-old attending JEE coaching in Kota on his petition for change, intense competition, craze for BTech CSE in IITs and mental health.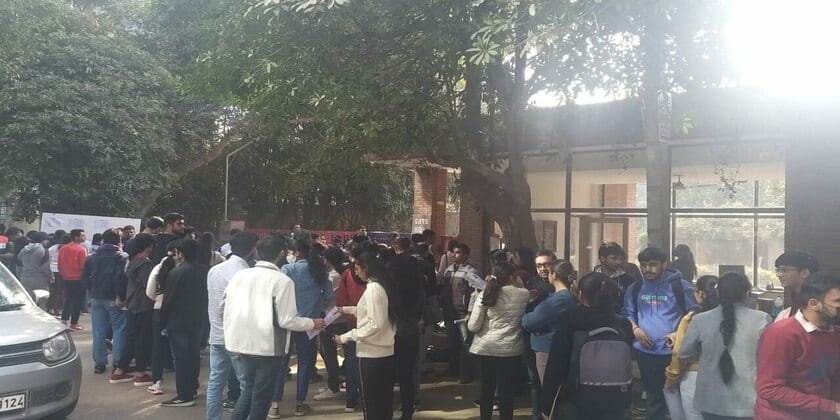 In the wake of rising suicides in Rajasthan's coaching hub, Kota, Abhigyan Kumar, also living in Kota to prepare for the Joint Entrance Examination (JEE) Main and JEE Advanced, posted an online petition seeking changes, including five-day weeks, in the way Kota coaching institutes conduct classes. Kumar, 16, graduated Class 10 from a Patna school in 2023 and came to Kota in April to spend the next two years completing high school and preparing for the exams.
The town has seen a sudden and sharp rise in suicides among youths preparing for JEE Main and JEE Advanced – a highly-competitive entrance test for the premier Indian Institutes of Technology (IIT) – or the National Eligibility cum Entrance Test (NEET) for undergraduate medicine. Kumar recounted his own experience as a student attending JEE coaching in Kota, spoke about the atmosphere of intense competition and lack of empathy, the measures being taken to prevent suicides, the misplaced obsession with the IITs and his petition.
The idea of the petition was suggested by my Mathematics teacher in Kota. Initially, I wasn't in favour of starting the petition myself because my main focus was on studying but soon I realised that it's an important cause that needs to be pushed hard.
When I came to Kota in April, just like all the other students, I was excited. Also, most of the syllabus taught in the initial phase most students have already studied. After a few days in the institute, students also feel that they can clear the Joint Entrance Examination (JEE) without any coaching. But after two-three months, you realise that this exam is extremely tough. After a few months, you feel you are not able to understand anything despite sitting in classes for hours. Later, you start feeling demotivated because the class test scores start to decrease as more students get admission.
I cross both suicide spots every day
In April, there are few students in the city. The main influx of students happens in May and June. With increase in the number of students in a class, the marks of individual students tend to decrease. This leads many students to question their self-worth.
Two students have died by suicide near my institute. One used to live in the Indraprastha Industrial area. Another incident I heard of was in Vasanti residency. Last month, another study died by suicide in a hostel near the institute. He had come to Kota just four months back and was in Class 11. When I walk from my room to coaching class every day, I cross both buildings and suicide spots.
Further, there are around 125-130 students in a batch. Mostly, on an average, 100 students attend class regularly. Students are more comfortable to ask questions when there are less students. Most drop year students didn't get holidays.
Also Read | 'JEE Advanced rank is just an integer': IIT Madras director
In competitive environment, students have become unempathetic
As for the steps taken to prevent suicides, there isn't much that has been done concretely. Most students come as teenagers. During my stay in Delhi, I was surrounded by college students of Delhi University. However, my experience around these older students made me notice that students in Kota who come especially for JEE or NEET preparation have become extremely unempathetic.
For instance, there was a boy who was depressed because his marks were very low and he did not come out of his room for days. But no one checked on him. It is the duty of the institute and other students around him to check on him – why he was not coming out of the room or not going to class. No student will ever do that!
In fact, even among students, the awareness of mental health is extremely low. In many ways, students themselves promote suicide or self-harm. The environment is so competitive, some may even think that if more suicides happen there will be less competition. This is a toxic thought.
I am shocked to see the thought process of students even in my batch in which students aged 14-16 think that if a student has to kill himself, he will and we can't help him. But this thought that you can't help anyone or curb suicide is not helping anyone.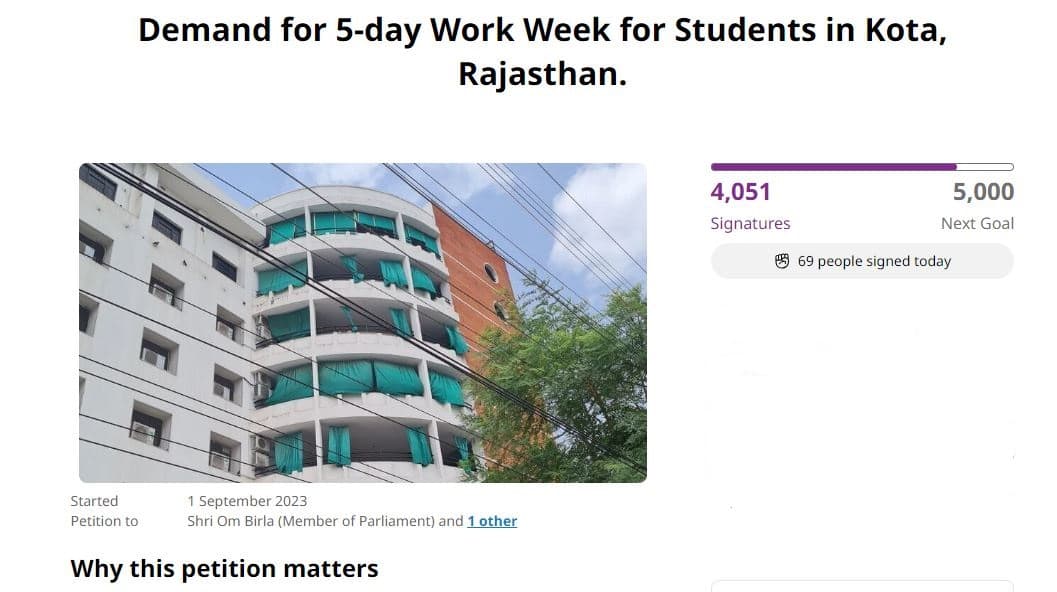 The petition started by Abhigyan Kumar, student preparing for JEE in Kota, Rajasthan
Even police are visiting hostels
We do have counselling but there is still no hand-picking of students who have poor rank or marks on the weekly or monthly tests. We were asked to fill a form on mental health awareness in the class. But nothing much has been done yet. There is no follow-up. However, we do have one psychologist and students do meet them. I think it's enough because most students are shy to visit psychologists. However, I am sure the number must have increased after the rise of student suicides.
I am usually in classes till 2 pm in the afternoon and reach my hostel by 2:30 pm and I go for lunch. By 3 pm I'm back in my room. I take some rest till evening and at 8pm I go for dinner and from 9 pm onwards, I start studying. In the morning, I rush for classes at 8pm. I usually sleep in the afternoon and complete my sleep and study at night. However, students' schedules vary from coaching to coaching depending on the class timings.
A teacher in the class has mentioned that the institute is thinking of bringing some changes in the curriculum and class schedule from next year which include decrease in class duration and a few other things. Teachers weren't much concerned about such issues until now. However, they are now talking about issues of depression and mental health in classes. I think it has started now and eventually it will increase.
After the rise in suicides, I have heard that another institute has started allotting vulnerable students to counsellors and psychologists. I think this has happened due to the sudden rise in suicides. Even police personnel are speaking to students by visiting individual hostels.
My petition
My demand in the petition is to only have five days of classes in coaching institutes of Kota.
I believe, maybe I am wrong, that students usually score less because they don't get the time to attempt questions or revise due to seven days of coaching classes. And because students don't get proper time to cover the backlog, they tend to score less. Through a week-off, students will get a sense of how they can cover backlogs and this is enough for them to get hold of their schedule and class tests. If students get time for self-study, there is a possibility to save students from dying by suicide.
The pressure is so much that institutes are always in a hurry to complete the syllabus leading students to be under stress of completing their classwork, homework and also revise for weekly tests. Additionally, I have noticed that some disease or the other is always spreading. Recently, there was eye-flu, then there was viral fever and now dengue is trending. Some or the disease is in trend. Because of this, students have to take leave from classes which leads to a back-log in studies. My suggestion is that a weekly holiday should be given in the middle of the week, maybe Wednesday.
The petition has received close to 4,000 signatures. The decision makers are Om Birla, speaker at Lok Sabha, lower house of parliament and represents Kota in the parliament and Om Prakash Bunkar, district magistrate and collector, Kota district.
Recently, nets were fixed across several floors of the hostels along with modifying fans. This will not stop any suicide. This is not a solution. Such changes will not fix the mindsets of students. Institutes need to be more empathetic and must hand-pick students who are vulnerable.
A student should not be taken to a psychologist directly. Rather, conduct seminars on mental health awareness so that students don't face the stigma of using counselling services individually. Students visiting a psychologist are believed to have grave mental problems. Because these are young children, such issues need to be tackled with immense care and empathy. Students planning to kill themselves have lost their self worth. Administration and institutes must think innovatively to tackle the issues.
Not aiming for BTech computer science in IIT Bombay
My father is an alumnus of IIT Kharagpur. Most people think that my father must be pressuring me a lot. But my father has made me understand that once you get into IITs you realise that there are many other comparable colleges.
Also, I want to become a scientist, not an engineer. To become a scientist, you don't need to get into IITs but IISERs (Indian Institute of Science Education and Research) or Indian Institute of Science. I am aiming for IISc but even if I don't get into IISc and eventually get into IISER Pune or Kolkata, I'll be fine. I am aiming for a rank within the top 2000 in JEE Advanced. I am studying strategically. Furthermore, I have no interest in computer science. In case I have to get into engineering, I will opt for mathematics and computing which is taught well in IIT Hyderabad and requires a rank within top 900 in JEE Advanced.
I am not aiming for rank 1 or computer science in IIT Bombay. For most students coming here, it's extremely important to land a job. These students don't aim at studying maths or computer science, or engineering for that matter, but their only target is to get a decent job. Also, there is a perception among students and families that the only way to get a decent job in India is through IITs. Hence, these students are not preparing for IITs or JEE Advanced because they like engineering as a subject but just to land a decent job.
Also Read | IIT Bombay Placements: Most BTechs get 'much smaller packages' than crore-plus salaries, says study
The perception is that jobs are only in the computer science branch and hence everyone is running after it to get high ranks in the top 100 or 200. There is a lack of awareness among students. Institutes like IIIT Hyderabad are renowned for their computer science department but no one wants to go there because it's not an IIT. I think IIT as a brand is overrated in Kota.
However, running a petition also takes a toll on my studies.
JEE Advanced syllabus has changed
I don't think coaching institutes are just money-making organisations. Reflecting back on the entrance test syllabus in the 90s, it was limited and students were able to solve these questions easily. However, now the syllabus has increased and so has the competition. Now, students have to solve first-year engineering questions in the JEE Advanced. If you compare the syllabus, you will get all the first year questions in the JEE Advanced examination.
For someone who is just a Class 10 graduate and eventually lands up in Kota, solving first-year engineering questions will surely be hard. Hence, students need time. Even if there were 10 days in a week, they would eventually have to rush through the syllabus. The issue is the syllabus. If you dilute the syllabus, then there will be a ruckus over 1 or 0.95 marks. Just like what's happening in NEET where candidates with high ranks are still not getting seats in medical colleges.
The best is to spread awareness that in case students don't get into IITs, there are many other options as well. But there is no such awareness. I think only 1 in 10 students might know about IISERs. Despite IISc Bangalore being one of the top research institutions globally, students here think IISc is "hoax" because it doesn't offer placements.
Most students come from underprivileged backgrounds. It's the same story as Raju Rastogi's character in the 3 Idiots where students have either ailing fathers whose medicines have to be taken care of or sisters who have to be married off. 80% of students are from historically or economically-marginalised backgrounds. For them, getting a job is a necessity.
However, after the suicides, there is some change. Now parents have started to live with their children. This is only applicable to students whose families can afford it. But this eventually takes a toll on a student's study schedule because if your parents are around, you can't study for long hours.
As told to Sheena Sachdeva
If you, or anyone you know, needs help, AASRA has a list of resources here: http://www.aasra.info/helpline.html
---
Follow us for the latest education news on colleges and universities, admission, courses, exams, schools, research, NEP and education policies and more..
To get in touch, write to us at news@careers360.com.
Know More About
Application Date

21 Apr, 2024 - 30 Apr, 2024
Download Exam Brochure