NEET PG 2021: Over 400 aspirants allege discrepancies in NEET result; NBE denies
NEET PG 2021: Over 400 aspirants allege discrepancies in NEET result; NBE denies
NEET PG: Around 450 aspirants who question the NEET PG 2021 result plan to file a PIL in the Supreme Court seeking answer keys, response sheets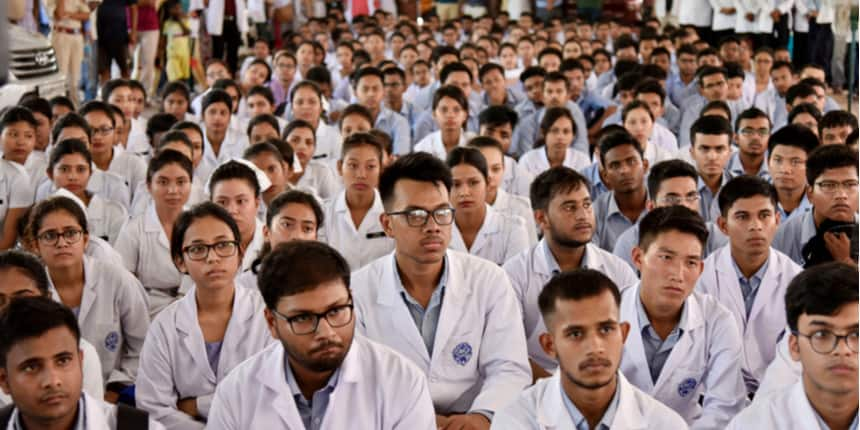 NEW DELHI: Manoj Naik, a doctor from Andhra Pradesh, was confident about his performance in the National Eligibility cum Entrance Test for Postgraduate (NEET PG) 2021. But the result declared on September 28, brought disappointment.
Recommended: Check Your Admission Chances for MD/MS/Diploma in All India Quota & State Level Counselings Based on Your NEET PG Rank, Check Now -NEET PG College Predictor
Check Your Admission Chances in DNB Programs Based on your NEET PG Rank, Check Now- DNB CET College Predictor
"I was expecting to score close to 480 but my result showed only 334. If it were a minor error, it should have been of maximum 20 to 30 marks but a huge gap of 100 marks is something to worry about," said Naik, who completed his MBBS last year. "I have been preparing for NEET PG for one-and-a-half years. I wanted to join orthopedics, but with these scores, I can't even make it to non-clinical subjects," he lamented.
Also read | NEET SS 2021 postponed by two months, Centre tells Supreme Court
Naik and several of his batchmates who wrote NEET PG 2021 on September 11 have similar complaints. Some could not handle the blow. "My friend attempted suicide after seeing their result. Fortunately, they were saved on time. Right now, they are recovering and are undergoing psychiatric treatment," said Naik.
This is not the first time the National Board of Examination (NBE), the exam conducting authority, is being questioned over alleged discrepancies in NEET PG results. In 2019, 17 NEET PG candidates had moved the Delhi High Court on similar grounds. This time the number of people claiming they are affected has increased significantly. Over 5,000 doctors who question the results, have formed a group to collectively raise the issue and move the Supreme Court, said Naik. The group is planning to file a Public Interest Litigation seeking response sheets and answer keys for the exam on Monday. However, in an email response to Careers360, the NBE has denied all allegations.
Also Read | NEET PG 2021: Know last year's cut-off for top 10 medical colleges; Scorecard soon
NEET PG is a computer-based entrance test for MBBS graduates seeking admission to MD, MS or postgraduate diploma programmes in all medical colleges, universities in India. It excludes admission to All India Institute of Medical Sciences (AIIMS), Postgraduate Institute of Medical Education and Research (PGIMER), National Institute of Mental Health and Neuro Sciences (NIMHANS), and Jawaharlal Nehru Institute of Postgraduate Medical Education and Research (JIPMER). While the NEET PG result has been released by NBE, the NEET PG scorecard will be released on October 9.
NEET PG: No answer key
The NBE does not release an official answer key or the answer scripts of aspirants. Each aspirant is required to assent to a non-disclosure clause mentioned in the NEET PG information brochure. However, many students prepare for the exam in coaching institutes. The exam is extensively discussed in "recall sessions" conducted by coaching centres and online platforms to estimate scores.
Another doctor from Uttar Pradesh, Abhishek Singh, scored 410 but was expecting close to 500 marks. "Based on answer keys released by coaching centres and recall sessions, I was sure I would score around 500 but this was unexpected," said Singh.
Also Read| Government 'Unresponsive to genuine concerns': Shashi Tharoor on NEET 2021
"This is my third attempt. I have compared my scores with another aspirant who scored 640. We had the same answer key and attempted the same questions but there is a huge difference in our marks," alleged an MBBS graduate from Karnataka asking not to be named.
Thautam Praveen Kumar who scored 111 marks when he was expecting a score above 450 is suspecting a technical error in the declaration of marks. "I have friends who do not know anything about the subjects who scored more than 570 marks. Then there are students who worked so hard but they were not able to score even a qualifying minimum mark. How can there be such a huge disparity?" asked Kumar, an MBBS graduate from Telangana. All students Careers360 spoke to have emailed NBE about the alleged discrepancy, however, they claim to have received no proper response. Now, a large group has come together to financially support a Public Interest Litigation in the Supreme Court on Monday. The PIL, however, will mention the names of 450 petitioners.
Also Read| The FMGE problem: Foreign medical graduates allege discrimination, seek reforms
"Fearing the non-disclosure agreement, many students don't even report these huge mistakes. We are a group of 450 people and we are going to move the Supreme Court, said Kumar.
NBE NEET PG 2021
While thousands are trying to make sense of the vast gap between expected and obtained marks, NBE has "strongly denied" the allegations leveled against them. In response to an email from Careers360, Vinay Gupta, joint director (medical) of NBE, indicated confusion among students who may have used old admit cards to check the latest NEET PG scores.
"The result of NEET-PG 2021 declared by NBEMS is factual, correct, and error-free. Any such allegations as cited in your email are strongly denied," said Gupta. "NBEMS has received [a] few representations from candidates citing discrepancy in their result scores. It has been noted that some of these candidates are referring to the old admit cards of NEET-PG 2021 which were issued to them in April 2021, and hence they are referring to the incorrect roll numbers and corresponding incorrect results," he further wrote.
Also Read | NEET 2021: Know last year's cut-off for admission to medical colleges
Gupta further urged students to refer to the NEET PG 2021 score cards which will go live by October 9 to check the correct and incorrect responses. The candidates, however, are not convinced.
"Yes, we received two admit cards, one in April and the new ones in September. The initial series of the admit card is the same but there are some changes in the roll number. I have checked my result using my latest admit card and still, it shows the same discrepancy. Also, the scorecard will not be of any help if they are not willing to investigate if there is any discrepancy at all," said Kumar. The medical examination was postponed in April due to the second wave of coronavirus.
Write to us at news@careers360.com