Online Degrees: How public institutions went online with private platforms
Before the UGC greenlit online degrees, several IITs and IIMs had started collaborating with private companies to launch online courses.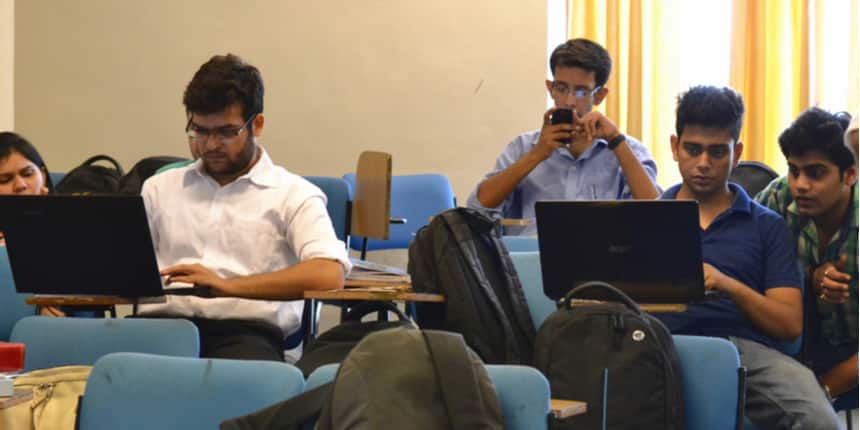 NEW DELHI: As soon as the COVID-19 pandemic forced education online, private education technology companies saw it for the opportunity it was. Online platforms started collaborating with some of India's best-known institutions to provide certificate, diploma and even full-fledged degrees online.
The central government and higher education regulatory bodies also grabbed at the opportunity to develop India's online learning facilities. In mid-June, the University Grants Commission (UGC) allowed 38 universities to offer online degrees. Within a month, four more universities were added to this list. Both the UGC and the All India Council for Technical Education (AICTE) have separate regulations for online degrees; AICTE's cover non-degree programmes as well.
Also Read | 'UGC must revisit curriculum, student-teacher ratio': Central University of Punjab VC

However, certificate and diploma courses from many sought-after public institutions, including several Indian Institutes of Management (IIM) and Indian Institutes of Technology (IIT), had already started popping up on private online platforms. For many of these institutions, the transition online has been aided by private players.
Teachers are still unsure about the academic benefits of such courses since many are yet to see a batch graduate.
Opportunities for everyone
Online courses from top institutes such as the IITs and IIMs dominate. According to the professors of these institutions, such collaborations give opportunities for students to be taught by qualified teachers such as those in the IITs, IIMs.
"Earlier, you would not get IIT faculty's teaching if you were not a regular student at an IIT. But it is very difficult to get in. With online courses, you are getting the lecture directly from the IIT faculty," said R Balasubramanian, professor of computer science and engineering at IIT Roorkee. It offers a certificate programme in full-stack development with Great Learning which includes recorded lectures by IIT faculty and live interactions for cleaning doubts on weekends.
Teaching online
However, teachers said that it did pose some challenges in teaching.
"Participants, when they are personally in front of us, there are a lot of advantages. Online education hasn't been around for long. These things are getting better. We have been doing this for almost one-and-a-half years now. We are still not used to it. Maybe over a period of time it will get better, "said Anandakuttan B Unnithan, dean of marketing management at IIM Kozhikode.
Also Read | IISc Bengaluru's 'Lifebox' extends out-of-body viability of donated organs

Unnithan teaches the certificate course in transformational customer experience for Great Learning's collaboration with IIM Kozhikode.
"We'll have to change our approach but other than that I've felt no issues. But certain things are better face to face, there are advantages in that," said Unnithan.
"We have hundreds of years of experience in teaching face to face. Online teaching has only been around for one or two years. People do not just communicate verbally, there is body language and other non-verbal cues which are important. Non-verbal communication does not translate well through online education. It may affect teaching." said Unnithan.
But the pandemic brought all students – whether enrolled as mainstream students in the institution's regular degree programmes or of short-term courses – to the same situation. This pushed institutions into quickly embracing the online format.
"The last two semesters we ourselves have been teaching [all classes] online. Here also it is online so, I don't find it difficult. We have integrated with all online material. Right now there is not much difference between teaching online and teaching face-to-face." said Balasubramanian.
Employment
For some professors, it is still too early to say what will become of these courses.
"These have come up due to the pandemic only, all these started from September 2020 before that I never heard of online teaching. Since the pandemic, everything is going online. We are now learning about all these," said Balasubramanian.
Also Read | More than 11 lakh teaching vacancies in Indian schools: UNESCO Report

Because they are still at a very nascent stage, there are questions about the impact of these courses, especially on employment.
"From the knowledge point-of-view it is fine because we are teaching. After that we do not know because we haven't seen the first batch yet. Maybe in another three or four months we will get to know about job prospects, "said Balasubramanian.
Standardization
To bring some sort of standardization in online courses both AICTE and UGC have come up with guidelines on online courses.
In the UGC (Open and Distance Learning Programmes and Online Programmes) Regulations, 2020, for online degrees and postgraduate diplomas, the apex regulatory body for universities only allows three undergraduate programmes and 10 postgraduate programmes per university to be taught online.
Also, it only allows institutions to "offer only those degree programmes at undergraduate and postgraduate levels and post graduate diploma programmes, which it has already been offering in conventional mode".
In the AICTE (Open and Distance Learning Education and Online Education) Guidelines, 2021, AICTE requires the institutions to set up a Centre for Internal Quality Assurance, an internal body responsible for ensuring quality in the degree, diploma and certificate courses offered through the online mode.
Also Read | PM Poshan is an old scheme with a new name: Activists

However, since these are not applicable to autonomous institutions such as IITs and IIMs, there are variations in the practice followed while offering online courses.
IIM Kozhikode authorities said that all the syllabus for certificate and diploma programmes are prepared by the IIM professors.
"In all the programmes offered by IIMK, whether on its own or in collaboration with technology partners, the course curriculum is designed by IIM Kozhikode faculty. IIMK typically collaborates with partners who bring complementary strategic capabilities. For instance, sometimes, these capabilities could relate to market outreach or technology," said G Thangamani, chairperson of executive post graduate programme at IIM Kozhikode.
However, the IIT Roorkee course syllabus for full stack development, for instance, is prepared by both Great Learning and IIT Roorkee experts.
"The course is based on a memorandum of understanding (MOU) signed between IIT Roorkee and Great Learning. The syllabus is prepared by experts from both sides," said Balasubramanian.
Under this agreement, faculty from Great Learning will also teach the students.
Benefits of the partnership
According to IIM Kozhikode authorities, the institute had started offering a distance learning programme similar to the online one in 2001. Students opting for their executive management education programme had the flexibility to choose centres based on their location where lectures are broadcast through satellite.
The sector has changed drastically since.
"This model of online education portal was initially introduced through the VSAT technology and there was only one private player in the picture when IIMK started offering online education. Now there are different platforms available to offer the programme with many competitors." said Thangamani.
For these public institutions, there are certain advantages in continuing these partnerships.
Also Read | Over 43,000 schools out of education database, requires scrutiny: Educationist

IIM Kozhikode authorities said that their collaborations with private online portals have increased connectivity and added infrastructure for their programmes.
"The experience with the private partners has been mutually beneficial in terms of the delivery of the programme, infrastructure provided at the learning centres, connectivity, better reach of the programme to the corporates and private or public service sector," said G Thangamani. And public institutions led some of their prestige to the private platforms they collaborate with.
These partnerships also act as a revenue stream for the institutes.
"For a self-sustaining institute, revenue-generation is also crucial to continue providing quality education without any compromise. Collaborations with external agencies help the institute a great deal in accessing state-of-the-art technology based platforms. External support enables complete utilisation of the intellectual capital of the institute," said Thangamani.
Developing own platforms
For now, the technical and clerical aspects of the courses are dealt with by the private platforms. However, teachers said that public institutions may develop online education portals of their own.
"All the clerical work is done by these people. Preparing assignments, conducting tutorials, all these things are done by the private companies. We are only teaching. We don't have any experts on online teaching. That might be the reason that we are initially collaborating with these institutions. Later, this may change," said Balasubramanian.
Several IITs, including IIT Delhi and IIT Bombay, have their own e-learning portals. IIT Madras' online BSc in data science course is taught via IIT Madras Online Degree portal.
"We are now learning about the different aspects," said Balasubramanian. "It is possible that we will build their own portals. We are planning."
---
Follow us for the latest education news on colleges and universities, admission, courses, exams, schools, research, NEP and education policies and more..
To get in touch, write to us at news@careers360.com.
Know More About
NIRF Rank
14
Rating
4.3/5