LLB, LLM fees rise 3-fold at Osmania University; 'cannot afford this', say students
Osmania University has raised fees for several programmes, including LLB, LLM degrees – a decision that will exclude poor, rural students.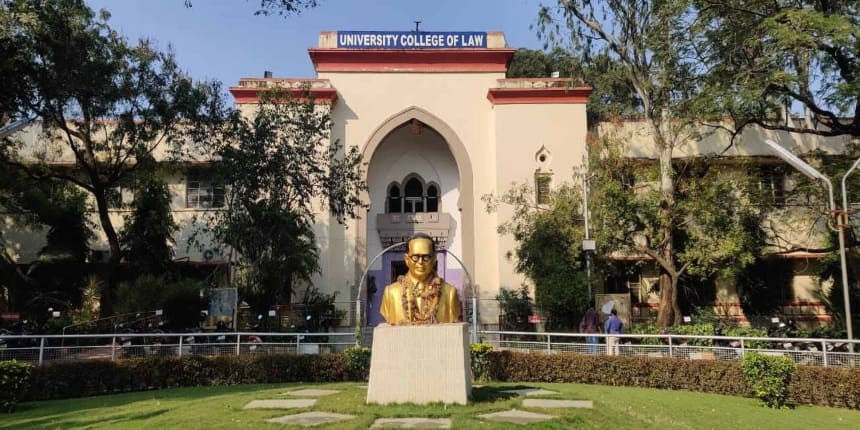 NEW DELHI: Each day after class, Lenin Irigi, a second-year law student at the University College of Law at Osmania University, puts on a red or yellow vest, grabs his bike and ventures into Hyderabad's urban sprawl. The 26-year-old, who hails from Kondapuram village in Nalgonda district of Telangana, relies on his part-time work as a Zomato and Swiggy delivery boy to pay his fees.
In November, when the University College of Law, like other departments and institutions of Osmania University, abruptly increased the tuition fees by more than three times, Irigi had to lean on his artsy side to pay the fees. Irigi took up commissions to paint placards, walls, or campaign banners for political parties.
Irigi, whose father died two decades ago, is proud that he doesn't rely on his mother, an anganwadi worker, for his fees. But, for him and many others, the fee hike was too steep.
Also Read| DU's Law Faculty is one India's best-known law schools. Why doesn't it rank in NIRF?

The first year fee was only Rs. 5,000 per year in 2021 but this year, students have to pay over Rs. 16,000. Plus, the fees went up for all students – new admissions and those already-enrolled.
"The mess fees are separate and that will cost around Rs. 10,000 which has to be paid up front. So, for a first-year law student, this will come to around Rs. 26,000…60 to 70 percent of students at Osmania University come from poor backgrounds from rural Telangana, Bihar, etc. Many students cannot afford this," said Irigi.
"The fees have now become similar to private colleges which charge around Rs 30,000. Exam fees have also increased. It was Rs. 500-600. Now, it is Rs. 1,800 to Rs. 2,000," said Irigi.
According to students, the first-year fee for University College of Engineering, has also increased from Rs. 18,000 per year to Rs. 36,000 per year. For arts students, the fees went up from Rs. 3,500 to Rs. 14,000.
Osmania University: No merit for merit
Students said that the sudden and steep hike has negated the achievements of students who have studied hard to get into campus colleges on merit. Many, especially those from rural areas, are choosing not to take admission, students said.
"For now, the main campus colleges have increased fees. Naturally, the affiliated colleges will also increase. Some of these students have already cancelled their seats. Even after getting the best institute in Telangana, students hailing from rural areas will have to pay this much," said Rehman, an MA Journalism student. Osmania University has around 500 affiliated institutions.
The fee structure is now a barrier for the meritorious.
Also Read| IIM Calcutta's law programmes help build skills in business, corporate law

"The government should provide free education at least to students who have secured campus seats. Even first and second-ranked students are asked to pay Rs. 36,000 and more," said Rehman.
Irigi believes the hike will be a disincentive for opting certain courses.
"I want to work in litigation for the poor people from rural areas. Maybe some other students will not pursue law because they think the fees are too high," said Irigi.
Skipping college
A section of students has left the college after taking admission due to the high fees. They are working jobs or preparing for public examinations for state jobs.
"Many people are cancelling admissions and working small jobs saying that they have no money. They are preparing for competitive exams. There are students who take admission into Osmania University for its library facilities and research journals but now this fee hike has caused them to let go of admissions and focus on their preparation," said Oli Harikirshna, Osmania University students and president of the All India Students Federation Hyderabad.
Also Read| Advocacy, Entrepreneurship, AI: 15 new law courses by NLUs, other law schools

Even for self-financed students, costs have increased dramatically. Students unions such as AISF alleged that the university has stopped allotting college hostels to this group whose education is not subsidised by the government.
"The university is not giving hostels to self-financed students. If there are 1,000 students applying for hostels, only around 400-500 students are allotted; the rest will have to find accommodation outside which is expensive," said Harikrishna.
NEP, fund crunch
Authorities said that the fee hike was made to be on par with other state universities that charged higher fees than Osmania University.
"At the time, I was not the dean. The dean-in-charge made the proposal before the standing committee and it was later approved. The argument was that both Telangana University and Kakatiya University were both, and from long back, charging higher fees than Osmania University," said Gali Vinod Kumar, dean, faculty of law, Osmania University. "So, in the standing committee, it was argued that charging such low fees is not viable. For that reason, they increased fees for the viability of the self-financed courses and increased the fees for regular fees also." "Personally," Kumar continued, "I'm against the fee hike. As a dean, I have to oblige. But as a professor, I will always oppose fee hikes in any department, not only the law department."
He pointed out that such fee hikes are a result of result policy decisions such as the National Education Policy (NEP) 2020 and shortage of grants from the state governments. This, he says, will push students more towards private institutions.
"The NEP leans more towards privatisation. This is a part of the policy. For that, they have made several reforms including hiking tuition fees. They have given autonomy for all the colleges and most of them are hiking tuition fees. It is a policy that is geared towards the privatisation of the education system," said Kumar.
Kumar believes that the NEP will create a cycle that will gradually force all public institutions to increase their fee.
"Governments are not giving the grants. The universities are in an economic crisis. So, to sustain themselves, universities are increasing fees. That is the biggest lacuna of the NEP," said Kumar.
---
Follow us for the latest education news on colleges and universities, admission, courses, exams, schools, research, NEP and education policies and more..
To get in touch, write to us at news@careers360.com.
Know More About
NIRF Rank
22
Rating
3.7/5
Download Brochure