STUDY IN INDIA: Realising higher education dreams of Syrians in India
STUDY IN INDIA: Realising higher education dreams of Syrians in India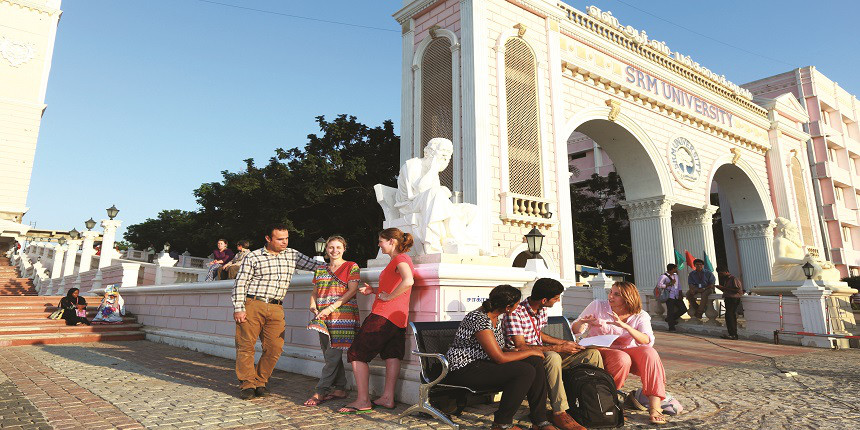 NEW DELHI, SEPTEMBER 12: Amjad Alaji is studying Master's in Mass Communication and Journalism; Anas Almalla has a degree in English Literature from Damascus University and is currently studying Mass Communication at SRM; Duylam is in the second year of her Master's course in English Literature. What is it that binds these three foreign students enrolled at the SRM Institute in Chennai? They are part of the first group of 400-odd Syrian students who have been sponsored by the Government of India to study free of cost in India's leading universities. These young people are high on energy and they wish to avail of the opportunity provided to them and have a dream to go back and help the strife-torn country's rebuilding efforts.

Govt sponsoring students from the war-torn country
Extending a big help to Syria, India's Prime Minister Narendra Modi last year announced 1,000 scholarships for Syrian students. In the first lot, 400 Syrian students got the opportunity to study at various universities across India as Syria is trying to recoup from the seven years of counter-ISIS operations. Ordinary citizens of Syria have borne the brunt of the violence. Hundreds of thousands of people lost their lives while a large number of people got displaced from their cities. As the Syrian Government scrambles to manage the situation, it is facing another mammoth challenge — providing education to these war-hit children.
"India is helping Syrian students by sponsoring their higher education on Indian campuses. In 2018, at least 400 Syrian students came to India under the 'Study in India' programme..."
Vijay Anand Chandra Sekhar, Manager International Relations at SRM Institute of Science & Technology, said, "When the Indian government announced to sponsor 1,000 Syrian students in Indian universities as rebuilding measure for the country, the proposal came to us from 'Study in India' to know how many students we can admit from Syria. Based on our calculation, we decided to take 70-100 students. We admitted all the 75 students who applied to our institution." Out of the 75, at least a dozen are female students.
Why study in India?
The Syrian students have chosen to study in India at the Masters' level, as the quality of education and the environment is not favourable in their country. Some of them have got enrolled in engineering programmes, some are learning management through MBA programmes, some want to go back and work in the healthcare sector and they have enrolled in Master's level course like Public Health, while a couple of them are doing Master's in Biotechnology.
These students have a total fee waiver and only need to take care of the living costs. Shekhar said the peaceful atmosphere and a wide range of courses on offer made it particularly appealing for the Syrian students to study in India. "We have about 10-15 girls from Syria, and last year we had around 20 girls from Afghanistan. The good number of female candidates opting for our institution also means they are assured about their safety in India, and Chennai in particular. We offer a wide range of courses; it also speaks volumes about it. We were chosen for this by the government also because we are one of the highly ranked institutions with good NAAC rating," he said.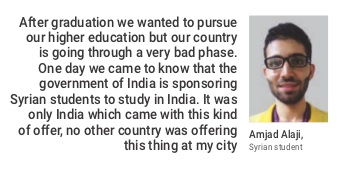 These students had to face some language issues initially. However, special orientation classes and active involvement of the staff at SRM in helping them understand the local language and culture have made them an integral part of the SRM campus.
What do the students feel?
According to London-based Syrian Observatory for Human Rights estimate, as many as 560,000 Syrian people had been killed in the conflict since March 2011. The country requires massive rebuilding effort in very sphere and education is one of the key sectors. The education system in Syria is in an equally bad condition leaving not much options for school and college students. In such a scenario, students see the help from New Delhi as a big blessing. "We wanted to pursue our higher education but our country is going through a very bad phase. One day we came to know that the government of India is sponsoring Syrian students to study in India. No country other than India came up with this kind of offer. I applied for it and got selected and I am here in SRM. I have spent nearly one year here and it has been very good so far. I appreciate all that has been given to me," says an elated Amjad who got admission in 2018.
Many of these students have lost their dear and near ones and their childhood friends. Amjad has a wry smile on his face when he says that he will not be able to meet most of them when he goes back after his studies. "I hope there will be a new beginning for my country, and I will be able to contribute significantly to the process," he said.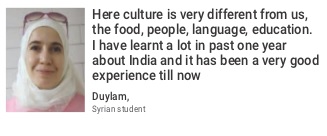 Duylam, who is from the Syrian capital Damascus, said she always had a fascination for India. "I had Indian friends in Syria who were from Hyderabad before the war broke out. Here the culture is very different from that of our country, the food, the people, the language, education. I have learnt a lot in the past one year about India and it has been a very good experience till now," she said.
India's humanitarian effort is sure to boost its image as a destination for quality higher education.
Stay updated with latest Education News