A Dalit student in Oxford University: Sumeet Samos on caste, merit, studying abroad
Activist, rapper, JNU alumnus, Sumeet Samos raised funds online for a course at Oxford University. He spoke about scholarships, application, 'merit'.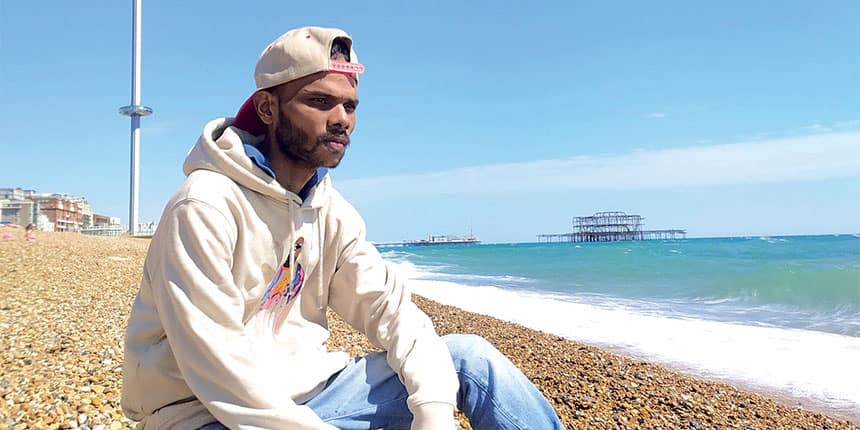 NEW DELHI: Sumeet Samos Turuk, 28, anti-caste activist and rapper, has had an interesting higher education journey. From Koraput, Odisha, he came to Delhi's Jawaharlal Nehru University and eventually secured admission in Oxford University. Without scholarships or personal resources, he successfully crowdfunded his Oxford tuition fee, raising Rs 38 lakh in three hours. Now back in India, Samos spoke to Careers360 about the qchallenges that historically-marginalised students face while applying for universities abroad and what happened when he became a part of an international classroom. Samos has also written a book, Affairs of Caste. Edited excerpts below.
Q What was it like to grow up in Odisha and then move to Delhi for higher education?
A. I come from a village in south Odisha. It is an Adivasi-dominant area and growing up, I saw caste discrimination and lack of opportunities. Since there is no one in our families or even the community who has done higher education, children like me had very little idea about what to do after school. There is nobody to tell us what subjects to choose or how it will work out in the future. After Class 12, I took a bus to Bhubaneswar and while walking around, found a government college and decided to enrol.
That lack of support and information was a major hurdle for me growing up. Without necessary information, you end up doing traditional courses like BA, B Com or a BSc. There is no clarity on career prospects. In terms of jobs, there are limited options like becoming a school teacher or a lecturer, if you are fortunate enough to be able to do a master's. At the same time, the family has pinned their hopes on their child earning money and sending some of it back home to bring financial stability.
Also Read| 'Azadi for upper-castes': Dalit students cursed, beaten, locked up in schools across UP, Rajasthan
Luckily, I came to know about Jawaharlal Nehru University from an acquaintance who had studied there long back. I decided to apply for BA Spanish in JNU and move to Delhi. In third year I started reading more than course books, started talking to people and understanding more about Indian society, my own place, where I come from and my identity. I went to protests that broadened my perspective.
This led me to writing articles in Round Table India and other such platforms. I come from a family in which all of us – my brother, my father and even my grandfather are singers. We have a singing tradition at home. I thought I would give it a shot and tried singing in Hindi and English. I did that for a while and got a chance to travel to universities and colleges across the country.
Q When did you decide to apply for Oxford University?
A. While in JNU, I got into student activism; I read history, texts on politics and literature and was exposed to diverse disciplines. After I completed my undergraduate and postgraduate studies in Spanish at JNU, I wanted to work in a call centre, MNC or some international school where I could teach Spanish. I also tried competitive exams for a short while but was never interested in it. Then a Dalit senior from Uttarakhand who was studying in Oxford University suggested I apply for the university.
In 2020, I applied for a year-long MSc programme in Modern South Asian Studies at Oxford University after coming in touch with fellow students who were applying for higher education abroad.
Q You ran a successful crowd-funding campaign in June 2021 to cover your tuition fee. Why was scholarship not an option?
The only study abroad scholarship that funds Scheduled Caste and Scheduled Tribe students in India is the National Overseas Scholarship Scheme and it has around 100 seats. There are pre-conditions like it should be a two-year masters programme and [those pursuing] a second master's will not be eligible. If you have work experience but not an experience letter, that can create hurdles in the application process. Even after you furnish all the documents, many times the scholarship money is delayed.
In my case, it was my second master's so I was not eligible for it. Even at the state level there are very few scholarships that support Dalit and Adivasi students. Very few states like Maharashtra offer scholarships and states like Odisha and Andhra Pradesh do not.
Also read| 'Ambedkar himself would be stopped': New rules stifle NOS scholars' freedom to study own communities
There are other scholarships like Rhodes, Chevening, Commonwealth and even departmental scholarships at Oxford that privilege upper caste students who have studied in elite colleges in the interview round. In my opinion, a lot of it depends on the cultural competence of the student and not just the degree you have earned. Only when you study in colleges like these, you get opportunities to be a part of exchange programmes, do certain types of internships, work with organisations like Oxfam, Amnesty International etc., that boost your profile. Most Dalit or Adivasi students do not have a clue about these opportunities, or they are not in a position to apply. We are constantly in competition with someone who has studied in a better school or college or someone who has support from professors.
In my case, my CV was very impressive. I had worked with French Radio Live, Paris as a presenter and as a performing artist on caste from 2018 to 2020 in various theatres of France. In 2019, I was featured among one of 15 youths to watch out for the decade by the Times of India. I had written many articles on caste discrimination. Despite this I was not selected for the scholarship. I have learnt that how you market yourself is of great importance. I recently wrote an article on how upper caste people are able to market their smallest achievements to their advantage. Even if they spend 10 days in a Dalit or Adivasi hamlet, they will market it as 'changing the lives of Dalit women'. If they have been part of the Teach for India campaign for 20 days, they will project it as if they have changed lives at the ground level and it works in their favour.
I had applied for a scholarship for a PhD programme at Oxford and I got rejected again. So, I dropped the plan and came back to India after my masters concluded. Instead, I am aiming for universities in the US. I wrote to professors who are working on caste issues and they have responded. I am hoping I will get a chance to work with them soon.
Students should realise the limitations of scholarships and at the same time try to figure out other countries like France and Germany.
Also Read| Studying Abroad: How much will it cost? Here are estimates for 5 countries
Q What was your campus experience like?
The only problem was that I could not fit in while studying at Oxford University. Most of the other Indian students there had either done their masters or undergraduate degree in the UK or in an elite institution in India. Even other South Asian students are mostly elite, upper-caste students from India and Pakistan, while there are also those from UK, US and Canada with Indian and Pakistani origin who are also elite.
The way they speak, their references, the things they like talking about, even attending expensive parties, excluded me because I do not have similar interests nor the money. Even Pakistani students were children of big army officers or politicians. Some of them even had grandparents who were friends with Jawaharlal Nehru and Rajiv Gandhi.
Also, the way they present India. South Asian students, mostly from India and Pakistan, paint a very stereotypical image of the country with saree, kurta, bindi, dance, Urdu poetry and love for Shah Rukh Khan – it is an elitist and myopic way of looking at India. These students did not engage in dialogue when I raised uncomfortable questions on caste discrimination. They will applaud the presentation but it ended there.
I found a few friends with whom I had shared interests and other Dalit Bahujan students. I ended up creating my own space. The interaction with students was mostly limited to classrooms. I was never denied opportunities but most of the students aim to just present their own paper and leave. For them, studying in Oxford is a status symbol. They have little to no intention of going back to India and doing some work nor are they passionate about changing lives. It was a big disconnect for me.
Also Read| IIT PhD scholar protests against 'discrimination' in IITs in front of education ministry
What kind of challenges did you face while applying for Oxford University?
A. Maybe because I was in JNU, I had some idea of what an SOP [Statement of Purpose] and what essay samples are. The structure of essays and how they should be framed was something I had to learn from other Bahujan students who are pursuing PhD in such universities. Then, gathering recommendation letters was a problem. The big names in the teaching faculty do not favour you if you are not their favourite. I reached out to Dalit faculty in Delhi University [DU] and JNU who did not teach me but whose conferences and seminars I had attended. They were kind enough to write recommendations for me.
I had done Spanish and I wanted to study South Asian Studies therefore subject specialisation was also a hurdle in getting recommendations. English was one of the biggest challenges.
In the first month, I was not sure whether I would be able to do this. I read about citations, how to structure essays, how to do sub-headings, writing broad topics and such over time. Luckily, my supervisors were very helpful and supported me throughout and I was able to complete my research on student politics between 1990 and 2019 in central universities in India. I will soon be publishing this as a paper.
What do you think about the idea of meritocracy in the Indian education system?
A. If you do not have equal opportunities and resources, to expect meritocracy is absolutely wrong. You cannot compare a privileged student with those who have had to struggle at every step.
'Merit' is basically upper-caste privilege in India. If you are in an elite institution, you are automatically assumed to be meritorious. The opportunities are in favour of those who have access to resources and information. Till 2011, I had no idea computers store information about colleges and you can apply online.
Now things have changed a lot but even now there are challenges. For instance, when you are applying for Delhi University, there are different phases of application. You give your first set of choices, then second and then counselling is conducted. Also, vernacular medium schools mark students strictly. A student who has got 69 percent will be considered a hero in our community but he will not be able to compete with an upper-caste student studying in an elite school during admission season. There are explicit caste biases but also the way the Indian education system is structured keeps the marginalised sections out of the system.
Coming from an elite institution does not mean that this person has vast insights into the world and society around you. I know young Dalit students who know more about agriculture, weather, creating and building houses, or even catching fish which are completely ignored in the quantification of 'merit'. This cannot be measured in percentages.
Also, we have fixated on the idea of rote learning which has further diluted the idea of merit. The problem of questioning reservation has a lot to do with the resentment of having Dalit-Bahujan in a space dominated by upper-castes. When the same Dalits are provided with the right opportunities, they can certainly do well.
---
Follow us for the latest education news on colleges and universities, admission, courses, exams, schools, research, NEP and education policies and more..
To get in touch, write to us at news@careers360.com.
Know More About
NIRF Rank
2
Rating
4.3/5
Download Brochure