Visa woes for Indian students attending Canadian universities online
Visa woes for Indian students attending Canadian universities online
New norms Canada introduced during COVID-19 led to students joining programmes online without a full-fledged visa.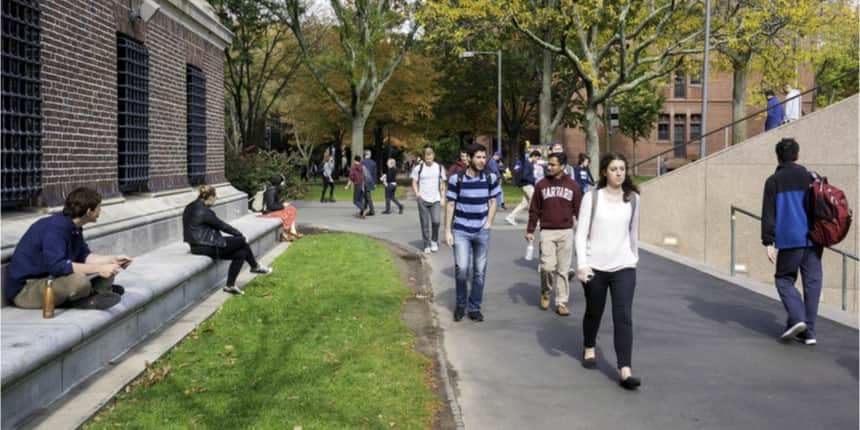 NEW DELHI: In fall 2020, Puneet Awasthi joined the computer software and database development course at Lambton College in Ontario, Canada. In 2021, Awasthi expects to move to Canada to join regular classes but there's one hitch -- he hasn't received his visa and doesn't know its status.
Awasthi (name changed on request) applied for a Canadian visa on January 10, 2020. Five days later, he had his biometric information recorded and in September, he received an "approval in principle", or AIP. He joined the programme trusting the AIP would be converted into a full-fledged visa but it wasn't. "It's been more than a year now and I am not getting any update or decision on my application," he said. "I have emailed the Canadian High Commission in New Delhi many times as my application is being processed there. There is no answer from their side. I am stressed out now and don't know what to do."
There are hundreds of such students who have started classes online but are not sure if they will be able to stay with the programmes. Delays caused by COVID-19, changed visa processing norms and decisions to halt processing due to violations have meant the students' applications are hanging fire.
Many students have already spent hefty sums on the application process and admission. They have joined courses, are studying online but fear their time and money will be wasted if the Canadian government does not approve their visa applications.
Canada Visa: Complete and incomplete files
Visa application centres in India began functioning again only in late November 2020, said students. The months of lockdown before that created a massive backlog of applications at different stages of processing. For many students, appointments for collecting biometric data (iris scans, fingerprints) were held up. To get around this, the Canadian government created a temporary two-stage process for students unable to submit all documents at once.
In the first stage, a student's eligibility to study in Canada was assessed, including whether they had been accepted at a Canadian learning institution and had the funds required.
For the second stage, students had to submit documents such as biometrics, immigration papers, medical examination or police certificates. Following this Immigration, Refugees and Citizenship Canada officers would finalise the application process.
The changed visa norms caused problems for Indian students.
"The IRCC delayed its application timeline," explained Madhav Dihora, final-year student of computer networking at St.Clair College, also in Ontario."Earlier, a student would get their approval or rejection after giving their biometric data for the visa. Now, after biometric, they won't get the visa status but something called a PPR [passport request] instead. That doesn't give the assurance that the student's application will be approved. But most students already started their education, which is currently online due to pandemic, and if they get a rejection after their, they would have wasted that time and investment."
Shivani Koli (named changed) has found herself in the same situation as Awasthi. She told Careers360 that at the end of the first stage of the process, she received an AIP, same as Awasthi. "This could help you study online even if you deferred your program to September 2020 or January 2021," she said. Under AIP, the eligibility of a candidate is checked. It helped those who could not submit biometric data or medical certificates due to COVID-19. Koli, who had initially applied for the March 2020 intake, finally joined the programme online.
"So, students with complete files and incomplete files both received AIP. IRCC said that students with complete files move on to second stage processing," she said. But like Awasthi, the visa process has been held up for her. "It's been five months already since I and many others with complete files have received AIP but still, no decision has been made yet. Then IRCC repetitively said in webinars and tweets that the only admissibility is checked after AIP is received and still, a lot of people got rejection after AIP based on eligibility," Koli said.
Wasting money
Most of the students, whether they were meant to join in March or July, have done their first semester online without any confirmation they'll receive visas to complete the programme on campus. "If we receive rejection, not only will our money be wasted, but the effort and time that went into studying online will also be wasted," said Koli, reminding that attending classes delivered from a different timezone meant staying up at night.
"Most colleges have said that even after rejection, the first semester fees won't be refunded and since the second semester has started, some money from the second sem will also be deducted," she added.
Derek Abma, Communications Advisor, Immigration, Refugees and Citizenship Canada / Government of Canada said: "These are extraordinary times and the Government of Canada has implemented a number of temporary measures to protect the health and safety of Canadians and reduce the spread of COVID-19. COVID-19 has had an effect on businesses, operations and travel around the world, it has not been exclusive to Immigration, Refugees and Citizenship Canada (IRCC). Throughout the pandemic, IRCC has strived to accommodate international students and be fair with applicants by introducing a variety of temporary policy changes."
He further added that through the post-graduation work permit (PGWP) program, many post-secondary students who complete a Canadian educational credential at a designated learning institution can work for up to three years after they graduate, depending on the length of their program. "Under normal circumstances, criteria for the PGWP limit an international student's ability to pursue a program via distance learning, from inside or outside Canada, and time spent studying outside Canada is deducted from the length of the work permit for which they are eligible," Amba told Careers360.
He said that the ongoing COVID-19 pandemic requires flexibility on this criteria. Abma said: Temporary facilitative measures were put in place earlier in the pandemic to recognize that restrictions related to the global fight against the spread of COVID-19 meant that many students were studying online from abroad. For students who complete most or all of their program from abroad, we encourage universities and colleges to provide meaningful Canadian experiences to their students and alumni, both virtually and once they are able to travel to Canada, to help them transition to working here."
Quebec: 'Dubious' recruitment
For those who have joined institutions in Quebec province, there's an added problem. Processing of visa applications for 10 institutions was suspended at the end of 2020 over "dubious" international student recruitment practices, said students as well as official announcement by the government. Students are not receiving "passport requests", or PPRs, from at least half a dozen universities in Quebec.
According to IRCC, processing typically takes nine weeks. In the past year, it stretched to over nine months.
Delay at the second stage
A few students who have applied for a second course have reported delays in VISA processing. For students approaching graduation, this has delayed work permits.
A lot of students who have received AIPs are approaching their final term and have still not received a final decision which will cause them to lose points on the Comprehensive Ranking System (CRS) which favours graduates from Canadian colleges for work permits.
"The poorly executed new Visa norms have had too many issues and errors. A lot of students' visa applications were rejected despite having their AIPs. Students in hybrid courses who did not receive a final decision, lost their acceptance." said Karan Singh (name changed), enrolled in an advanced television and film course at Sheridan College, Oakville, Ontario. "Students who are forced to do their complete course online have lost the opportunity to do their co-op (a programme akin to an internship) to build contacts which could lead into full-time jobs."
The numbers might grow with more students applying for the May and September 2021 intake.
However Abma said that as Canada and countries around the world continue to fight the spread of COVID-19, those measures have been extended and expanded. Through these measures, international studentswhose program was already in progress in March 2020 or who started a program in any semester from spring 2020 up to fall 2021 will be able to count the time they have studied online from abroad from March 2020 to the end of2021 toward the eligibility and length of a PGWP without penalty. Complete up to 100% of their program(s) online from abroad and remain eligible for a PGWP.
'I have given up'
A few universities and colleges have extended the deadline to withdraw from a course or term.
"At this point, I have given up," said another student. "We are in living hell. We've got assignment anxiety, PPR anxiety. We've got parents and friends asking us questions. Dad, every day after coming from office, asks me if I got any progress email and I say, "Not yet, dad, thanks for reminding me". I have now dreamt thrice about getting an email. In one, it was rejected. But still. I hate the fact that I held out for a Canadian university. All my friends, who never planned to go abroad, are in the USA now."
Some colleges have offered a full refund in case of Visa rejection after getting their AIP. But many colleges have refused to defer. Some students were asked to apply again for the next intake but acceptance is not guaranteed.
"I think instead of issuing AIPs, the authorities should give direct results to students so that even if they get refused, they still have time to reapply or look for a different option," said another student.
Careers360 wrote to Marco Mendicino, minister of Immigration, Refugees and Citizenship Canada (IRCC) for comment but is yet to receive a response.
Update: This copy has been updated to include the responses from IRCC.

Write to us at news@careers.360.com.
---
Follow us for the latest education news on colleges and universities, admission, courses, exams, schools, research, NEP and education policies and more..
To get in touch, write to us at news@careers360.com.