104 Students graduate in IIT Tirupati's First Convocation
104 Students graduate in IIT Tirupati's First Convocation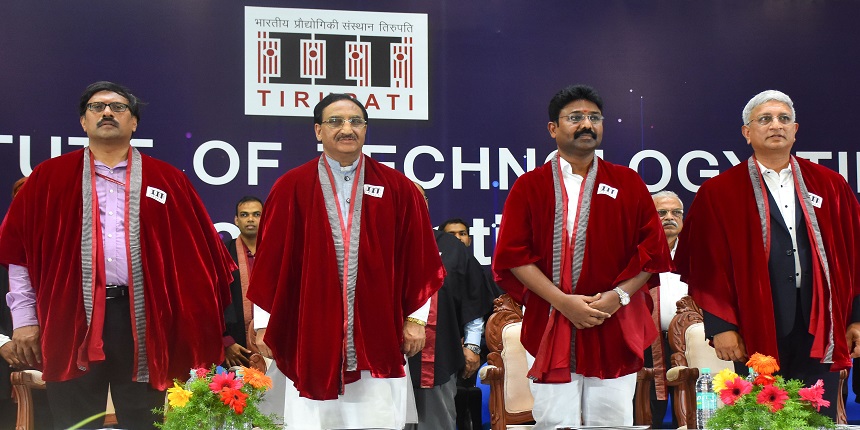 NEW DELHI, AUGUST 13: A total of 103 B.Tech. students and one M.S. degree student graduated during the first Convocation of Indian Institute of Technology Tirupati, Andhra Pradesh.
The Stage 1A Transit Campus will be integrated into the Permanent Campus, which spans over 530 acres provided by the Government of Andhra Pradesh in Merlapaka Village on Yerpedu-Venkatagiri Highway. The next stage of construction is expected to be completed by the Year 2021. It will cater to 1,250 students and 120 faculty members. While the masterplan has been done for 12,000 students, the DPR that has been approved envisages construction of a complete campus to cater to 2,500 students, 250 faculty members and 275 staff members and is scheduled for completion by the Year 2024.
Delivering the Convocation Address, Dr. Ramesh Pokhriyal Minister of HRD said, "I am sure that all the graduands of today will join the glorious IITian tradition of being the leaders in their respective fields. I congratulate you for your success and accomplishments and hope that you will contribute to nation building and do your Alma mater and the country proud."
Dr. Ramesh Pokhriyal added, "The Detailed Project Report (DPR) of IIT Tirupati to build a campus for 2500 students and the associated faculty and staff has been approved in principle. The cabinet has sanctioned an amount of Rs. 1,074 crore for the period up to 2020. I expect IIT Tirupati to act as a pace setter and provide academic, research and innovation leadership through active networking with all these existing and upcoming institutions."
The current student strength of 823 students includes 582 B.Tech., 118 M.Tech., 10 M.Sc., 32 MS and 81 PhD research students along with 78 Faculty and 56 Staff members. IIT Tirupati takes pride in mentioning here that the Institute consistently has the highest percentage of female student enrolment (17 per cent) in the B. Tech programme, among all the IITs.
In the graduating batch, 100 per cent of the students secured internship in highly reputed national and international organizations. Around 50 companies visited the campus with more than 75 out of 103 students getting placed in core engineering and R&D Companies besides in Analytics, Consulting and Finance, and Information Technology (IT) sectors. Several other students have chosen to pursue higher education in India and abroad.
Presenting the Institute Report, Prof K.N. Satyanarayana, Director, IIT Tirupati, said, "The faculty members have been granted 29 sponsored research projects amounting to Rs. 10.40 crore, and 21 industrial consultancy assignments amounting to Rs. 70 lakh. These projects have been funded by MHRD, Department of Science and Technology (DST), Council for Scientific and Industrial Research (CSIR), Science and Engineering Research Board (SERB), Naval Research Board (NRB), Indian Space Research Organization (ISRO) and Indian Council of Social Science Research (ICSSR), among others. Further, about 20 projects are currently under evaluation with various sponsoring agencies."
Currently, the Institute offers admissions to B.Tech. programme against 203 seats in the branches of Chemical Engineering, Civil Engineering, Computer Science and Engineering, Electrical Engineering, and Mechanical Engineering., M.Tech. and MS programmes are offered in the Engineering Departments. The Institute offers M.Sc. In Mathematics and Statistics. All the nine departments in the Institute including Sciences and Humanities offer PhD programmes.
Stay updated with latest Education News
More From Team Careers360