CAREERS360 IMPACT: Radesh Gets Back His Original Documents
CAREERS360 IMPACT: Radesh Gets Back His Original Documents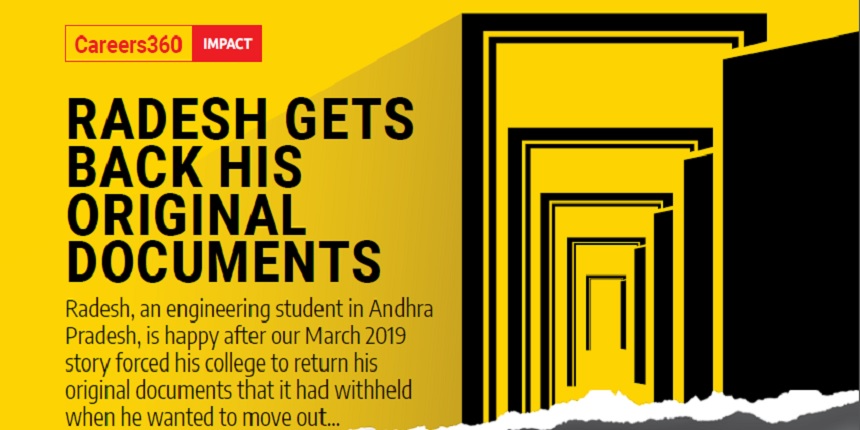 Radesh, an engineering student in Andhra Pradesh, is happy after our March 2019 story forced his college to return his original documents that it had withheld when he wanted to move out…
C. R. Radesh Kumar, an engineering college student at Tirupati in Andhra Pradesh, wrote to us in February this year, saying that he wanted to withdraw admission from his college (name withheld) to shift to another college. However, he was unable to do so because the college refused to hand over his original documents unless he paid the full tuition fee for four years of his B. Tech programme.
Not so financially well off, Radesh was shattered since he could not meet the steep demand.
Careers360 steps in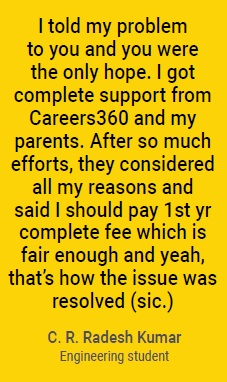 Careers360 approached the college on phone and through email to understand their version of the story, but there was no official response. One of the senior officials of the college told us on condition of anonymity that a number of students take admission and then withdraw it, causing financial loss as the seat would remain vacant throughout the duration of the course and hence the demand for the full course fee. Meanwhile, we remained in constant touch with a distressed Radesh who mailed us that "I would rather die than study in that college."
Role of UGC, AICTE
We also approached the regulatory authorities concerned, the All India Council for Technical Education and the University Grants Commission over colleges withholding documents.

The AICTE terms withholding of educational documents as a violation of rules. "In case a student wants to withdraw admission from a college, the college cannot charge the fee for the entire duration of the course. If we receive any such complaint about any college we take immediate action," AICTE Vice Chairman M P Punia told us.
The impact
As we relentlessly pursued the case, the college agreed to return the educational documents, asking Radesh to submit the full fee for the first year of his studies. "They considered all my reasons and said I should pay 1st year fee, complete fee which is fair enough, and the issue got resolved," Radesh informed us.
Every month Careers360 receives dozens of complaints like that of Radesh. We try our best to get these resolved. It's a solemn promise.
Stay updated with latest Education News