The day you stop learning, you become irrelevant, say experts at Amity Business Summit
The day you stop learning, you become irrelevant, say experts at Amity Business Summit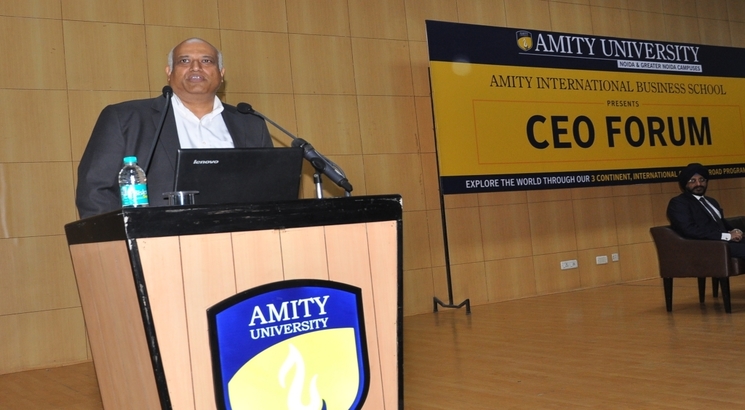 NEW DELHI, SEPTEMBER 15: "Keep learning and be robust against shocks, because innovation is the only constant," was the message by Kishore Jayaraman, President, Rolls-Royce for India and South Asia, to the gathering of budding professionals at the CEO Forum of 3rd International Business Summit organised by Amity Institute of Business School at Noida Campus.
Addressing the plenary session on 'Disruption of Globalisation: Opportunities and Challenges' on September 14, he said, "The day you stop learning, you become irrelevant."
The event was marked by a discussion on opportunities and challenges presented by new technology and globalisation and how students can become future-ready. The plenary session also witnessed the participation of Rajdeep Sahrawat, Head, International Business, Tata Consultancy Services and Dr. Sharda Nandram of Neynrode Business School, the Netherlands.
Welcoming the gathering, Dr. (Prof.) Gurinder Singh, Group Vice Chancellor & Director General of Amity Business School group opined that there were two types of personalities i.e. Basement and Balcony Personality, with the former being conservative in approach and latter being always inspiring, motivating and encouraging in nature. Dr. Singh shared that interactions with eminent industry leaders will help students decide on their future career path.
Major disruptions
Recollecting his professional journey in early years, Kishore Jayaraman, an Engineer and MBA graduate, shared that he was the master of six computer programming languages by the time he completed his post-graduation and this helped him stay relevant to changing times. He highlighted three major disruptions happening in the business environment in Manufacturing, Digital and Electrical. These disruptions stand to change the course on how organizations will sustain, he said. Pointing at how factories of future will look like, he emphasized on four key drivers i.e Data & Connectivity, Manufacturing Innovation, Big Data/IoT/ Cloud and Global Value Chains. He also said that digital disruption is bringing a paradigm shift in new business models and will further lead to higher productivity & predictability, demand for high-end technology and reformed skills in manufacturing. With globalization and Industry 4.0 revolution, the life of businesses has shrunk to 15 to 20 years unless one keeps reinventing and utilizing resources in consonance with changing times, he said.
New world of unconventional marriages
Beginning on a witty note, Rajdeep Sahrawat said how living in today's interesting times is distressing and difficult as everything is in flux, which in turn makes it more interesting. He said that in the coming years, India and China are going to drive the world economy since in both the countries' innovative ecosystems are maturing at a rapid pace and have huge human capital. Shifting demographics will shape how various sectors in each country will turn out, for instance, Japan's healthcare industry could see more robots as caregivers as it has a higher number of the ageing population compared to younger demographic, he added.
Striking the same chord with emphasis on the human aspect, Dr. Sharda Nandram, shared her views on VUCA (volatility, uncertainty, complexity and ambiguity) and Integrative Intelligence. She said, VUCA is a result of globalization and this challenge needs to be managed by individuals, businesses and future managers. "It is important to have an understanding of intelligence to succeed since it requires a combination of skills and knowledge of framework & theories," she said.
Dr. Nandram also presented a case study of a healthcare company Buurtzorg where VUCA was considered as an opportunity. She shared that the company noticed a dissatisfaction due to lack of autonomy, professionalism and excess of bureaucracy. Believing in the power of ICT, Buurtzorg management aimed at creating an exceptional holistic organization model with 2 Directors, 55 Staff, 22 coaches, 950 teams, 14,000 nurses serving 70,000 clients with no managers.
The plenary session concluded with the panellists answering queries of professors and students from Amity campuses around the globe.
Stay updated with latest Education News