DU OBE: Chaos and panic reign over final-year exams
NEW DELHI: Delhi University (DU) open book examinations started on August 10 after it got the High Court nod to conduct online examinations, and with it began a host of problems from registration issues, to technical errors to wrong question papers. Even after students reported many problems on the first day itself, there was no redress.
Recommended: Know Your Admission Chances in DU Colleges Based on Your 12th Percentage. Click Here
On the second day of the DU exams, students complained about the non-responsive website and the scramble to convert and resize documents. A large number emailed their answer scripts. One sent three different answers in different emails and many students sent their papers to multiple authorities -- central email, teachers, college principals and nodal officers. Many of those who did manage to upload on the designated exam portal received emails from DU at midnight saying their submission "could not be completed".
Teachers, meanwhile, termed the exams "disappointing" and criticized the administration for not notifying the evaluation process.
Exams and panic
On Wednesday, students reported that the DU exam portal became unresponsive while they tried to upload their answer sheets resulting in chaos with students scrambling to submit their exam papers within the allotted time.
"As I was uploading the last image it took time to upload and suddenly the site crashed for 15 to 20 minutes. If I had got two more minutes it could have been uploaded. My hands were shivering, unable to do anything," one student complained to their teacher. "When I tried to mail it after writing my credentials when I sent the images[,] it could not be sent as it [had] crossed the 25 MB limit. I sent three different mail[s] for three different questions...I don't know if they would consider it."
Panic-stricken students resorted to sending the exam papers to multiple officials to ensure that their exam papers got submitted in time.
"Students got confused. First they uploaded on the website, then they sent to the common email address, then to the principals, on my id, everywhere. The students just wanted to make sure that the copies are received. So, the exam papers got submitted five or six times," said Kumar Ashutosh, nodal officer at the College of Vocational Studies.
Non-submission of answer sheets
The students' misery did not end there. Many students, after being unable to upload exam papers through the DU portal, had sent it to the common email which was the alternative suggested by DU in the official notification issued on August 8. On Tuesday, after midnight, many students received an email from DU's portal saying that "the submission could not be processed" causing further panic among students.
"DU portal did not function for 30 minutes so we were asked to submit through the common email. At 1.25 am we received mail from the university saying that our submissions were not accepted. All of us were panicking, there were lots of messages in our groups, " said Shivam Kumar, a student of Aurobindo College.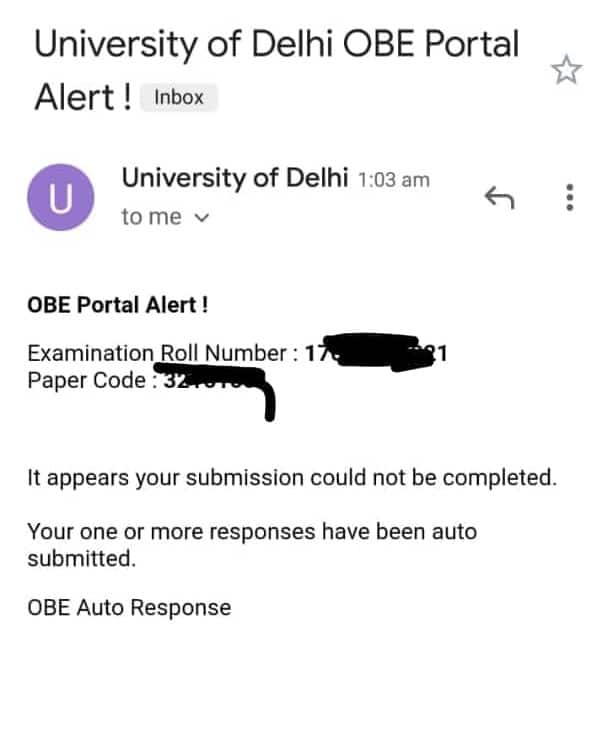 "Even after uploading, some received calls from the college asking to reduce the size of the pdfs to less than 7 MB and resend the exam papers. What is concerning is that when you reduce the size of a file, you will reduce the quality and we are very concerned whether the examiners can read the answer sheets and whether this will be checked at all."
Teachers agree that this 7 MB limit and the lack of uniformity regarding the quality of scanning might affect evaluation.
"With no uniformity in the quality of scanning, reading and evaluating these answer scripts will not be easy.With all these glitches, they will not be able to have faith on the grades assigned to them," said Abha Dev Habib, treasurer of the Delhi University Teachers Association (DUTA).
Mismanaged exams
Teachers said that they were "disappointed" with the way in which exams were conducted.
"Actually there is some management problem, so yesterday the exam was of Bcom, Economics, History and English. These four subjects are there in every college so the number of students might have crossed 40,000 and the portal was not capable of accepting this much of traffic at the same time," said Ashutosh.
Moreover, the open book examinations, teachers said, also break the secrecy norms that are in place for every examination and are a critical safeguard against discrimination. The university, in the August 8 notification, asked students to write their names along with their roll numbers on their exam papers. This has led to speculation about the prospective victimization that could happen.
"This is definitely a violation of secrecy norms as there might be some teachers who keep a personal score and might target students," said Ashutosh.
"This is the first ever in the history of the university that students are being asked to write their names. Why were university roll numbers not enough? Students fear victimization," said Dev Habib.
Teachers have also said that they have not received a notification regarding the evaluation process.
"In many cases, there are late submissions even through emails! How will the university decide which script amongst multiple submissions, should be taken as the final script for evaluation? Also till date there is no notification for teachers regarding the process of evaluation."
DU, meanwhile, has notified that it would consider the answer sheets submitted in all three methods, that is through the DU exam portal, common email and college or department mail.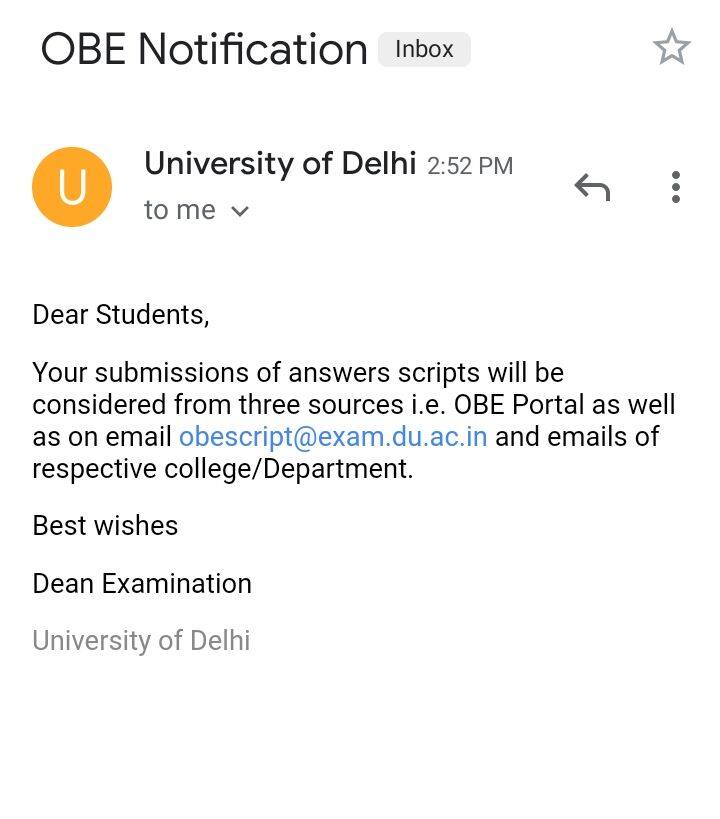 Also read:
Write to us at news@careers360.com.
Know More About
NIRF Rank
11
Rating
3.9/5
Download Brochure