Education for Empowerment
Education for Empowerment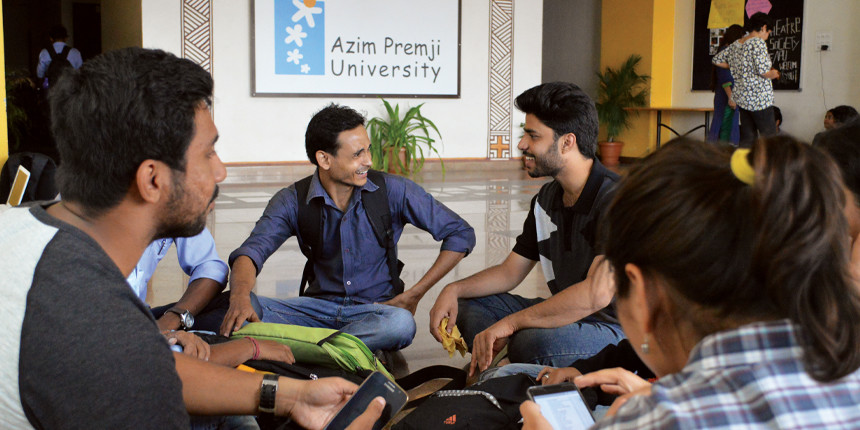 Wipro founder Azim Premji contributed his personal wealth to create a higher education institution aimed at creating leaders of social change...
by Faizal Khan
At the turn of last century, Information Technology magnate and billionaire Azim Premji decided to contribute to a social cause and thus address developmental challenges facing the country. The owner of software giant Wipro had a few options on the table for the choice of an area of work: education, nutrition, healthcare and some initiatives in governance. Premji chose primary education and by the year 2000, the Azim Premji Foundation was registered.
A decade later, the Azim Premji Foundation was working in nearly 50 districts spread across six states and one Union Territory to improve the quality of education at the grassroots level and enable social change. Premji then took a decision that would prove to be a watershed in the history of higher education in India. He set up a not-for-profit university in 2010 in Bengaluru and called it Azim Premji University.
Now, nearly another decade later, the Azim Premji University (APU) is considered as a leader in higher education for social change. With its campus located in the Electronic City in India's Silicon Valley, the university is completely focused on programmes in the large social sector domain, areas like education, sustainability, livelihood and development. Catering to students from 26 states, the institution is a shining global model of philanthropy in education.
A philanthropic journey
The story of APU is steeped in personal philanthropy. Premji was propelled into the leadership chair at Wipro, a vegetable oil company, as a 21-year-old after the death of his father at the age of 51. A Stanford University graduate in electrical engineering, Premji took his family business to further heights, foraying into Information Technology and reaping the benefits of a software boom in the 80s. Wipro became a 15-billion-dollar company. Premji, who was inspired by Mahatma Gandhi and his own mother's philanthropy efforts in a children's hospital in Mumbai, didn't rest on his laurels.
Premji says "My own thinking of wealth and philanthropy is that we must remain 'trustees' of our wealth for society, not its owners. As announced earlier, I have irrevocably renounced more of my personal assets and earmarked them to the endowment which supports the Azim Premji Foundation's philanthropic activities. The total value of the philanthropic endowment corpus contributed over time is USD 21 billion, which includes 67% of economic ownership of Wipro Limited."
On the commitment to education, he says "Education, has been the primary focus of our work for close to two decades now. Till date, we have partnered with 166 organizations working in school education. Wipro Earthian, a sustainability education program focused on water and bio-diversity, has reached out to 8,600 schools over the last nine years. The Wipro Science Education fellowship in the USA, which we started in 2013, works in seven sites across 35 school districts on improving STEM learning in schools serving disadvantaged communities."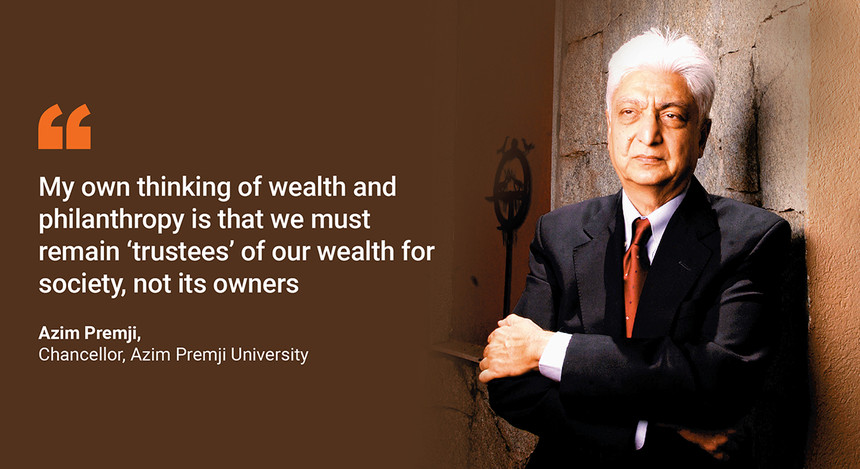 Premji, at 36 on the list of world's richest people, began his philanthropic journey by setting up the Azim Premji Foundation in 2000 with a donation of 125 million dollars from his personal wealth. Another four billion dollars were to follow. Today, Premji's philanthropy interventions are worth a mind-boggling 21 billion dollars. Premji's steadfast belief in the quality of education as a criterion for development lies at the core of his philanthropy aimed at the development of the country. This is reflected in APUy's vision, which states that the university has a clearly stated social purpose and it exists to make significant contributions through education towards the building of a just, equitable, humane and sustainable society.
"Our origin is unusual. We are a university that emerged from our deep, on the ground experience in working with the government school system. This character is reflected in all aspects of our work. I think we have demonstrated that a university, focused on education for social change is possible and we will continue to focus on this," says Vice Chancellor Anurag Behar. In the philosophy behind creating leaders of social change lies a deep-rooted belief in philanthropy to achieve the goal. "Everyday, I meet with wonderful people who work in education. We are convinced that all education, school or higher education, should be non-commercial. That means either they are public funded or fully philanthropic. I don't see it any other way," says Behar. Premji is the Chancellor of the university.
A university is born
Like the Foundation, APU was created from the personal wealth of Premji. "The endowment is fairly substantial, which allows the university to think big in terms of scale," says APU's Registrar Manoj P. Premji's wealth and vision is backed by his strong belief that India needs long-term institutions because of the size and complexity of the country and the diversity of its education sector. While there are over 1,000 students currently studying at the university housed on the PES University campus, a sprawling brand new campus on 80 acres coming up next year on the outskirts of Bengaluru will have the capacity for a whopping 10,000 students.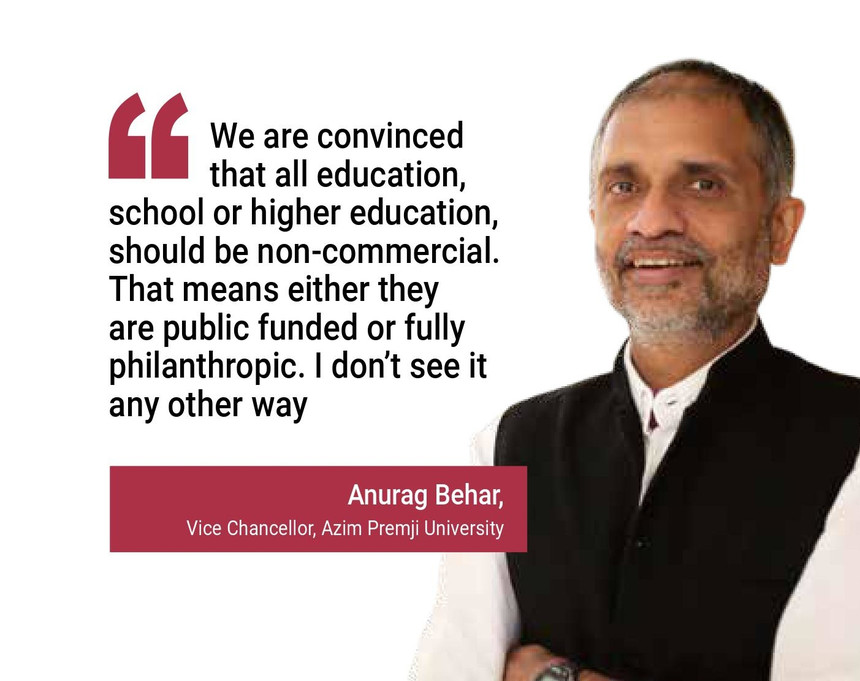 The Foundation's long history of working with the government schooling system in the country was a good foundation to launch the university. A core group of people at the Foundation led by Premji was convinced that education had several multipliers and positive indicators on several areas. The Foundation's work involved interventions, district-level collaboration in technology in education and learning guarantee programmes. "After ten years of working (at the Foundation), we had a clear realisation that work in the education sector has to be more institutional," says Manoj, who came from the Foundation to assume the position of Registrar of the university.
It was clear from the beginning that motivation alone was not enough and a committed staff of competent people were required to realise APU's vision.
After several rounds of discussions, it was decided that the new university would focus on programmes in the large social sector domain, areas like education, sustainability, livelihood, development. The university received the status of a not-for-profit state private university in 2010 under an act of the Karnataka State Legislative Assembly.
Social sector focus
The university began with its Master's programmes in 2011: MA in Education and MA in Development. It then added Public Policy and Governance to the master's programmes and also introduced an LLM in Law and Development, all programmes tightly connected to the social sector. Undergraduate programmes were launched in 2015 to provide a strong foundation in fundamental areas and make the students sensitive to large social issues. Last year, the university started a teacher education course under a B.Sc-B.Ed programme. "The university is investing in an exclusive social purpose so that our students will go out and contribute to the development of the country," explains Manoj.
While the higher education scenario in the country has undergone a remarkable transformation in the last decade with the launching of several highly-focussed universities in the private sector with a remarkable pool of talented faculty, it is still a long way to go to bridge the gap in committed and competent young professionals ready to contribute to the social sector. "There are not enough young professionals with the kind of understanding required to contribute to the social sector," says Indu Prasad, Director, School of Education at APU. "Ours is a huge country with massive challenges. We need to create, encourage and produce talent for social sector," adds Prasad, who worked with the Foundation before joining the university.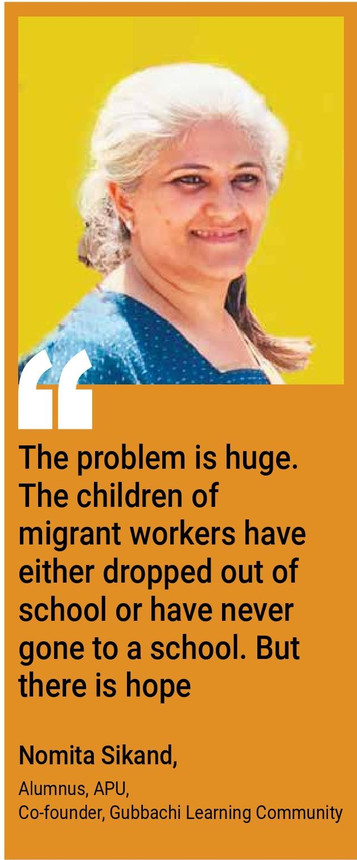 It was clear to Premji that any contribution to the country's social sector has to be accompanied by cutting edge research in areas such as public education, nutrition, water, livelihood and sustainability. "These are issues that we as a country struggle with. We need cutting edge research to resolve the challenges," says Prasad. The foundations of research begin in the first semester itself when master's programme students go for two weeks to districts to try and understand the challenges. For example, the MA in Education students learn how the school system actually works by visiting schools, meeting education officers and school management committees. "This immersion, a group research, is an introduction to what a school in a village in India looks like," says Prasad. It is followed by six weeks of individual work on a project, designed by an organisation working in the field on how school leaders manage their resources. The students work with teachers and experience first hand the challenges they face.
"One big issue is lack of conceptual understanding promoted in schools," says Prasad. "Teachers work very hard, but struggle with helping students to connect and relate to what they are learning in school. Many of our school children are nutritionally behind. There are serious issues of infrastructure and learning material. Our students come back with a much bigger appreciation of the efforts of teachers," she adds.
MA in Development students go to rural areas for two weeks of field immersion in the first semester. "The students look at the same issue with different angles. The six-week internship helps them understand the society and gain first-hand experience in how social sector works. Before the fourth semester, the students go for a field project of eight weeks to figure out their area of interest or concern. It is a mix of research and detailed literature review," says Anant Gangola, Head of Student Affairs.
Diversity and inclusiveness is a major characteristic of APU campus. The university gets students from all parts of the country. English language support is provided to the needy. Ninety percent fees are subsidised and nearly half of all students receive scholarships. Students also get a monthly allowance for their day-to-day expenses. The commitment of the students to the social sector is evident from a large number of engineering and commerce graduates joining the university for master's programmes in education and development. The admission interview is tailed to understand what kind of social concern the candidate has and how much academic rigour the candidate can take.
Success stories
The university's students are repaying Premji's faith in them by creating social change. Six batches of the university's master's programme students have so far graduated and 90 percent of them are working in the social sector with grassroots level organisations. APU students can be seen working in any corner of the country in the area of human development. They are leaders of change as Premji had envisioned them to be.
Gondi Mahesh, a 2014 batch student of MA in Development, is the CEO of Dhavani Farming and Marketing Co-operative Limited in Rayalseema region of Andhra Pradesh. Mahesh's cooperative has 2,040 members, all small and marginal farmers, from 60 villages in Chittoor district. "The cooperative helps the farmers do organic farming on 11,132 acres. Chittoor is the second-driest district in the country after Jaisalmer. Millet is the main produce with some groundnut too," says Mahesh, who was born in a small village in Anantpur district of Andhra Pradesh. Mahesh's father is a farmer and his mother a homemaker. "I wanted to work in the development sector," says Mahesh, who joined APU after completing an engineering degree in electronic and communication. Mahesh also worked with four-time parliamentarian Ganesh Singh from Satna in Madhya Pradesh, currently the Chairman of Standing Committee on Welfare of OBCs, for three years after his studies at the Azim Premji University. In Satna, Mahesh helped the Member of Parliament set up a digital grievance redress system for his constituents.
Indha Mahoor, Mahesh's batch-mate in Master of Arts in Development from Srinagar, was also an engineer when she joined APU. "The Azim Premji University days were the best two years of my life," says Mahoor, who is Programme Manager of Green Force, a non-profit organisation that works in waste management in Bengaluru for empowerment and livelihood of waste collectors. Green Force works in 35 of the 198 wards in Bengaluru city. It collects 50 tonnes of waste everyday, sort and sell it for recycling. "Earlier, the city waste management was in a bad shape and the government decided to
streamline it after a people's movement," says Mahoor.
Green Force has done pioneering work in the field, ensuring occupational identity cards for its waste collectors, a first in the country. Of the 35,000 waste collectors in Bengaluru, Green Force has 10,000. Along with waste management, the organisation ensures social security and livelihood for the waste collectors, leading to their empowerment. It helps their families in getting Aadhaar, PAN cards, educational loans and scholarships for their children and opening bank accounts.
Nomita Sikand is the co-founder of Gubbachi Learning Community, also in Bengaluru, which focuses on education of children of migrant workers. Gubbachi is founded by Sikand and four other APU students along with another from Bangalore University. All APU students are from the first or second batch of MA in Education and MA in Development. Formed in 2015, Gubbachi (which means sparrow in Kannada) runs four programmes for the children of migrant workers in Bengaluru, including in early childhood care in education. There are 250 children in various programmes of Gubbachi this year alone. The programmes run in government schools. "The problem is huge. The children of migrant workers have either dropped out of school or have never gone to a school," says Sikand about the challenges faced by the migrant labour community across the country in educating their children. "But there is hope."
Stay updated with latest Education News
More From Team Careers360