Govt launches various programmes on Skill India's 4th Anniversary; Degree courses in ITIs on Electric Vehicles
Govt launches various programmes on Skill India's 4th Anniversary; Degree courses in ITIs on Electric Vehicles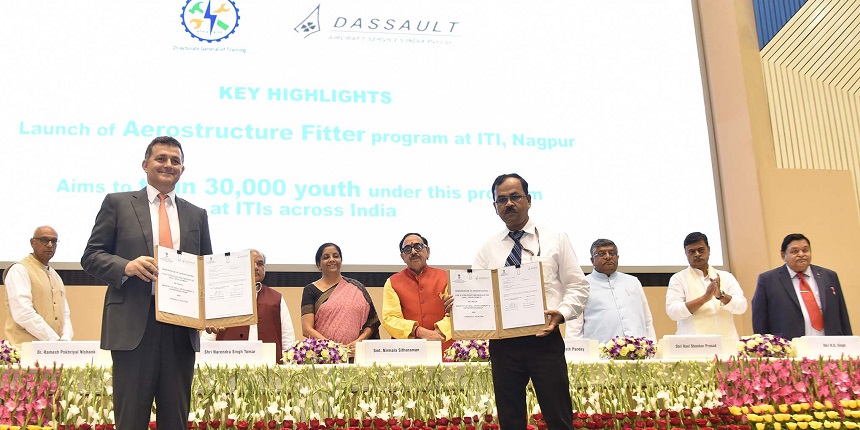 Abhay Anand
|
16th Jul, 2019 - 4:43 p.m. IST
NEW DELHI, JULY 16: On World Youth Skills Day, the Ministry of Skill Development and Entrepreneurship (MSDE) rang in celebrations of the fourth anniversary of the Skill India Mission in the presence of many high-profile dignitaries at New Delhi today. A clutch of big-ticket announcements and signing of MoU's to empower youth with appropriate skill training marked the day that saw several Ministers and government officials come together to show their commitment to the avowed Skill India Mission.
Nirmala Sitharaman, Minister of Finance & Corporate Affairs speaking at the Skill India's 4th Anniversary Celebration said, "the Skill India Mission has offered new avenues of livelihood to the youth of the country. Urging young people to follow their heart in pursuing their ambitions, she said, "If you want to acquire a particular skill and you are comfortable with it, you should utilise it to the fullest. Do not settle for something just because it is easy, strive for what you want, put your heart to it and you will achieve it. Earlier it was not easy to look for opportunities, but today with the help of the Ministry, the Government has created an ecosystem for trraining. I would urge each one of you to utilise whatever is given to you by the government."
The event saw various launches and exchange of MoUs between government agencies and the private sector. The highlight of the day was Kaushal Yuva Samwaad, an open dialogue with the youth across the country to discuss potential issues and solutions from the candidates' perspective. The two-week consulting programme was organised on a nationwide scale to engage young job-seekers to understand their views and ideas, and identify opportunities to help the Ministry in building on existing programmes and improving overall efficiency of its projects. The recommendations received would be compiled and referred for further program implementations.
Addressing the audience and guests present at the ceremony, Dr. Mahendra Nath Pandey, Minister for Skill Development & Entrepreneurship, said,"On this auspicious day, I want to congratulate all who have been associated with Skill India in its four-year journey. An idea that germinated with our Hon'ble Prime Minister's vision of a Skilled India has now reached its next phase. The foundation has already been laid. It is essential that there is seamless convergence across skill development programs, for which we seek support of all ministries, states and industries."
Skill India's 4th Anniversary Celebration event was graced by the presence of Nirmala Sitharaman, Minister of Finance & Corporate Affairs as Chief Guest and other Ministers including Ravi Shankar Prasad, Minister for Law and Justice & Communication, Electronics and IT; Ramesh Pokhriyal 'Nishank', Minister for Human Resource Development; Narendra Singh Tomar, Minister for Agriculture and Farmers Welfare & Rural Development and Panchayati Raj; Dr. Mahendra Nath Pandey, Minister, MSDE; RK Singh, MoS (I/C) Power and New Renewable Energy and MoS, MSDE; AM Naik, Chairman NSDC and Group Chairman, L&T; Dr. KPKrishnan, Secretary, MSDE; Rajesh Agrawal, Joint Secretary, MSDE; Dr. Manish Kumar, MD & CEO, National Skill Development Corporation (NSDC).
The event also witnessed introduction of 48-member contingent that will be representing India at WorldSkills International Competition, to be held from August 22 – 28 in Kazan, Russia. These young skill trainees, below 23 years, will be competing in 44-skills against their peers from 66 other countries.
The event also saw launch of Degree Apprenticeship Programin collaboration with industry and academia. Designed by Ministry of Skill Development & Entrepreneurship (MSDE) and Ministry of Human Resources & Development (MHRD), this dual vocational education program shall have apprenticeship/on-the-job training embedded in a 3 or 4 year University degree program.
Ramesh Pokhriyal 'Nishank', Minister of Human Resource Development, said that India is set to become the hub of skill development in the world. "In the coming25 years, India is the only country that will remain young, which gives usmore opportunities for economic development. Apprenticeship is one of the most sustainable modules through which our youth can learn and earn at the same time. The recent reforms towards apprenticeship are commendable."
Stay updated with latest Education News