A forum to help women lawyers network and grow
A forum to help women lawyers network and grow
A forum for women lawyers started by a Symbiosis Law School graduate is helping students and graduates find their feet in the profession.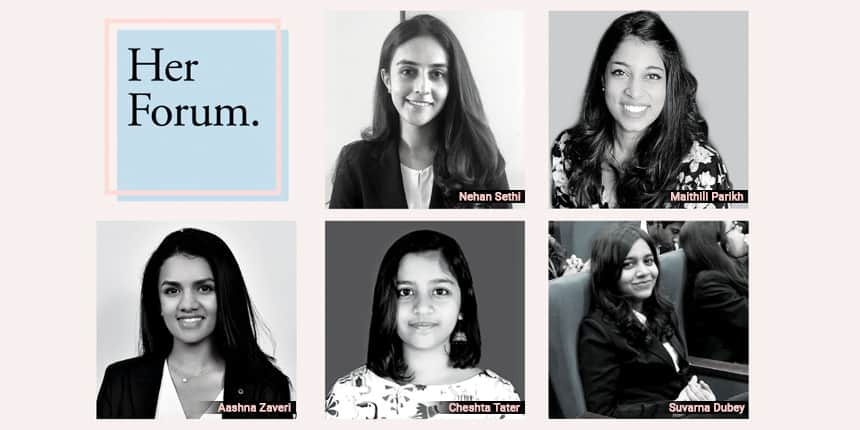 NEW DELHI: Nehan Sethi remembers her experience of interning as a student with a private firm where she learnt first-hand what working in the male-dominated legal sector is like.
A mix-up at the workplace had led to two senior partners, a man and a woman, being rebuked by their senior. However, the woman partner was berated more and Sethi believes it was because of her gender.
"Although both were getting scolded, it seemed to be more focused on the woman partner. The boss even implied that it [the error] must have happened due to her having to look after her child even though both the partners had children of the same age."
The incident was a major catalyst in Sethi's decision to set up a platform to build a community for women lawyers. Sethi graduated from Symbiosis Law School, Pune, in March 2020, just as the COVID-19 pandemic started sweeping through the country.
However, the health crisis, uncertainty, and disruption brought on by the pandemic opened new possibilities for Sethi's passion project, Her Forum.
In May 2020, just after she started working at a law firm in Pune, Sethi set up Her Forum, her effort to build a community for women in the male-dominated legal sector. She was soon joined by Maithili Parikh, a counsel at the Bombay High Court, who came on as chief strategic officer and worked with her on building and growing Her Forum.
Now, along with five other women lawyers, she has built a vibrant community for women lawyers online.
Her Forum is an online platform that shares success stories of women in the sector, conducts interviews of senior women lawyers, and encourages networking among women lawyers, both current and future ones.
"The idea was to essentially create a platform that connects women by setting up various events and forming a community that highlights success stories to increase the recognition for women in the sector, to encourage networking among them, and to provide peer support," said Sethi.
The forum also publishes opinion pieces and analyses by law students on laws and judgments related to women.
The blog posts cover a range of issues. They touch on imediate topics such as domestic violence during COVID-19, as well as address enduring debates around the legal and moral dilemmas of abortion.
COVID-19 and Her Forum
As distressing as the pandemic has been, Sethi said it accelerated the growth of Her Forum. Other young law graduates joined her. Maithili Parikh and Aashna Zaveri, both alumni of the Government Law College, Mumbai, are the chief strategic officer and outreach manager respectively. Cheshta Tater, student of the same college, is the creative head and Suvarna Dubey, an alumna of Amity Law School, is the blog editor. From early 2020 when Sethi first came up with the idea, to almost six months after the official launch, the forum has grown and has already held several interviews with prominent lawyers.
The platform has also held multiple events during the pandemic in collaboration with women organisations such as Harvard Law School Women Alliance, an organisation of women lawyers from Harvard law school, and One Future Collective, a non-profit working on youth social leadership.
"Since we are all working from home, we have been able to hold many virtual sessions which would not have been possible if the work situation was normal," she explained.
Throughout the lockdown, Her Forum has conducted multiple networking sessions for senior women lawyers as well as for those who are starting out.
Other events, in collaboration with existing non-profits or law firms, such as the roundtable on the challenges, successes, and demands of women in the legal sector with the One Future Collective, were also conducted.
Sethi has not met most of her colleagues who joined after the launch of Her Forum. It was announced and publicised on social media platforms.
The willingness of lawyers such as Zia Mody, renowned corporate lawyer and businesswoman, and Chikondi Mandala, the youngest judicial officer in the history of Malawi, to engage with the platform through interviews and sessions helped the forum gain attention in its nascent stage.
Knowledge sharing
For Her Forum, knowledge-sharing is as important. "One objective was to bring to light more success stories of women in the legal sector. As of now, there are not many role models for rising women lawyers. Highlighting success stories might inspire more women to come to the forefront," Sethi said.
"For working women, a sort of imposter syndrome seems to be fairly common. Women feel like they need to go that extra mile to prove themselves."
Her Forum has also started asking young lawyers working in unconventional fields such as wealth capital, environment law and refugee law, to conduct master classes. They share their personal and professional experiences of working in these fields.
"The point is to highlight the non-traditional career avenues in law so that upcoming women lawyers can learn about them and gain confidence from hearing from and seeing women in such fields. Sometimes this can open their eyes to a whole new avenue," Sethi explained.
Bias and empowerment
Sethi remarked that women's empowerment is generally measured with a skewed metric.
"Empowerment tends to be measured by looking at how many students are in law schools or how many students got jobs but if you look at the people at the top, the number of women is still very small," she said. This consistent lack of representation in top positions has allowed biased workplace attitudes to develop and grow unchecked.
"I have done several internships and worked in various professional settings and have realised that there is a lack of recognition of women. They tend to get fewer opportunities." Sethi said.
"Of course, no one forum can change the landscape, but highlighting successful stories might encourage more women in the sector," she added.
Sethi said that even though maternity leave is available, women still suffer from negative workplace attitudes to such policies. "It is still felt that taking such a break will negatively impact one's career. Women should be able to take maternity leave without feeling like it will cause a downfall."
For women in the legal sector, the challenges are not limited to just workplace attitudes and harassment. A senior lawyer told Sethi "she missed out on opportunities due to circumstances. Like when there is a meeting with a client at a distant place, she had to refuse due to safety concerns", she recalled.
In that matter, Sethi reckons her generation is more fortunate. Better infrastructure, including private services such as cab-booking apps, has helped. "But infrastructure remains a huge problem for many working women. In some places, basic necessities such as a good bathroom are missing," she said.
Workplaces will become more hospitable to women only with more of them in decision-making. Seith said: "Change can happen only with increased representation of women in senior positions and in framing of policies."
Write to us at news@careers360.com.