IIIT Una adapts innovative curriculum of IIT Mandi; Collaborates for Academics and Research
IIIT Una adapts innovative curriculum of IIT Mandi; Collaborates for Academics and Research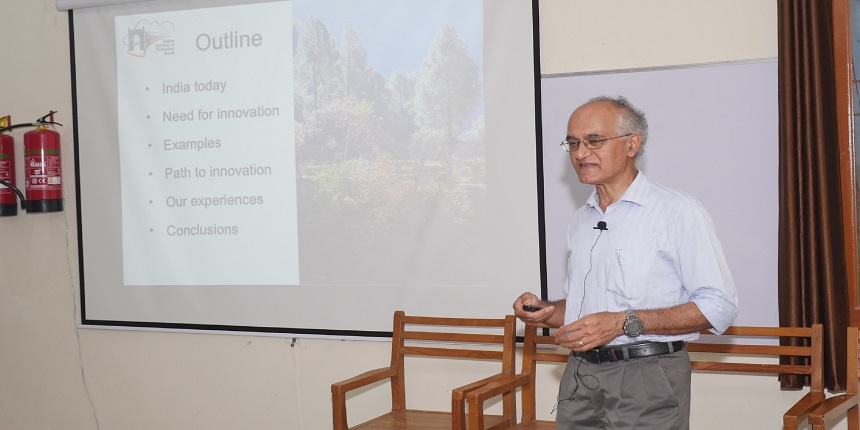 NEW DELHI, AUGUST 13: Indian Institute of Technology Mandi is collaborating with Indian Institute of Information Technology Una on Research and Academic Activities. A series of activities were recently conducted towards transferring knowledge and expertise on the practical components of IIT Mandi curriculum to the IIIT Una faculty.
Most recently, Prof. Timothy A. Gonsalves, Director, IIT Mandi, and Dr. Srikant Srinivasan, Associate Professor, School of Computing and Electrical Engineering, IIT Mandi, conducted a unique training session on 'Exploring Engineering' for the incoming batch of IIIT Una BTech students at their campus in Una, Himachal Pradesh, on 6th - 7th August 2019. The training aimed to sensitize students to the needs of society and orient their thinking towards being innovative solution providers for the betterment of the nation. As a part of the collaboration, Mr. Saurabh Mittal, Senior Advisor, IIT Mandi Catalyst will also be delivering a guest lecture to the newly admitted students of IIIT Una on 14th August 2019.
Prof. Gonsalves had signed a Memorandum of Understanding (MoU) with Prof. Selvakumar, Director, IIIT Una, on 29th March 2019 to facilitate this collaboration and conduct joint research activities. Under this MoU, IIT Mandi agreed to assist IIIT Una in developing courses based on the practicum components of IIT Mandi curriculum.
Speaking about the collaboration, Prof. Timothy A. Gonsalves, Director, IIT Mandi, said, "IIT Mandi has always believed in influencing the world beyond its campus and its own students. One tangible way in which we are doing this is by exporting our unique project-based learning curriculum and pedagogical strategies to other Institutes. Our collaboration with IIIT Una is an example of this. Our alumni and PhD degree holders are also helping disseminate our vision and innovative methods to their workplaces in India and around the world."
IIT Mandi has already taken several steps in assisting IIIT Una for structuring their course curriculum and content. Prof. S. Selvakumar along with 24 faculty members of IIIT Una had earlier visited IIT Mandi on 25th and 26th May 2019 to attend the Design Practicum Open House that showcased IIT Mandi B. Tech 2nd year students' projects. A special orientation session on IIT Mandi's Practicum-based course curriculum, including Reverse Engineering course, Design Practicum, Interactive Socio –Technical Practicum and Final year Major Technical Projects, was organised for the visiting faculty from IIIT Una, with plans on how to incorporate it into the IIIT curriculum.
Speaking about the unique course curriculum of IIT Mandi, Prof. S. Selvakumar, Director, IIIT Una, said, "In present time, it is very essential to emphasize on the practical based engineering subjects. There is a need of subjects like Reverse engineering to be introduced in the curriculum which can help students in providing a more practical approach to the knowledge. Courses like Design Practicum, Interactive Socio-Technical Practicum of IIT Mandi fulfils this need for the betterment of students. Such courses will help students to become a job creator than a job seeker. Following the footsteps of IIT Mandi, IIIT Una has also introduced practicum courses in its curriculum. The MoU signed between IIT Mandi and IIIT Una will provide good recognition to our institute and it will also pave way for knowledge exchange between the two institutes."
Stay updated with latest Education News
More From Team Careers360