How IIT Kanpur's student collective is helping break the cycle of poverty
IIT Kanpur Students Gymkhana's initiative, Prayas, is helping children from poor, marginalised communities do well in school, join higher education.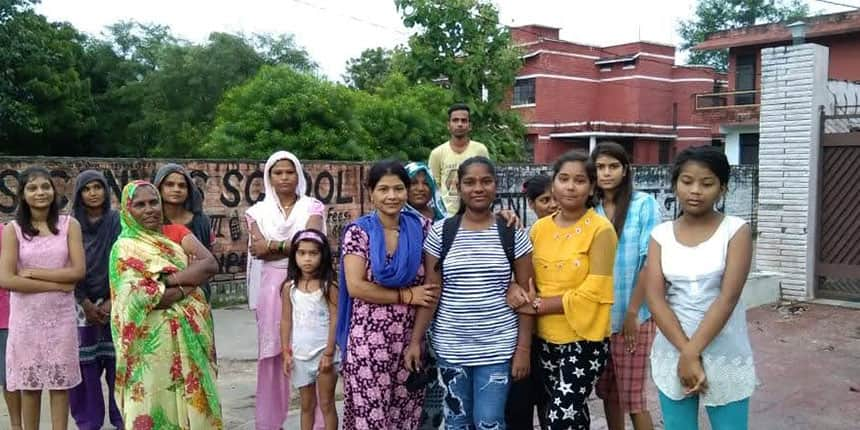 NEW DELHI: Muskan Valmikee joined the Indian Institute of Technology (IIT) Kanpur's Prayas, a programme run by the institute's community welfare cell, in 2015. Tutored by students till 2020, she secured admission in Navgurukul, a non-profit that provides affordable technical education to underprivileged girls. Now 19, Muskan earns Rs. 30,000 a month as an intern at NetWest, a tech company Bangalore. She is also pursuing a BCA through distance learning.
Every year, around 45 children living near the campus join the Prayas centre, run by volunteers, most of them IIT-K students. Prayas was started as a community initiative by final-year B.Tech students in 2000 to educate underprivileged children from Classes 3-12. Slowly and steadily, more volunteers joined, and later Prayas was registered under Students Gymkhana, IIT Kanpur. Now, it teaches around 120 children at a time.
"I am from the Uttar Pradesh board and my school lessons were in Hindi. But through sessions at Prayas, my English-speaking, writing and reading skills improved a lot. My confidence was built," said Valmikee. That's what Prayas does – offer academic support to improve performance in schools, build confidence.
"Many children like Valmikee, hailing from extremely underprivileged backgrounds who can't even afford coaching or proper schools, are enrolled at Prayas to ensure they get equal access and opportunities and can break the vicious circle of poverty," said Abhishek Savarnya, a former Prayas volunteer.
Over the years, students supported by Prayas have gone on to join institutions like Azim Premji University and state nursing colleges, among others.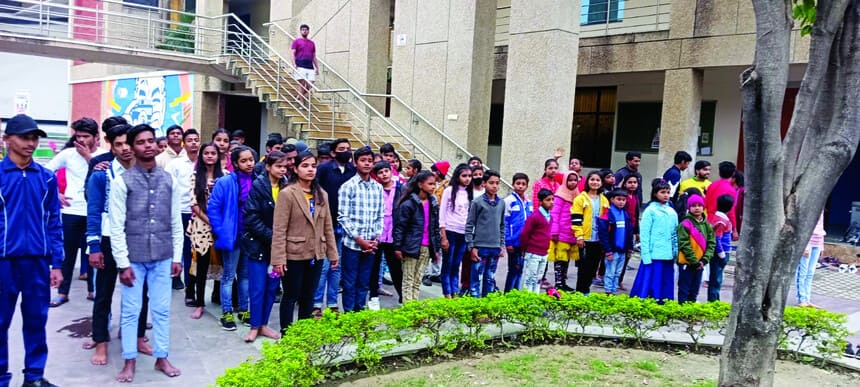 Assembly at Prayas, IIT Kanpur
Coaching and competition preparation
Debraj Kumar, 17, comes every day from Tatyaganj, 11 km away in Kanpur district, to Prayas to prepare for Joint Entrance Examination (JEE Main) and National Entrance Screening Test (NEST), both entrance exams for engineering. "Volunteers are helping me prepare for competitive examinations and have introduced me to a whole new different world," said Kumar. "At Prayas, we are always encouraged to make mistakes. But in schools, it's difficult to ask our queries or speak out loud with classmates mocking. But at Prayas, all our queries are solved and supported with extra attention to our doubts in all subjects." Every year, 95-98% of students go for higher studies through the support of Prayas, said Savarnya.
Mandvi Sharma (name changed), 17, has been coming to Prayas since Class 7 and is preparing for the Common University Entrance Test (CUET). When asked about the difference she has felt after coming to Prayas, Sharma said: "Earlier, I never understood basic concepts in maths, social studies and science through the school. And because we couldn't afford coaching classes, it wasn't easy to cope in the class. But after coming to Prayas, doubts are cleared and I have developed a keen interest in maths and science." Sharma scored 82% in Class 10.
That said, Prayas is strongest with maths and physics and chemistry among the sciences. Because few volunteers are strong in commerce and biology – engineering students rarely study these and they are not part of the entrance tests for the IITs – school children joining from these backgrounds usually drop out.
Challenges after covid
When the covid-19 pandemic hit India in 2020, many volunteers and managers took online classes to ensure students' studies didn't suffer. "When volunteers learnt that students did not have mobile phones or laptops, those, books, and even food rations were distributed to parents and students," said Savarnya.
Despite these efforts, Prayas is yet to fully recover from the disruption caused by the pandemic.
"Since Covid, the batches have not been streamlined properly. In 2022 when in-person classes started again, we taught children for six to seven hours, but none of them cleared JEE or any other competitive exams," said Abhimanyu Jain, volunteer and second-year civil engineering student. "Even for this JEE Main 2023 session 1 held in January, we took many classes, but still it's not enough because the students don't have the kind of environment that competitive exams require."
But helping students crack difficult college entrance tests isn't Prayas' only goal.
Scholarships, co-curricular activities
Prayas also provides basic supplies like stationery and books, and organises co-curricular activities. Every year, Prayas is provided an annual fund of Rs 85,000- 90,000 by Gymkhana through which we run the centre, said Priya Singh, manager at Prayas.
Other than maintenance, the funds cover scholarships worth Rs 4,000 per semester for 10 bright students to pursue higher studies. In case of any emergency, volunteers may contribute from their own money. "Many times, even through the funds collected by volunteers, the needs of the families are not fulfilled. But at least we try," said Singh.
Co-curricular activities include dance, skits and recitation, usually performed at assemblies. That's where students develop communication skills and build confidence, explained Raj Agarwal, volunteer and final-year B.Tech student. "There is so much to learn at Prayas where studies don't seem like studies. It's much more enjoyable," said Valmikee.
Agarwal added, "We try to give an academic environment along with resources so students can grow holistically."
Breaking barriers, fulfilling dreams
Without Prayas' critical intervention, many of the children who emerged from it and went on to pursue higher studies, would have either been married off by their families or put to work straight after school. "Parents are reluctant to send their children for higher studies," said Agarwal. Many of the students come from the historically-marginalised Dalit communities; looked-down-upon and humiliated, these families are deeply reluctant to send their children out or feel education is simply beyond them. This has also meant that most of Prayas' students lack the right environment for education at home.
But over the years, through the efforts of volunteers and alums, Prayas has also been able to break this cycle as well as caste and gender barriers, especially in a region where both are deeply entrenched.
That is how Muskan Valmikee became the first girl in her community to go so far in education and employment and is now an inspiration for others.
"We at Prayas encourage volunteers to visit the homes of children coming to Prayas to understand the background and living conditions of the students. This helps volunteers from privileged backgrounds understand the lifestyle of the students from backward families and areas," said Agarwal.
The motto of Prayas is not just providing coaching but to develop children holistically in terms of speaking skills, confidence, wider exposure and knowledge, added Jain.
"Because IIT campus provides a privileged space for students, by sharing this, we are trying to provide an environment for them to dream big and support them in achieving their dreams," added Savarnya.
---
Follow us for the latest education news on colleges and universities, admission, courses, exams, schools, research, NEP and education policies and more..
To get in touch, write to us at news@careers360.com.
Know More About
NIRF Rank
20
Rating
4.6/5
Download Brochure