JNU Standoff: Teachers write to MPs seeking 'speedy and just resolution'
JNU Standoff: Teachers write to MPs seeking 'speedy and just resolution'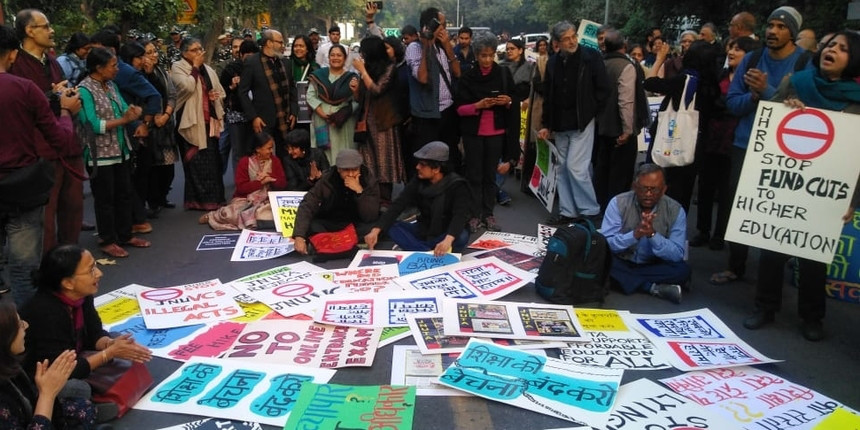 NEW DELHI: Since the Ministry of Human Resource Development (MHRD) was unmoved by their protest march on Monday, December 2, asking for "high power committee" recommendations to be made public, teachers of Jawaharlal Nehru University (JNU) have appealed for an intervention from parliamentarians to resolve the standoff.
In a letter to the members of both houses of Parliament sent on Wednesday, December 4, the JNU Teachers Association (JNUTA) asked them to "to urge the MHRD to perform its duty for finding a speedy and just resolution of an extremely grave situation".
The MHRD had set up a three-member "high power committee" on November 17 to "restore normal function in JNU" where students and teachers have been protesting against and increase in hostel fees for over a month.
The Press Trust of India reported that the committee submitted its recommendations on November 26 but these have not been made public yet.
The JNUTA said that their march to the ministry, asking to publicize the committee recommendations, was "stonewalled" and that they were "denied even the minimum courtesy of an audience".
Members of JNUTA are on a day-long hunger strike and dharna at the campus demanding the committee report to be made public.
'A shocking abdication'
The JNUTA has called the delay in action "a shocking abdication by the MHRD of its responsibility towards the university."
"Instead of the quick action promised by the MHRD and expected by students and teachers, there has been a transition to complete inaction which has meant a prolonging of the crisis in JNU. This is defeating the objective behind the setting up of the high power committee and putting the future of hundreds of students at stake," the letter read.
The association also took a jibe at the Vice-Chancellor in the letter.
"The JNU VC and the administration are continuing with their tactics of pretending to offer concessions which don't address the main issue and trying to intimidate and threaten students," accused the JNUTA.
"Instead of taking any genuine step to address their legitimate concerns, the VC is only promising to destroy the careers of several thousand students currently enrolled in the University by cancelling their studentship,'' it further added.
Write to us at news@careers360.com.
Stay updated with latest Education News
More From Team Careers360