889 students awarded degrees at JGU's Convocation
889 students awarded degrees at JGU's Convocation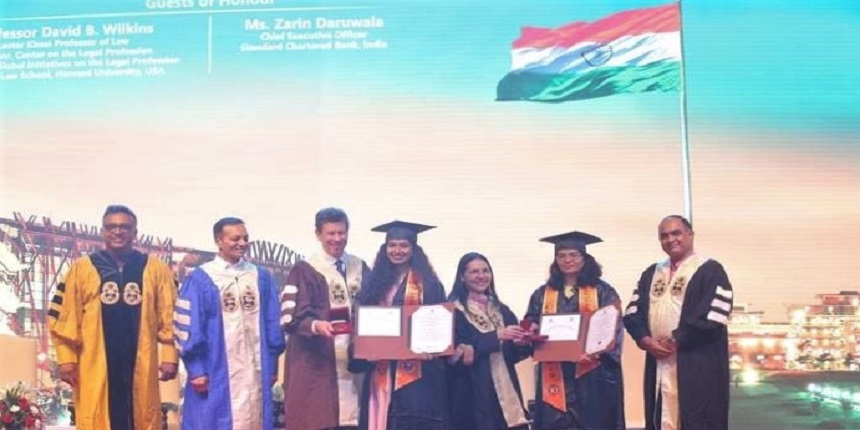 NEW DELHI, AUGUST 09: Donning ceremonial convocation robes, 889 students of O.P. Jindal Global University (JGU) received their degrees at a glittering ceremony at the Indira Gandhi Stadium in Delhi last evening. The eighth Convocation and Founder's Day celebrations also witnessed confident students marching into the world of work with some of them planning to pursue further higher studies in India and abroad.
The graduates included two doctoral candidates from the Jindal Institute of Behavioural sciences and were from the Jindal Global Law School, Jindal Global Business School, Jindal School of International Affairs, Jindal School of Government and Public Policy and Jindal School of Liberal Arts and Humanities.
In her special address, Zarin Daruwala, CEO of Standard Chartered Bank, India drew attention towards the disruptive role of global technology giants in the digital payment sector that are posing a major threat to banks in India. She noted the effort it took for investment bankers like herself to catch up with rapid technological innovations in the past two decades and said that the banking & financial services industry as a whole as well as our Indian economy need to embrace technological advancements. She remarked that doing so requires learning new tools and unlearning old techniques as well as agility and innovation.
JGU Founding Chancellor, Naveen Jindal, congratulated the JGU fraternity for entering world university rankings and UGC's recommendation of JGU as an `Institution of Eminence'. Encouraging the students to realize their dream, he said, "Now is not the era for multitasking. We need to figure out what matters most to us and give it our undivided attention. This is what will give us best results. Our ancient Indian philosophy Vedanta teaches us to follow Swadharma and not Paradharma. Swadharma is following our own nature, doing what your inner calling is and not what someone else asks us to do."
In his welcome address, Professor Raj Kumar, Founding Vice-Chancellor, JGU said, "JGU, as an institution, is committed to public service and national progress. In addition, JGU has placed the pursuit of institutional excellence at the core of its mission since its inception. We are conscious that education is much more than merely awarding degrees. In India today, we are faced with enormous challenges relating to higher education. JGU has been deeply conscious of fulfilling its commitment to public service and addressing some of the larger challenges in the higher education sector in India," he added. The Vice-Chancellor also presented the annual university report.
Stay updated with latest Education News
More From Team Careers360