Another feather added to the cap of Hospitality Management, Ansal University
Another feather added to the cap of Hospitality Management, Ansal University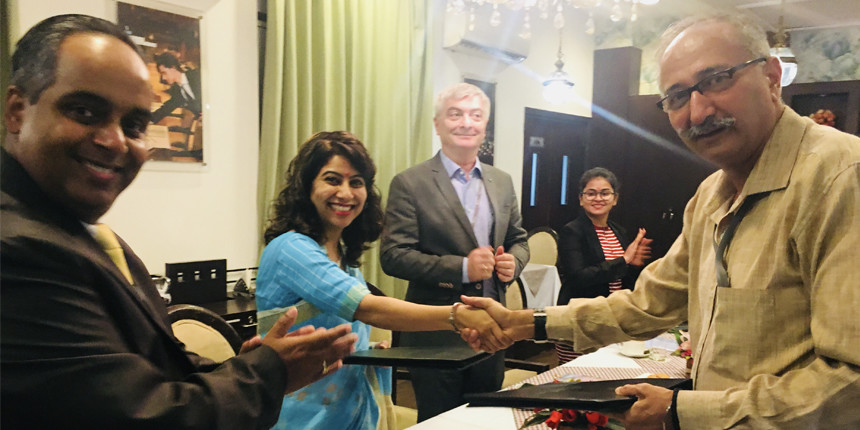 NEW DELHI, JULY 19: In respect of the saying that the world of academics must, for the sake of enhancing mutual productivity, go hand-in-hand with the corporate world, a regular industry interface and a close collaboration have, as per the latest norms, become indispensable and indeed obligatory.
A Memorandum of Understanding (MoU) was therefore signed between Hotel Courtyard by Marriott, Gurgaon and the School of Hospitality Management, Ansal University, Gurgaon recently.
Though the School of Hospitality Management, Ansal University and the Courtyard by Marriott have always enjoyed a close professional relationship with each other, there was a need to further strengthen this relationship by way of entering into a formal agreement.
The MoU envisages, besides a general non-binding partnership, a regular collaboration and exchange of ideas in order to absorb the international dimensions of an industry setting as well as trends in higher education in the hospitality-related areas.
"As we progress in this sector, we are looking at more and more students aspiring to seek careers in the world's largest hotel chain that Marriott is today and this MoU will help us secure more opportunities of internships and placements worldwide," said the proud dean of the School, Amreesh Misra.
"We are glad to sign this Memorandum and are ready to put in all our efforts to enhance student experience and encourage their readiness to join this most progressive and dynamic industry" were the words of the young general manager of the hotel, Bhawna Verma, with whom, as the authorized signatory on the part of Ansal University, was Colonel Rajive Chauhan, the Registrar.
This understanding would also extend itself informally towards the other hotels of Marriott brand located in the region, thereby increasing enormously the opportunities for the students of the School of Hospitality Management.
Stay updated with latest Education News
More From Team Careers360