COVID- 19 : IIT Kharagpur develops rapid testing technology at Rs 400
COVID- 19 : IIT Kharagpur develops rapid testing technology at Rs 400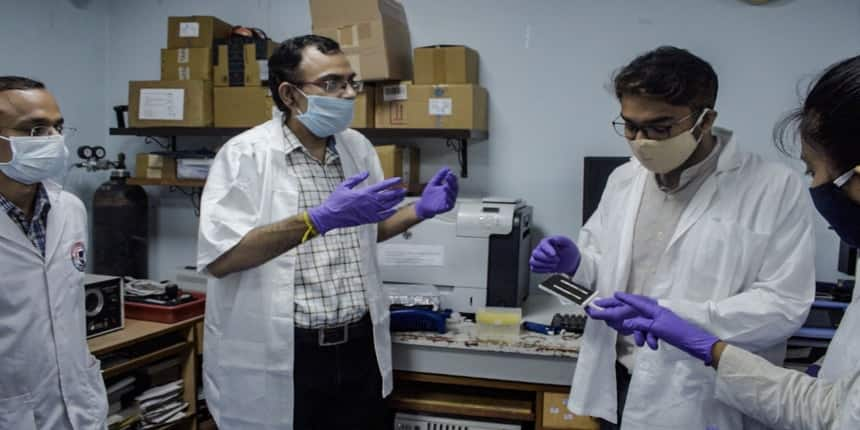 NEW DELHI: The Indian Institute of Technology Kharagpur or IIT Kharagpur has launched a low-cost testing device to test for the presence of novel coronavirus in a sample. The results of the test will be made available in a smartphone application within an hour.
The device, a disruptive approach which led to the new technology was launched virtually at 11.30 am a statement from the institute said.
The cost of each test is Rs 400 and the results do not require any manual interpretation.
Designed for poor locations
The first-of-its-kind portable device does not require a laboratory visit or the use of RT-PCR machines. Paper cartridge and ultra-low-cost portable enclosure are the only requirements.
The results of the tests showed accuracy and sensitivity compatible to standard RT-PCR tests. The testing does not need any skilled personnel and can be operated by minimally trained personnel.
The test includes extracting RNA from the saliva sample of a patient. The device has been designed to be usable at locations with extremely poor resources.
The Team
The lead researchers in the team include Suman Chakraborty, professor, department of mechanical engineering, IIT Kharagpur and Dr Arindam Mondal from the School of BioScience of the institute. They came up with the concept and used a technology which essentially deploys a disposable simple paper-strip for chemical analysis and visualization of results.
Talking about the need for the low-cost rapid testing device and a low-cost environment, Suman Chakraborty, professor, department of mechanical engineering, IIT Kharagpur, said, "The greater challenge is the complete elimination of the need for any specialized infrastructure and ensuring the possibility of conducting tests at large scale at low cost without compromised accuracy."
Dr Arindam Mondal added, "The unique portable device developed by the IIT Kharagpur researchers has not only been validated for the diagnostics of COVID-19, but also been designed to be capable of detecting any other kind of RNA virus by following the same generic procedure."
The other researchers in the team included doctoral student Sujay Kumar Biswas, Saptarshi Banerjee and Nandita Kedia.
The thermal unit was developed by Dr Aditya Bandyopadhyay, professor, department of mechanical engineering.
Patent licensing and commercialization
While the institute can produce the testing kit up to a certain scale, patent licensing will facilitate commercialization opportunities for medical technology companies.
The equipment developed by IIT Kharagpur researchers will cost about Rs 2,000 when used in a pilot facility.
Use of a large-scale commercial facility will reduce the cost further the statement said.
Also Read:
Write to us at news@careers360.com
More From Team Careers360