Democracy in action: Rajasthan 'school' shows how laws work on the ground
Democracy in action: Rajasthan 'school' shows how laws work on the ground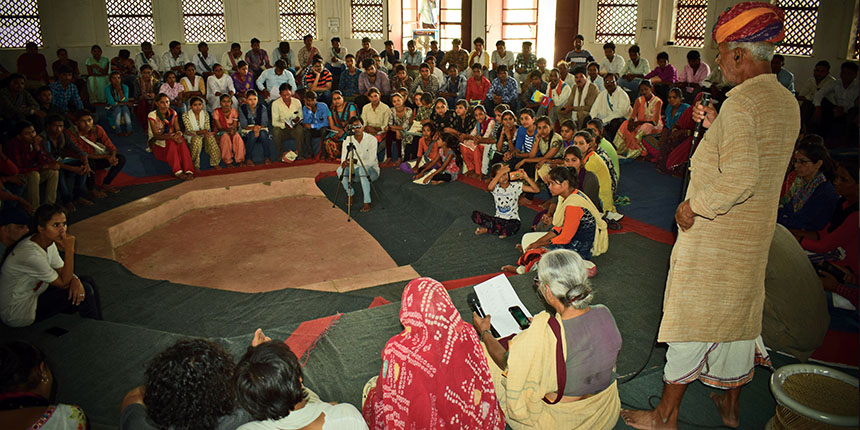 By Rosamma Thomas
In 2012, the leaders of the Rajasthan-based non-profit, Mazdoor Kisan Shakti Sangathan (MKSS) set up a school in Bhim tehsil of Rajasthan.
It did not bother with textbooks and timetables. Instead, it set itself a more ambitious goal – to give India's youth a taste of participatory democracy.
Set amongst the brick kilns abundant in this area, the School for Democracy (SFD), or Loktantrashala in Hindi, invited students from across the country to stay for a while, understand community life and the problems of villagers. Over the seven years, hundreds of youths have stayed on its campus of wide spaces and brick-and-Manglore-tile structures, contributed to its upkeep and cooked their own meals.
Through interactions with the community around them, they also learnt how well or not some of India's biggest policies and the laws underpinning them work on the ground.
They explored whether workers registered under the Building and Other Construction Workers' Act, 1996 really get all the benefits they are entitled to under the law. And while studying the impact of the Mahatma Gandhi National Rural Employment Guarantee Act, 2005 (MGNREGA), they even picked up shovels and joined the workers in building a stretch of road.
From colleges and schools
Students arrive for different lengths of time. Some have internships to complete and stay for a month, like one batch of about 30 students of law and public policy from the National Law School of India University, Bengaluru, and Tata Institute of Social Science, Tuljapur. Other students may squeeze in a few days from a regular school schedule, like the 40 students accompanied by three teachers who arrived from the Krishnamurthy Foundation School in Banaras in October 2019. Depending on how long the students plan to stay and what their primary course is, their schedule at SFD is fixed by workers of the MKSS.
Reny Joseph, who takes care of interns and students at Loktantrashala, said about 300 young people arrive each year from different parts of the country. "We are still in the process of streamlining academic programmes. What we do at present is cater to the needs of students – law students get a taste of legal matters, students from urban centres get a sense of rural living. MKSS also takes students on for longer spells as interns."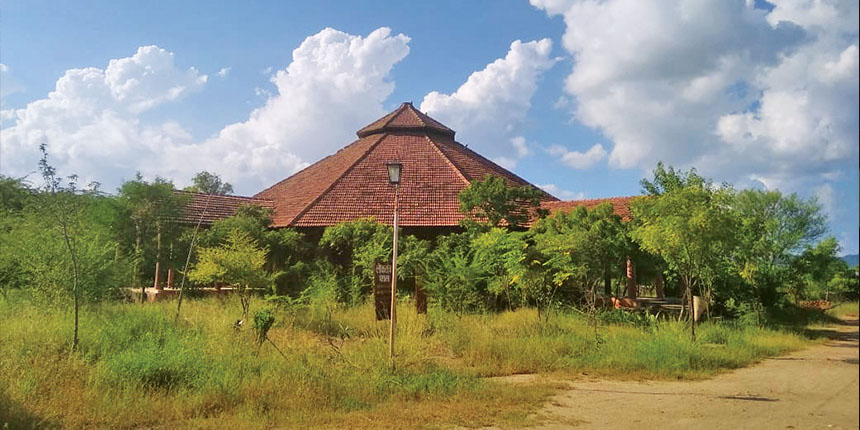 Loktantrashala, Bhim, Rajasthan
Laws and rights
One recent batch of visiting students of law and public policy were engaged in a survey of whether construction workers in Bhim were actually able to benefit from the provisions of the Building and Other Construction Workers' Act 1996.
Workers registered under the Act are entitled to several benefits but need to apply for scholarships for children, medical insurance, pension and rations. Students found that many workers were unaware of this. Those who attempted to apply for the worker's diary found they had to shell out about Rs. 600 for it at the local e-mitra, the platform for delivering citizen services, even though the government prescribes a fee of less than Rs. 100 for making the diary.
Many workers also complained of being defrauded by touts who promised benefits, on payment of a commission. Students took meticulous notes of these complaints. A public hearing was later held with block level officials, members of the labour commission of the state, senior police officials and the local member of the Legislative Assembly in attendance. Cases were booked against touts whose names came up repeatedly, and policemen were also instructed to help those who had been defrauded get their money back.
One batch of students joined workers engaged under the MGNREGA to construct a stretch of road. One young student returned to ask, "Isn't this truly arduous labour? Is not such work itself a violation of human rights?" Such questions can become occasions for discussing exploitative work.
The gap between what urban students take for granted and the reality of the rural worker was on stark display. Students were struck that even old people toiled away on the road for a minimum wage of Rs. 225 per day.
Rosamma Thomas is an independent journalist
Write to us at news@careers360.com
Stay updated with latest Education News
More From Team Careers360