How law students are creating a reading culture in UP's Bansa
A group of law students at a Noida institute is setting up public libraries in Uttar Pradesh's villages. The library in Bansa village gets so many women readers, the group had to hire a woman librarian.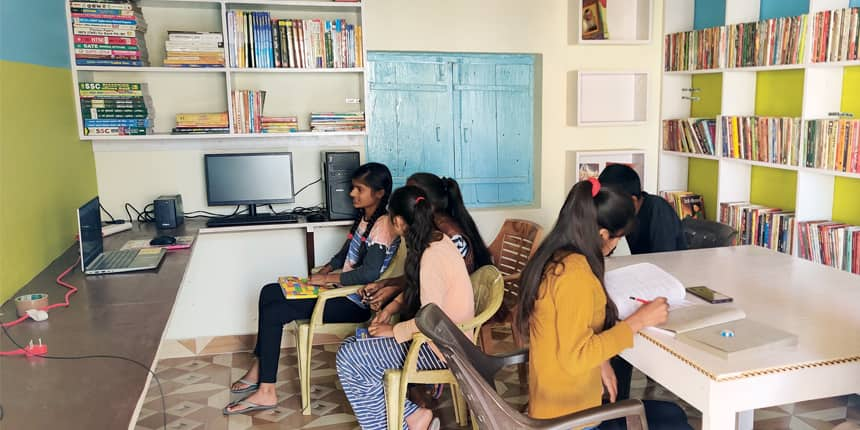 NEW DELHI: In Bansa village of Uttar Pradesh' Hardoi district, flocks of children, women and men walking in the direction of the village temple is a familiar sight.
Their destination is not just the temple itself but a bright blue-and-yellow structure on the temple premises that come complete with many books, four laptops and a 44-inch flat-screen television. This is the Bansa Community Library and Resource Centre.
Set up by seven law students in September 2020 and crowdfunded by people from around the country, the community library united a bunch of well-intentioned people who wanted to pitch in for education in Bansa.
The library was the initiative of Jatin Lalit, a final-year law graduate at the Galgotias University in Greater Noida, Uttar Pradesh.
He, along with six friends from different law schools, started the library with two objectives in mind: To create a reading culture in the community and to bridge the urban-rural divide. The Bansa library is already growing in popularity, the team had already set up a one in Ballia district of UP. More are likely to follow.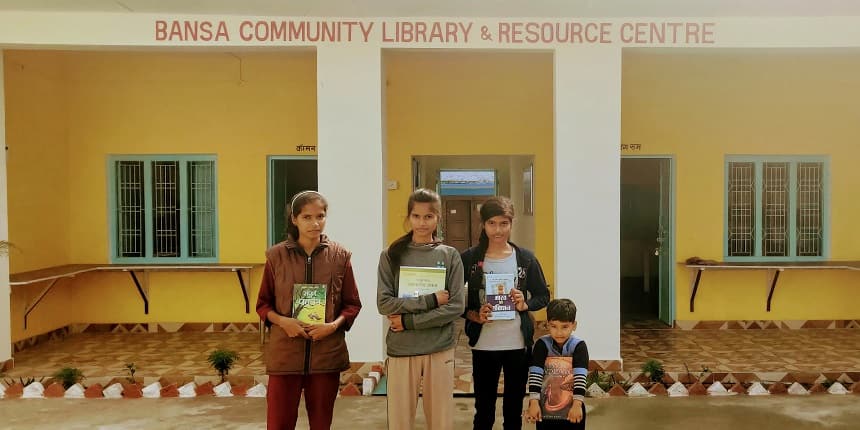 Why not Bansa?
"I thought, let's get back to reading. Reading is such a habit that if you inculcate it at an early age it gets instilled in the students," said Lalit.
Lalit, who was born and raised in Bansa, knows how daunting a task it is to make it in the world while hailing from a village. Upon completing his initial education at a private school near the village, he moved out of the area in search of better education.
"Bansa village is 50 kilometers from the Hardoi district headquarters. The district itself is not very developed. So, there are no good coaching centres or colleges close to the village," said Lalit. "Here, a student who can afford it will go outside the village to Kanpur or Lucknow after Class 10 or Class 12. Then they settle there and start preparing for exams," he added.
Lalit came up with the idea of setting up a community library in his native village while he was volunteering for an organisation based in Delhi.
"In my second year, I joined the Community Library Project, a community-based organisation in Delhi. I volunteered for three years, helping set up libraries in Delhi. During that time, I understood the importance of a community library. I have seen how kids have developed in the three years I was volunteering," Lalit said.
"I thought, why not provide a similar platform in Bansa? We are also acting as a resource centre to provide books and laptops," said Lalit.
Books for all ages
The Bansa Community Library and Resource Centre opened its doors to readers in November 2020. With the aim of generating interest in reading in general, it provides books and resources for residents of all ages.
"For adults we have mostly Hindi literature. For students preparing for competitive exams, we have specific books for those competitions as well as general books. For children we have learning text books. If a student approaches us about an exam that we don't have books for, we just place the order and the books will get delivered."
The centre has also roped in eager volunteers to provide online classes for students.
"We contacted teachers or volunteers in subjects in which they require guidance. Online English and maths classes are conducted. We also have one tutor who teaches them how to type fast. Because typing is a requirement for them to appear in many exams for government jobs exams," explained Lalit.
About 20 students regularly attend these online classes.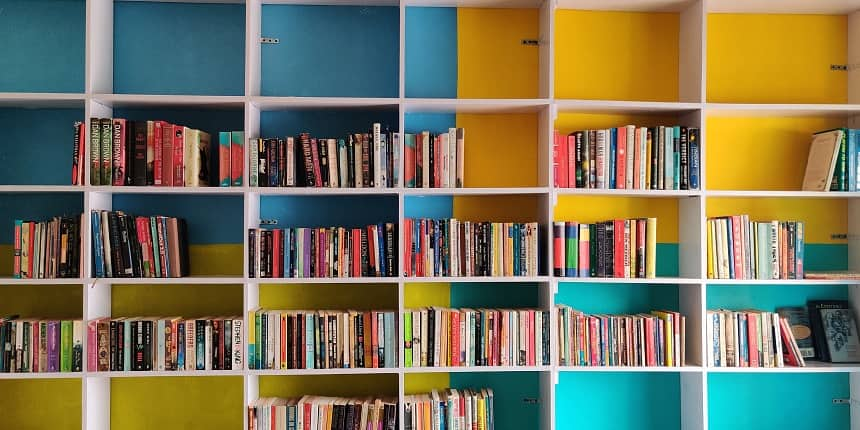 Land for Re. 1
Lalit's initial idea for a library instantly found support within the community and outside. The temple authority, on whose premises the library stands, leased out the land for just Re. 1 for 99 years.
Once a piece land became available, the next major problem to tackle was the funding for construction. Lalit and friends held a fundraising campaign on social media and started crowdfunding for the construction.
"We even got our parents to pitch in for this. We had to get funds for the building. Then we had to arrange for books as well. There were some people who wanted to give books away. The rest we got by creating an Amazon Wishlist."
To prepare for exams, old donated books would not cut it as the syllabus has evolved over the years. Many updated volumes were donated by benevolent strangers through the Amazon Wish List that Lalit had created.
Support for the initiative was not limited to people from within Uttar Pradesh as those residing in other parts of India also chipped in.
"For Hindi books, we have got a seller in Gujarat who sells us books at as cheap a rate as Rs 75 per book. We have got 230 books from him and we are planning to place an order of 400 more," said Lalit.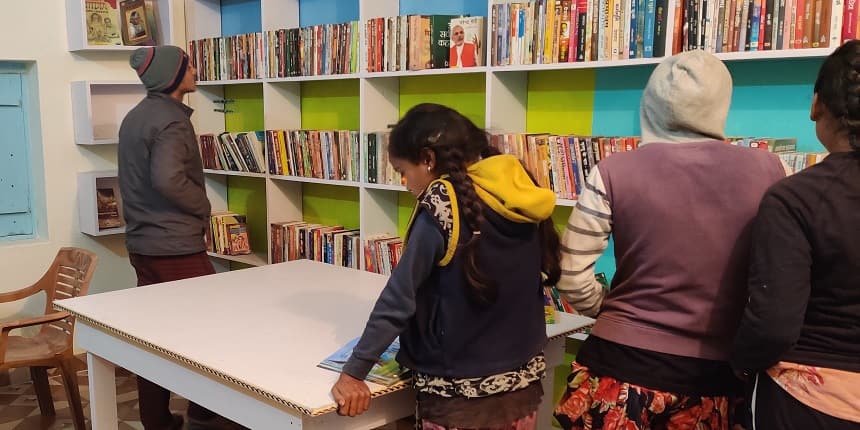 Women readers
Lalit deems the community library a major success as the response from the community, he says, exceeded his expectations. A major encouragement for the library was the enthusiastic participation of women readers.
"We have been getting so many female visitors and we were not expecting that. We first hired a male librarian but then had to hire a female one because a majority of the readers were women," he added.
Lalit said that the next step for the library is to tie-up with coaching centres based in Lucknow or Delhi and to stream their coaching classes to the students of Bansa. Lalit hopes that if such an agreement occurs, they can crowd-fund for the money.
The students are also looking to set up similar community libraries and resource centres in different villages in Uttar Pradesh.
"We are also running another library in Ballia district. We are looking for people who can provide us with a place and around 50 people who are ready to come and read if the library opens. We plan to open more such libraries."
Also read:
Correction: A previous version of the copy said that the Ballia library was the second. It was the first and Bansa the second. Both are running.
Write to us at news@careers360.com.
Know More About
NIRF Rank
177
Rating
3.8/5
Download Brochure