Karnataka to revamp children's sections of 5,600 panchayat libraries
Karnataka to revamp children's sections of 5,600 panchayat libraries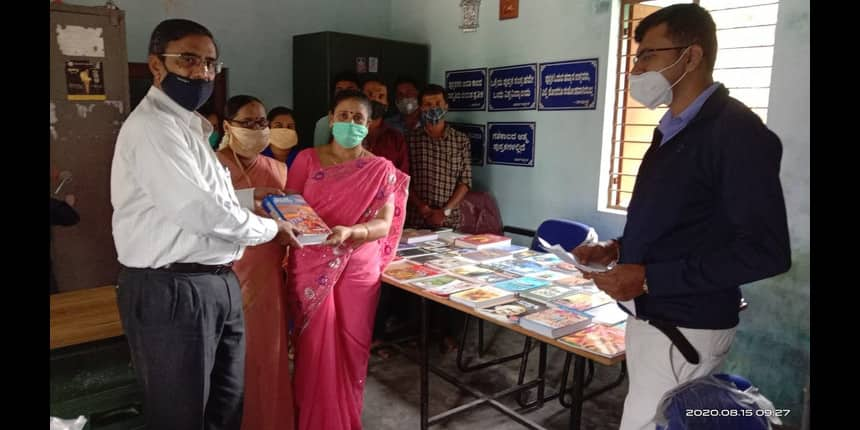 NEW DELHI: Around 5,600 rural libraries in Karnataka will be refurbished and stocked with picture books, textbooks, comics, encyclopedias and dictionaries in Kannada and other languages.
Dedicated to children's education, Uma Mahadevan, principal secretary of state's Panchayati Raj department initiated a programme to revamp public libraries when they came under the department's jurisdiction in 2019. Now, with COVID-19 having disrupted formal schooling in many parts, the department intends to use the libraries to support children.
The Panchayati Raj department is planning to revamp the children's sections of gram panchayat libraries. To get that going, it will soon launch a book donation drive with the help of college students and non-profit organisations.
"Since the advent of COVID-19, the department has been closely working for its curtailment. Four months into the COVID-19 pandemic, we wanted to support the interest of school children in rural areas," said Mahadevan. "We decided to use the Gram Panchayat libraries as a way to support reading and learning."
Enroll every child
As per the plan, all children from the age of six to 18 will be registered as members of the gram panchayat libraries of their areas. The panchayat will also pay a small deposit on behalf of the members enrolled.
Apart from books, the libraries will be utilised to help children access state digital libraries and other online content. Mahadevan plans to start a reading culture that will sustain beyond the COVID-19 crisis. "We want to expand the young minds through reading culture and establish a relationship with the library which will go beyond the pandemic," Mahadevan added.
COVID-19 precautions
While the COVID-19 crisis lasts, the libraries will observe all state-prescribed precautionary protocols. Each library will have a handwashing facility at the entrance and not more than two or three children will be allowed inside at a time. The panchayat will also provide masks for children free of charge. The libraries will be regularly sanitised but open for lending books only. Once the situation normalises, children will be allowed to spend time and read at the library.
An acrylic shield will be installed at the counter to minimise contact between library staff and its members. All books returned to the library will be stored in a dedicated space for 72 hours -- in effect, quarantined for three days -- to minimise transmission of the coronavirus by touch.
A gram panchayat-level village education task force will identify suitable places like community halls, anganwadis or early childhood care and education centres, or even platforms under trees where children can read.
The task force will include elected panchayat officials, school principals and the parents who are part of the School Development and Monitoring Committee.
Choosing books
To encourage a reading culture while ensuring safety during the pandemic, the library will operate on a fixed time-schedule. The librarian will brief the children about the books available and give them time to browse and select the books they wish to borrow.
To help the children reflect on what they have read, they will be encouraged to write a brief or just talk about the books when convenient. "The focus will not just be on literacy but oracy so that the children learn to share what they gained from the books. We will also have regular read-aloud sessions mentored by teachers," explained Mahadevan.
The department also intends to create a bank of storytelling videos in collaboration with the Bangalore Storytelling Society. A screen and projector will be installed in panchayats so that virtual read-aloud sessions can be conducted. Television sets will also be installed at such learning centres so that the children do not miss out on online classes.
Collection drive
To stock books for these libraries, the department will soon conduct a book donation drive beginning from Bengaluru. "The urban population of Karnataka has really come forward to help in a tremendous way during the COVID-19 crisis. We thought we could start a collection drive in Bengaluru and maybe take it further to other cities like Mysore," said Mahadevan.
The call is to donate new or gently-used storybooks, comics and even old informative magazines in Kannada, English or any other suitable language. College students have been invited to volunteer. Each volunteer will take up the task of identifying readable books and packaging them for various panchayats.
In addition, several non-profit organizations including Azim Premji Foundation, Pratham Books, Shikshana Foundation, United Way and Whitefield Rising Trust have offered to facilitate. Azim Premji Foundation has pledged to donate new books to panchayats in nine districts of the state.
The program intends to partner with Bharat Gyan Vigyan Samiti (BGVS) to start fun science classes at the libraries. BGVS is a community-based volunteer-driven organisation spread over 23 states, 350 districts and more than 25,000 Panchayats.
Also read:
Write to us at news@careers360.com