IHM Raipur: Started during Covid, the hotel management institute hit its stride this year
Hotel Management: Many of IHM Raipur's students are from some of the poorest, most backward parts of Chhattisgarh and haven't seen a restaurant.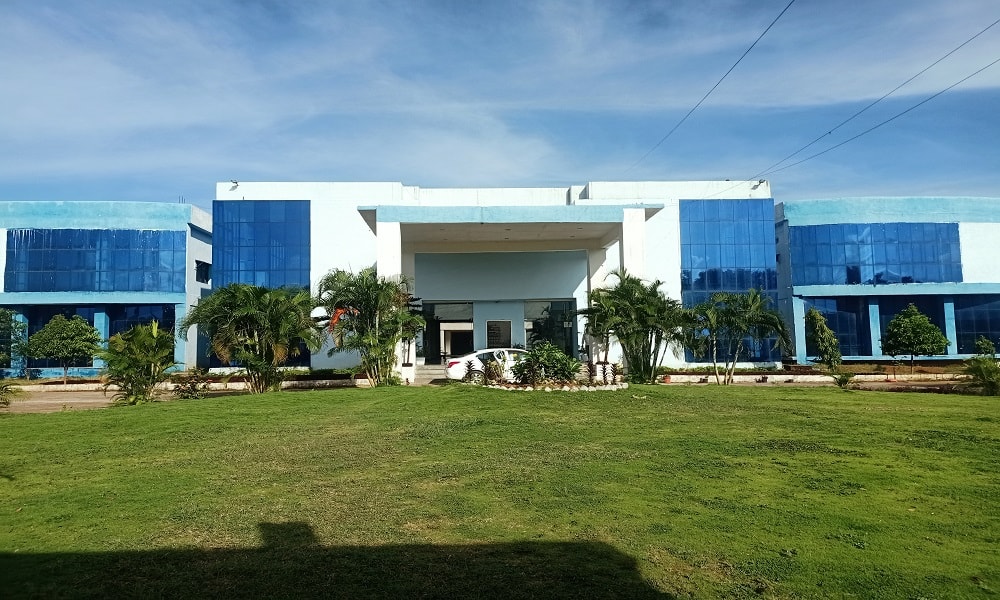 RAIPUR (CHHATTISGARH): Devki Kashyap, 18, is the first person from Dantewada to study hospitality and hotel administration. Before she joined the BSc programme with hospitality and hotel administration (HHA) specialisation in July at the Institute of Hotel Management, Catering Technology and Applied Nutrition (IHM Raipur), she had not been to any hotel or restaurant. "Through IHM, I got exposure I hadn't received before," said Kashyap.
Recommended :
Get important details about Institute of Hotel Management, Catering Technology and Applied Nutrition, Lucknow.
Download Brochure
Once she's done with the hotel management course, Kashyap hopes to become an air hostess. Dantewada is remote, one of the most backward regions in the country as per the government think-tank NITI Aayog's list of "aspirational districts" and a hub of naxal activities. But that is not the only undeveloped region IHM Raipur has drawn students from. The new hostel management institute is opening up education and employment avenues for students from Narayanpur, Bijapur, Janjgir-Champa, and Durg. Most come from families of farmers and have studied in Hindi medium and in schools affiliated to the Chhattisgarh board (CGBSE). Many, like Kashyap, had no exposure to the hospitality sector, even as clients.
The IHM Raipur itself had a rough start. After many false starts over the past decade, it finally launched in 2020, just as the Covid-19 pandemic swept through the country. Among the industries impacted by the pandemic, hospitality was one of the worst hit. However, the state-run institute hit its stride in 2022, admitting 120 students across its three hotel management programmes – two one-year diplomas and one degree.
Another first-year BSc HHA student, Abhishek Kumar Sahu, hopes to become a chef. His father runs an eatery back home in Bilaspur. "I got admission immediately after my Class 12 results were announced," he said.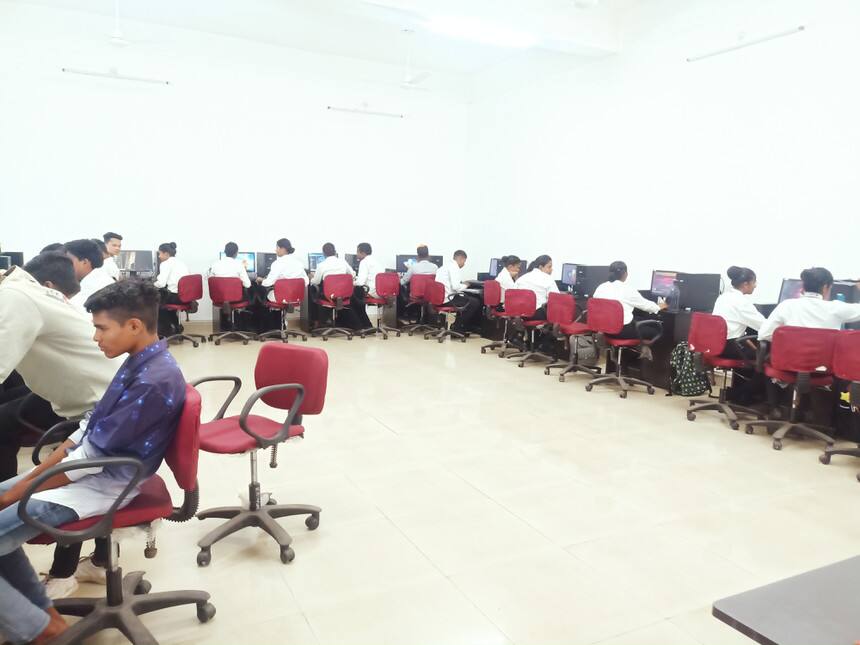 First year BSc HHA students for basic computer lab training.
IHM Raipur: The origins
IHM Raipur had a plot allotted to it by the state and had a building built with tourism ministry funds by 2013. However, it never opened. In 2020, it got affiliated to the National Council of Hotel Management and Catering Technology (NCHMCT), Noida, the main regulator for hotel management training. But 2020 also saw the start of the Covid-19 pandemic and in consequence, classes for the first batch of 43 students, across diploma and degree courses, started online and the institute's building was converted into a hospital for Covid-19 patients.
"When we first entered the premises, there were just bats here," said principal Rekha Shukla. "We had to start from scratch by redeveloping the building to construct classes, kitchens, staff rooms, etc. We opened the institute full-fledged in 2020 and offline classes commenced from November 2021." Currently, the institute has 162 students.
IHM Raipur's BSc HHA course is fully funded by the District Mineral Foundation (DMF), a non-profit statutory trust set up by the Chhattisgarh government for each district that works toward helping communities affected by mining; 60% of its funds – raised from mining companies – go toward education infrastructure and other development projects .
Hotel management, Covid-19
While the institute is in the phase of initial growth, the administration had a hard time during the pandemic hiring staff and teachers, procuring heavy and expensive equipment for the kitchen and setting up the other facilities – training kitchens, food production lab, bakery, laundry setup for housekeeping, mock rooms, dining rooms, hostels and others.
Equally challenging was the task of explaining a hotel management course to parents and students. "Because most students are from tribal areas, we still find it difficult to explain the course to newcomers," said Sunil Kumar, lecturer, IHM Raipur. "Further, we focussed on creating a professional system. Strict timings and rules had to be implemented to ensure discipline."
Covid made both teaching and learning a challenge as about 70% of the course is practical in nature. "It was difficult to understand the course properly during online classes. We were feeling anxious about completing the degree. But when the offline classes started last year, it came as relief," said a fifth-semester student.
Since 2021, the hotel management institute has also introduced a college magazine, several festival nights, official farewell and freshers-welcome events – all to ensure students get the full experience of college life.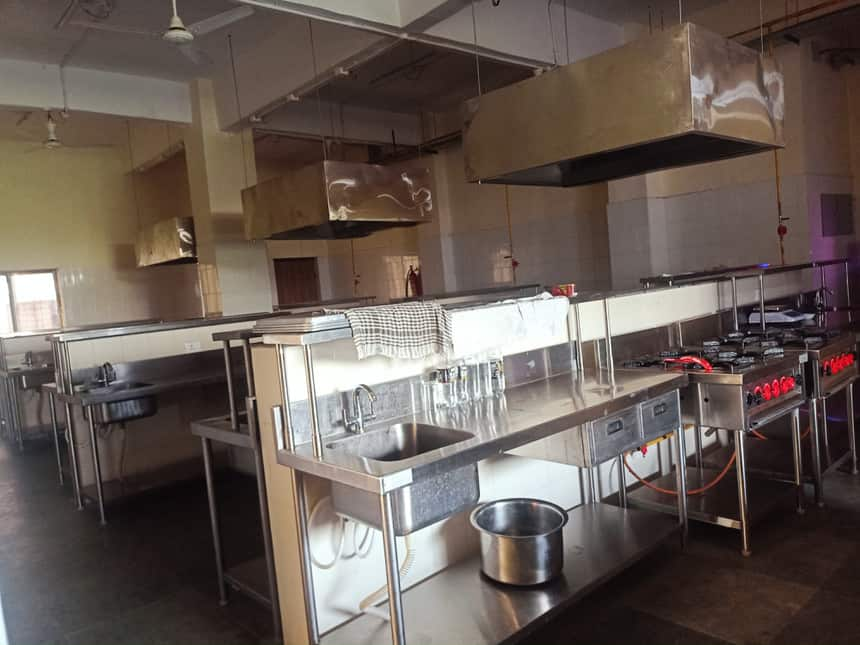 IHM Raipur: Newly developed kitchen and mock rooms for students
IHM: Innovating to keep students
Most students are from the poor and tribal backgrounds with no understanding of hotel management. "In a class of 30 students, around four to five are paying fees. The rest are being funded through DMF," added Sharma.
Despite the funding support, the institute struggled to retain students. "Initially, it was difficult to retain students because they failed to understand the course," said Rohit Rai, a teaching associate. "Then we had to change our teaching strategies and ways."
"Students coming here have no idea about how restaurants and hotels function," said another teaching associate, Khilesh Patel. "We have to show them videos about hotels. All of this is new for us," he said. "Most of the teachers come from metro cities and haven't been in such a rural environment."
Rishav Raj, another teaching associate, added: "Most of us as students had some idea about hotel management. None of the students here has any idea about the hotel industry. We have to teach them from scratch."
Then, the prescribed hotel management curriculum is in English. To circumvent the problem of teaching in English to students who had studied in Hindi till Class 12, IHM Raipur adopted "activity-based learning techniques", said Kumar.
"Students are afraid of English because it wasn't accessible to them before. Due to this, we changed our teaching methodology and have to teach them in Hindi and English both. This is a challenge," said another teaching associate, Khilesh Patel. IHM Raipur also conducts spoken English classes "to ensure they understand English as well", added Rai.
Only a handful of students qualified the National Council for Hotel Management Joint Entrance Examination (NCHM JEE) and got admission in the BSc HHA course. Students qualifying through NCHM JEE are given priority in admission but "this number is low", informed Sharma. Most come through direct admission and DMF.
Hotel Management Jobs: Placements
In June 2022, the first batch of IHM Raipur witnessed 100% placements with an average salary of Rs 15,000- Rs 20,000. "Seventy students emerged from diploma courses like food production, food and beverage and bakery," said Kumar. The institute not only organises placement drives but also provides training to students struggling in their jobs and consistently supports them.
Further, students are placed in on-the-job training in five-star hotels of Raipur where they get Rs 8,000- Rs 10,000 as monthly stipend. A few students are currently interning at Marriott Mumbai, Bilaspur and other cities.
Final-year students in the degree course, studying in the fifth semester, are also worried about placements. "Most of them want to do jobs in retailing and food and beverage departments. The institute and principal are trying their best to provide the best opportunities to students," stated Kumar.
IHM Raipur: Rural-industry connect
"Hotel management is a new concept for students of Chhattisgarh. We had to change their mindset and we have received a good response from students," said Rai. For the 2022-23 academic year, the institute had to increase its seats due to the large number of applications.
While the institute requires more industry exposure, it is trying to send its students to different hotels across the country for internships, said Shukla. "We are still getting the best equipment which is still not available in many other institutes to ensure our students get the best facilities here," she added. "There is a huge demand for trained people in the hospitality sector in nearby hotels and areas. We are trying to bridge the gap between students and industry… and are providing workshops to local hotels as well."
---
Follow us for the latest education news on colleges and universities, admission, courses, exams, schools, research, NEP and education policies and more..
To get in touch, write to us at news@careers360.com.
More From Sheena Sachdeva