Kerala Tops Niti Aayog's School Education Quality Index
Kerala Tops Niti Aayog's School Education Quality Index
NEW DELHI, OCTOBER 1: Niti Aayog has released the 'The Success of Our Schools-School Education Quality Index' (SEQI) report. This report indexed states and Union Territories on the basis of learning outcomes of school-going children.
Kerala state is on top in terms of quality education among 20 large states during 2016-17. While UP the most populated state's overall performance is 36.4 which is ranked at last. Kerala state overall performance score is 76.6% followed by Tamil Nadu, Maharashtra and other states.
Here is the overall performance of all large states: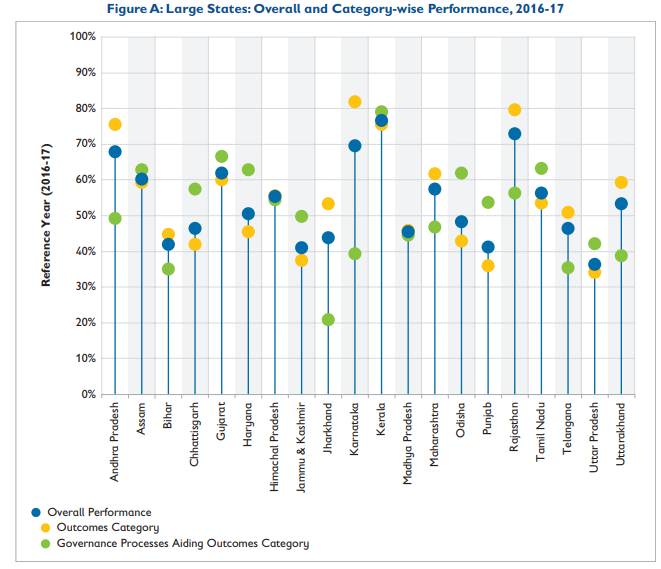 In small states, Manipur is at the top followed by Tripura, Goa, Mizoram, Nagaland, Sikkim, and Meghalaya and Arunachal Pradesh is at last rank.
Among the seven UTs, Chandigarh bagged top position and Dadra and Nagar Haveli, Delhi, Puducherry, Daman & Diu, Andaman & Nicobar Islands and Lakshadweep secured 2-7 rank respectively.
SEQI report is prepared on the basis of 30 indicators which are divided into two categories: Outcomes(learning, access, infrastructure & facilities, and equity outcomes) and Governance Processes Aiding Outcomes.
"In line with the Niti Aayog's mandate to foster the spirit of competitive and cooperative federalism, the index strives to facilitate the sharing of knowledge and best practices across states and UTs," Kant said.
This report will help States and UTs to improve the quality of education by letting them know with their strengths and weakness. This instructive feedback will guide them to undertake requisite course corrections or policy interventions.
Niti Aayog Vice-Chairman Rajiv Kumar said, "Now, we see more children in our schools but how much is the learning outcome is the key as school education is the foundation to prepare the future generation."
Stay updated with latest Education News