National Youth Parliament: PM Modi urges youth to join politics
National Youth Parliament: PM Modi urges youth to join politics
National Youth Parliament Festival is held for youth between 18 and 25 years of age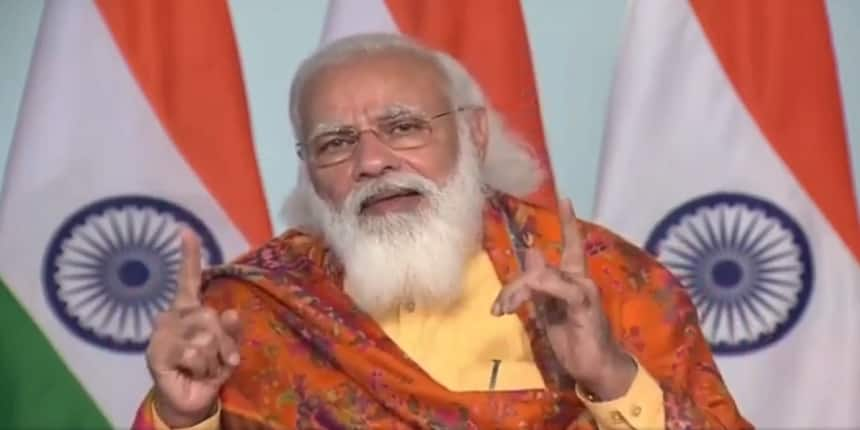 NEW DELHI: Prime minister Narendra Modi has said that the National Education Policy is focussed on aspirations, skills and talent of the youth of this country. Modi said that an ecosystem is being developed to nurture the talent of youth in the country. PM Modi was addressing the valedictory function of the second National Youth Parliament Festival
PM Modi urged Indian youth to join politics and said: "Earlier there was a perception in the country that if a young man turned to politics, the householders used to say that the child is going astray. Because the meaning of politics had become to quarrel, trouble, plunder and become corrupt. People used to say that everything can change but politics cannot change." He has spoken about the involvement of youth in politics earlier as well. Addressing the communities of Aligarh Muslim University and Jawaharlal Nehru University -- two campuses with large student bodies that oppose PM Modi's own party, the BJP -- he urge students to set aside political differences and suggested that their opposition was against national interest.
PM said that today the National Education Policy (NEP) 2020 which has been implemented in the country is focussed on aspirations, skills and talent of the youth of this country. Modi said: "Now you can choose whichever subject, whichever combination, whichever stream you want. You can shift from one course to another, now this will not happen. whatever effort you have made will go waste while changing course."
Talking about Swami Vivekanand, Modi said there is not a single Indian who does not feel connected with Swami ji, who is not inspired by him. "Time passed, the country became independent, but we still see today, Swamiji's influence is still the same. What he said about spirituality, what he said about nationalism and nation-building, his thoughts about public service flow in our mind-temple today with the same intensity," Modi said.
He said that people come under the influence of Swamiji, build institutions, then people come out from those institutions who go on the path shown by Swamiji and keep adding new people. He said: "This cycle of Individual to Institutions and Individuals to Institutions is a great strength of India."
Modi said: "It was Swami Ji who said at that time that the fearless, frank, clean-hearted, courageous and aspirational youth is the foundation on which the future of the nation is built. He believed so much in youth and youth power."
National Youth Parliament
The National Youth Parliament Festival (NYPF) for youth between 18 and 25 years of age, who are allowed to vote and will join various careers in coming years, including public services. The first NYPF was organised from 12 January to 27 February 2019 with the theme "Be the Voice of New India and Find solutions and Contribute to Policy '', in which a total of 88,000 youth participated.
The second NYPF was launched online on December 23, 2020. Around 2.34 lakh youth from across the country participated in the first stage, it was followed by State Youth Parliaments through the virtual mode from January 1 to 5, 2021. The finals of the second NYPF was held in the Central Hall of the Parliament on January 11, 2021, where national winners got an opportunity to speak before the national jury comprising of Roopa Ganguly, MP, Rajya Sabha; Parvesh Sahib Singh, MP, Lok Sabha and journalist Prafulla Ketkar.
Also read:
Write to us at news@careers360.com.