NEET DOMICILE REGULATIONS: STATELESS STUDENTS, HEARTLESS STATES
NEET DOMICILE REGULATIONS: STATELESS STUDENTS, HEARTLESS STATES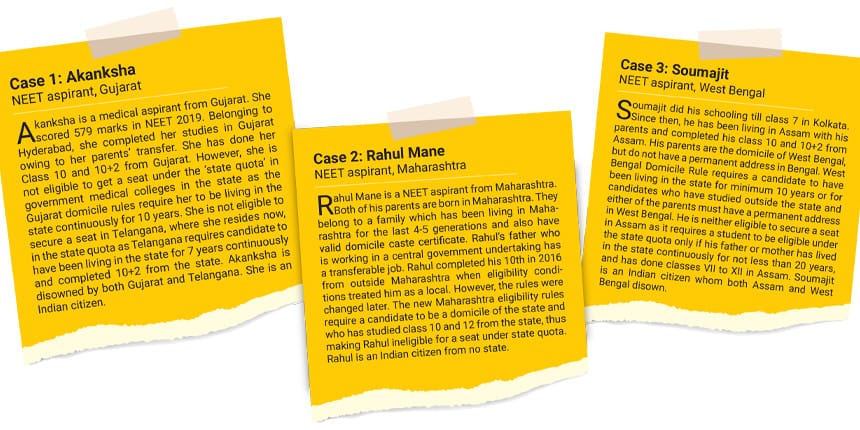 NEET was touted to be a 'One nation- one-examination'. Skewed state domicile regulations defeat its very purpose, creating second-class citizens who can't get admission in any state…
NEW DELHI, JULY 12: One of the most important reasons for introducing the national level National Eligibility-cum- Entrance Test (NEET) was to have a 'one-nation-one-examination' mechanism to prevent students from spending time, money and energy in desperately seeking admission in medical colleges in various states. However, NEET seems to be missing its target due to varying domicile policies that each state drew for itself. As per norms, 85 percent of the total seats in the country falls under 'State Quota' in all government medical and dental colleges. They are reserved for candidates who are domiciles of the state in which such a college is located. The remaining 15 percent seats in these colleges are open for All India candidates.
Domicile ambiguity
Almost all states in the country have created their own set of rules to protect the seats from going to non-local candidates. These rules are also known as 'Domicile Regulation'. Just to give a glimpse of the ambiguity, while some states only require students to have completed their 10th to 12th class from that state, Gujarat also requires them to have been residing in that state for a minimum of 10 consecutive years. Akanksha (Case-1 given above) is a victim of this policy.
Saket Kumar, a resident of Surat in Gujarat, shares his ordeal, saying, "I am living in Gujarat for 9 years and have done my class 10, 11 and 12 from Gujarat. This year I gave NEET exam for MBBS, but due to Gujarat's 10-year domicile rule I will not get admission in the state."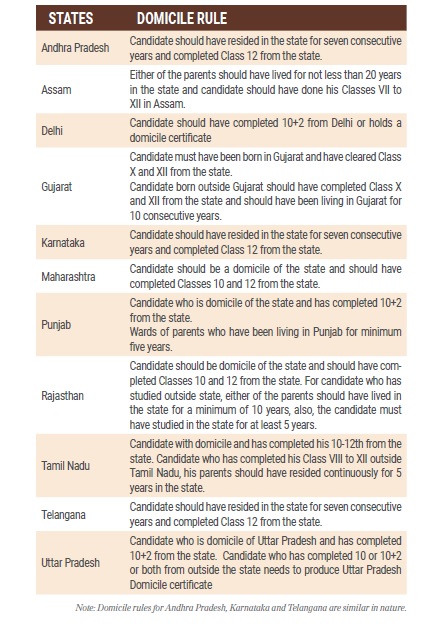 Karnataka requires either of the candidate's parents to be domicile of that state to make the cut. On the contrary, Delhi only requires a student to have completed his 12th class education from there or one who holds a domicile certificate. West Bengal has a different formula. It has two types of proformas for domicile status of candidates who have qualified NEET. They have to fill up either one of the two proformas -- A or B. Candidates who have been living in Bengal for 10 years will have to fill domicile A, while proforma B is for those who have been living outside Bengal for the last 10 years, but either of the parents has a permanent address in Bengal. This is why candidates like Soumajit (Case-3 given above) suffer. The problem becomes more complex when states incorporate new clauses every year, making students and parents confused.
Lack of clarity?
The domicile rules for NEET admissions are prepared and changed by states from time to time based on the feedback from various quarters. However, the policymakers have failed to keep in mind some critical issues of aspirants and parents, who relocate from one state to the other.
Dr. Vedprakash Mishra, former Chairman of Medical Council of India's Academic Council, said, "The said difference in domicile rules prescribed by different states turns out to be a real thorn when it comes to the merit-based admissions to the state quota."
Take the example of the state of Punjab. Just a day after the NEET result was declared, the Punjab Medical Education Department announced that only those having domicile of the state are eligible for admission to MBBS and BDS courses in medical colleges in the state. The new notification by the department contradicted the earlier one whereby those who have passed their classes 10, 11 and 12 from Punjab were eligible for the MBBS courses.
Gujarat Government framed the Gujarat Professional Medical Educational Courses (Regulation of Admission and Fixation of Fees) Rules, 2017, stating that for being eligible for admission to MBBS and other courses through NEET, a candidate must have passed Class 10 and Class 12 from a school in Gujarat. It also added rule 4 (1) (A), seeking a candidate to be a domicile of Gujarat. Following this new amendment, many of the students and parents approached Gujarat High Court thus creating a lot of confusion during the 2018 admission cycle.
This year, Deputy Chief Minister Nitin Patel clarified that those students born in Gujarat and have passed class 10 and 12 from the state will not be required to produce domicile certificate. He added that only those students who are born outside Gujarat but have completed their 10th and 12th from the state and whose parents are living in Gujarat will have to produce domicile certificates.
Legal tussle
Since NEET came into being, students have been challenging the domicile laws in various high courts. Last year, Bombay High Court upheld the Maharashtra medical admissions rule that requires students to have studied Class 10 and Class 12 from state and possess domicile certificates as well to be eligible for 85 percent state quota. Later the Supreme Court (SC) also upheld the HC ruling, which in a way protects the interests of 'local students'. Madras High Court and the Punjab and Haryana High Court have also upheld the decision of the respective state governments' domicile policy.
In the Rajdeep Ghosh vs. State of Assam and Others case, the SC ruled in 2018 that the state governments can insist on domicile status for students seeking admission to their undergraduate medical or dental colleges under the state quota if the objective is to ensure the presence of doctors in their remoter areas, thus upholding the constitutional validity of rules passed in Assam. The petitioner had challenged the Assam government's domicile rule on the ground that though he cleared the NEET and his parents were residents of Assam, he was denied admission to Assam's medical colleges because he had studied Classes VII to XII in another state. The SC Bench clarified that only the state quota was closed for the petitioner, while he was free to seek admission in government medical colleges of Assam under the 15 percent all-India quota.
Why do states protect seats?
Most of the state governments argue in favour of their domicile rules, pointing out that medical seats are limited; they have a responsibility towards the resident students; scarcity of doctors in the state; and the fear of other state students returning to their home states. Lending credibility to this
line of thought, Tamil Nadu added a new rule this year which makes it mandatory that the parents of students seeking admission under state quota to have been resident of the state for five years.
The way forward
We have thousands of parents who want their children to become doctors. Shrikant Mane, father of Rahul Mane (Case-2 given above), echoes the sentiment of many like him in his home state Maharashtra when he asks, "Is this parents' mistake or students' mistake? I do not know to which state my child belongs. How can he be not from Maharashtra? Please explain. How can we leave our job and settle in our domicile state? Will the state government provide us job?"
The state governments need to devise a rational formula to help deserving students secure a seat, instead of denying it. It would be a good idea if all the state governments under the guidance of the central government work out a plan of action so that deserving students do not have to undergo the same ordeal in the next NEET season.
Dr. Vedprakash Mishra, Former Chairman, Academic Council, Medical Council of India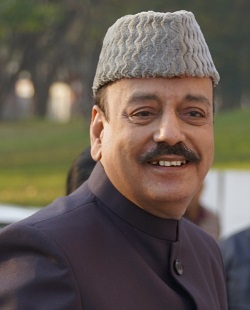 The access to higher education, including professional education, inevitably has to be merit-based alone. This is the law in the letter as well as in spirit. Merit governing admission cannot be and should not be open for any marginalization or subversion of any type or any manner in the name of self-styled impositions and restrictions other than those that are stipulated in the Constitution itself, which are invariably mandatory in character and binding in nature.
The concept of 'All-India Quota' envisaged for admissions was primarily to ensure that the admissions there under were independent of any geographical boundaries that limit the state and hence admissions that are independent of any limitation in the name of domicile of a particular state. However, the admissions to 'state quota' are bound to be governed by the Rule of Domicile prescribed by the state concerned.
The core issue turns out to be different domicile rules imposed by different states. The said difference in domicile rules prescribed by the different states turns out to be a real thorn when it comes to merit-based admissions to the state quota.
It is true that the restriction in the name of domicile by a state is in conformity with the federalism and principles thereto as enshrined in the Constitution of India, but what is desirable is that there could be certain central binding guidelines issued/ notified by the Government of India to all the states for invocation of uniform rules governing the domicile, which would bring a sense of pan India parity and would be conducive to the students seeking admissions to the state quota without any prejudice to their merit in the name of differential conditions imposed by different states in regard to domicile.