Noble Laureate Kailash Satyarthi calls for complete ban on digital child pornography
Noble Laureate Kailash Satyarthi calls for complete ban on digital child pornography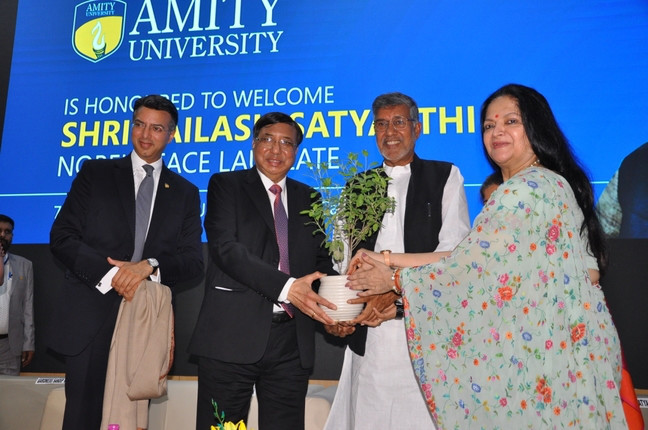 NEW DELHI, AUGUST 8: Nobel Laureate Kailash Satyarthi has called for a complete ban on digital child pornography. Interacting with the students of Amity University, Noida after the screening of the movie 'The Price of Free', which illustrates his journey as an engineering student when he started Bachpan Bachao Andolan to end child slavery, Sathyarthy said efforts were on for a UN convention against online pornography and sexual abuses of children.
"We are working on a UN convention against pornography and sexual abuses of children online. I have met global leaders and country representatives across the globe. We have progressed quite a lot in this and I am very sure that we will be able to stop all the data service providers from putting up such acts and also no one will be able to download them. All of us need to raise voice against this collectively," he said.
Adding that he is fighting against an evil that has gripped the society, he said, "Children are digitally abused today. Small pornographic films are easily available and circulated widely. Children watch these which severely affects their normal mental growth. This needs to be stopped and we need an international law to put an end to this menace."
Sathyarthi urged the students to work together in creating knowledge following the four C's of Clarity of Mind, Courage, Conviction and Compassion to bring about a change in the society. He told the students to have the courage to break all complacencies and use social media to bring about a change and end the menace.
He also shared how $1.3 trillion were being annually spent as a military expenditure while the expenditure for just 4.5 days could solve the problem of illiteracy in the world.
Directed by Derek Doneen, about Satyarthi, the film, 'The Price of Free', formerly known as Kailash, was premiered at the 2018 Sundance Film Festival and won the Sundance Grand Jury Prize. Dr. Ashok K Chauhan, Founder President- Amity Group of Institutions and Pooja Chauhan, Chairperson, Amity School of Film and Drama were also present on the occasion.
Stay updated with latest Education News
More From Pritha Roy Choudhury