Nurturing a Legacy of Philanthropy
Nurturing a Legacy of Philanthropy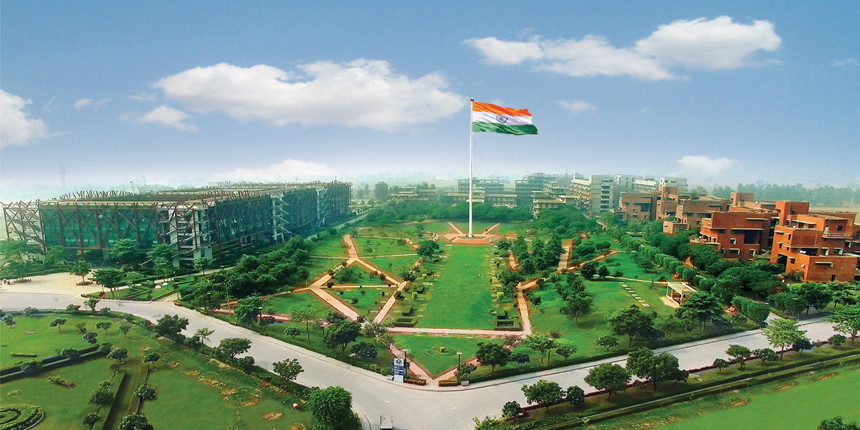 O.P. Jindal Global University, a philanthropic initiative by Naveen Jindal, and now recommended for the 'Institution of Eminence' status puts India on the global map of world's best universities…
by Triti Zalka
On 30th October 2006, two men met briefly. One, a hugely successful industrialist, the other, a brilliant scholar. From the conversations that brewed between a visionary politician and a distinguished professor over the years, was born O.P. Jindal Global University in 2009. Naveen Jindal and Prof. (Dr.) C. Raj Kumar, two heavyweights in their own fields, came together to build out a world class university amidst the green fields of Sonepat, Haryana. The not-for-profit philanthropic initiative is only 10 years old, but is quickly stirring in contemporary Indian academia a serious awakening.
The idea takes root
'Are there universities like Harvard, Stanford, Yale or Oxford in India?' is the question that was itching Prof. C. Raj Kumar as he spent time attending Oxford University and later Harvard Law School. The answer quite simply was: no. Since then, it was his dream to build such a university in India. To realise this, he was seeking three things: one, a person willing to give away substantial resources; two, a commitment to do so in a not-for-profit manner; three, an assurance of complete academic freedom, autonomy and independence to build a world class university.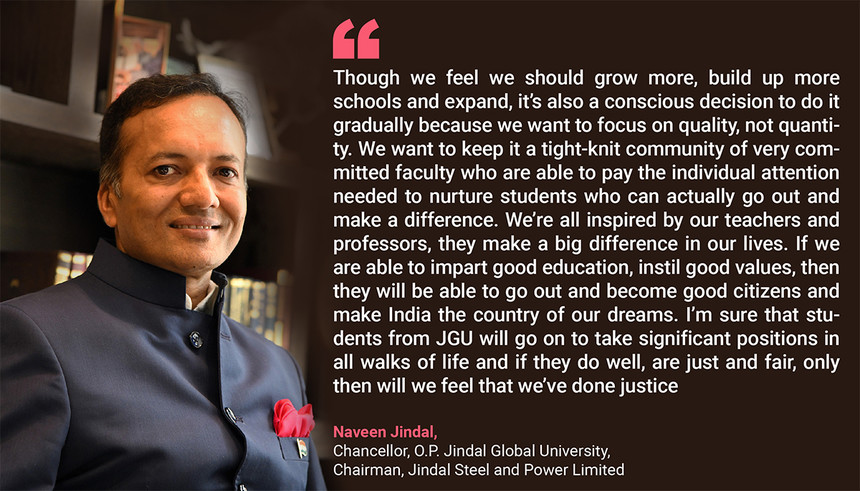 When he shared the vision with H.R. Bhardwaj, who was the Law Minister at the time, he found his answer. He was introduced to Naveen Jindal—in what can only be described as a fortunate play of fate. Not long before their initial meeting, Naveen Jindal had lost his father Om Prakash Jindal. Naveen Jindal recalls, "He has been an inspiration and guiding light in our life. Building a university in Haryana, our native state, was a befitting idea to pay tribute to my father's memory. There could be no better contribution that we could make to society in his name than higher education. When I met Raj, the timing was just right, the idea was good, and everything fell in place." O.P. Jindal himself was a successful businessman and renowned philanthropist who set up several schools. The continuity of his legacy, and more importantly, this characteristic streak of 'giving'—especially to education—which has been naturally interred in Naveen Jindal is an inspiration for any influential lineage to look beyond their own success and wealth and contribute to nation-building in a bigger way.
Stanford of Sonepat
The conception of JGU draws inspiration from the cumulative history of the American not-for-profit philanthropic model of higher education. Among these stalwart universities, there is a story that rings close to home. An interesting parallel to JGU's journey is that of Stanford University. Like Naveen Jindal who, besides serving as Chancellor of JGU, is the Chairman of Jindal Steel and Power Limited and was a Member of Parliament in the Lok Sabha for two terms—Leland Stanford was both an industrialist and a politician. Leland Stanford and his wife, Jane, established what is legally still named 'Leland Stanford Junior University', in 1885 in memory of their son, Leland Junior, whom they lost to typhoid at a very young age.
At the time in America, there was widespread skepticism about a politician trying to build a university—which could well have been the case with Naveen Jindal and JGU. Power or money motives were questioned when an influential individual was promoting a private higher education initiative. Nearly a century and half later, similar whispers were floating in the Indian context. But what Leland and Jane Stanford have achieved has stood the test of time. Though only 10 years old, JGU is a fledgling young university that bears a striking comparison to the evolution of higher education in the West, and it looks like it is holding its ground.
Complete academic freedom
Typical of a private university is the case of the promoter getting involved in the academic framework. While this makes sense if the promoters themselves come from academic backgrounds or have the time to leverage their corporate experience and bring it to the mix, things are different at JGU. The responsibilities are clear cut. While Jindal has been generously providing the resources needed to maintain the quality of the institution, he has also upheld its integrity by leaving the aspect of education itself to those who know best—educationalists. A pool of distinguished faculty from around the globe are given total control of how they envision the learning environment, courses, curriculum, and all else.
"He believes in the idea of autonomy and independence intrinsically as a part of an effort to build excellence. He has freed the reigns so effortlessly. At the same time, he is fearless. If he wants to express his views about anything, he doesn't hesitate to do so in a constructive manner to seek change, improvement and immensely benefit the university. This university could not reach where it has today if not for Jindal's conscious effort to encourage innovation, creativity, autonomy and independence. That is what will make a university stronger from within. It's the biggest lesson for those who are planning to build a new institution," says Prof. Raj Kumar, who is the Founding Vice Chancellor of the university. When Jindal visits the university every 3-4 months, he has his eyes peeled for quality checks, always looking at ways to improve.
Rising up the ranks
JGU did not set out to top the ranks. Its vision was simply to provide a world-class education in India. Today, JGU is carving a niche in a league of its own making.
"These 'rankings' were never part of our agenda or mission. Our mission is to have the best of faculty, provide the best of learning opportunities, develop the most transparent and effective process to admit the most deserving students, create an ecosystem within the university that will offer the best of extra-curricular activities, create mechanisms for building international collaborations across the world to advance the opportunities for our students, enable them with internships and placements; the pursuit of excellence was the only agenda at our founding, and continues even now," says Prof. Raj Kumar, proudly. For such a young university, it even seemed too early to aspire to be in the rankings. Besides, historically, universities without STEM disciplines seldom make the cut.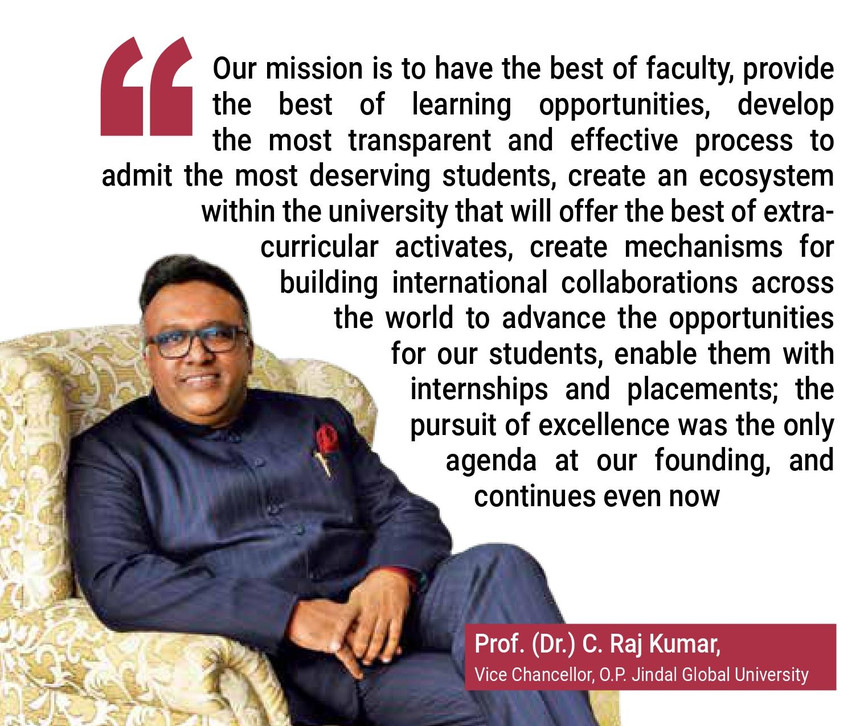 In 2017 came a shocking surprise—JGU was featured among the top 350 in the QS BRICS University rankings. Out of the 9000+ universities that fall under the BRICS region, for a then 7.5-year-old university, it was quite an extraordinary achievement. The next year, JGU broke into top 400 QS Asia University rankings amongst 13,000+ universities, which is even tougher. "It was a really defining moment for us. It made us understand that what we're already committed to is represented clearly in the ranking system. Everything we do is what a good university should be doing! There was an alignment of purpose and vision between the institutional mission and the rankings," beams Prof. Raj Kumar.
This year, JGU made history. The university has been ranked among the top 800 in the world of 28,000 universities. "What happened was unthinkable, unbelievable, and unheard of in the history of universities. For a 10-year-old university to be in the top 800 in the world, among 28,000 universities is simply impossible in the normal sense because that ranking does not distinguish between a 10-year-old or an 800-year-old university. Your achievements and contributions are equally seen in that sense," says Prof. Raj Kumar. Only 24 Indian universities have made it to the ranking.
Yet the real laurel for JGU has been the QS 'Young' University Rankings—coming in among the top 150 in the world. The general ranking doesn't have the mechanism to differentiate between old and new universities, which has worked at the disadvantage of the developing world. At the dawn of Indian Independence, there were only 20 universities. Now there are 1000. The developing world has seen the growth of higher education only in the past 50-odd years. The 'Young' rankings assess universities that are 50-years old less, the picture gains more clarity. In India, JGU is the only private university to be ranked and in the world, JGU is the youngest.
JGU is not in the 'business' of education
In many ways, the many successes that have come JGU's way can be surely traced to the philanthropic nature of the institution. The fact is, good universities anywhere in the world require substantial resources. In the public sector, it comes from tax payers' money and in the private sector, it comes from private individuals or corporations. If an individual or business approaches higher education as a business opportunity, corporate values and the expectation of a 'return on investment' will inevitable seep into the governance of the university. Indeed, the private sector is increasingly looking at education as a way of making money. Instead, like JGU, such institutions need to function in a manner that reflect the ideas, values and aspirations of society at large.
"So what works is that we need to focus on not-for-profit philanthropy institutions promoted by wealthy individuals who are socially committed, who have a deep and pervasive impact on contributing to the nation, who have a track record of making other contributions to society, who have a passion and dedication towards contributing to nation building. Those individuals need to be engaged with. Unless you are very rich, and very generous and giving, you cannot build a university that will fulfil that purpose. Philanthropy is the only way to create world class higher education in India," says Prof. Raj Kumar.
Nurturing a culture of philanthropy
Philanthropy comes in many shapes and forms. In the developed world, it is not uncommon for alumni to give back to their schools and universities—whatever their means. In fact, it is typical. The idea of investing in higher education in India seldom occurs to its educated populace, but is now slowly gathering momentum. On the part of universities, the effort today is to evolve a culture of philanthropy from the inside-out.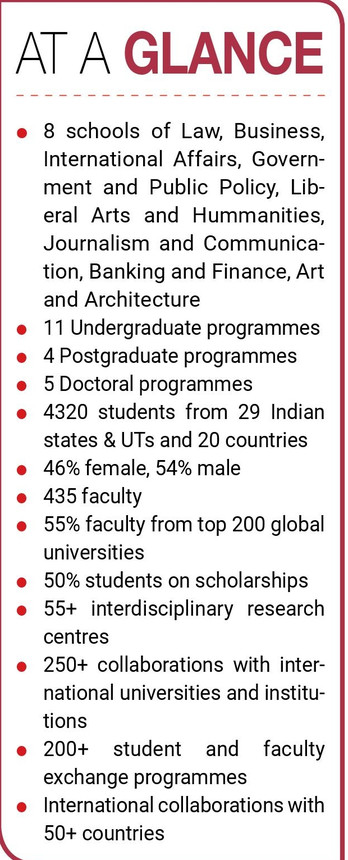 "I have experienced the essence of American higher education. Alumni have a strong tendency to give back to their universities. There is a deep sense of loyalty towards the institution embedded in students. So, if we are able to provide a global standard of education, take care of our students well and keep in touch with them, when they succeed in life, I'm sure they would want to contribute to their alma mater," believes. Jindal, who also donated significantly to his own alma mater, University of Texas, Dallas. UT renamed their management school as Naveen Jindal School of Management in his honour. With only 3000 alumni since its first graduating batch in 2012, JGU cannot expect significant contributions just yet, but the institution is happy to hear that alumni are already talking about it. A young lawyer in London wants to institute a fellowship in the name of his mother. This is the level of gratitude shared by the alumni of JGU.
Government should promote philanthropy in education
Historically, the culture of giving has been limited by family, region, religion or even caste. The culture of philanthropy needs to transcend these. Regulatory measures and policies can go a long way in inviting more initiatives like JGU. "Our focus in India needs to be higher education. The government needs to increases resources and allocate more GDP investment towards higher education, which is marginal compared to other countries. We cannot build a knowledge society, build smart cities, do serious Make in India, achieve technological prowess, or develop entrepreneurs if we don't empower our higher education system. We also need to reimagine the CSR funding. 50% of CSR should be for higher education. Then companies would be motivated to give towards education. We need to provide blanket 100% tax exemptions to anyone who gives money to educational institutions. You need to crate avenues to incentivise donors. That's how philanthropy has grown in the US," demands Prof. Raj Kumar, who is a strong voice in education policy change in the nation.
Focus on quality, not exactly on quantity
Step into any public university classroom in India, and you will find a professor addressing an audience of at least 50-100 students, often more. Understandable as is the case of limited resources—both capital and human—the faculty-student ratio tips heavily. At JGU, it is at a comfortable 1:10.
"Though we feel we should grow more, build up more schools and expand, it's also a conscious decision to do it gradually because we want to focus on quality, not quantity. We want to keep it a tight-knit community of very committed faculty who are able to pay the individual attention needed to nurture students who can actually go out and make a difference," believes Jindal.
"We're all inspired by our teachers and professors, they make a big difference in our lives. If we are able to impart good education, instil good values, then they will be able to go out and become good citizens and make India the country of our dreams. I'm sure that students from JGU will go on to take significant positions in all walks of life and if they do well, are just and fair, only then will we feel that we've done justice," Jindal added.
Open doors for collective philanthropy
According to Prof. Raj Kumar, JGU will become in the future an effort of collective philanthropy. Naveen Jindal is very open to the idea. In fact, invites other like-minded people to contribute to the evolution of the university. JGU is open to having recognitions, naming rights, and celebrations of others joining.
"Many a times in life, you do something, and in hindsight, think you could have done it better or not done it at all. Then there are times when you just know you've made the right decision—O.P. Jindal Global University is one of those special moments. I feel proud to have done the right thing at the right time. If you have the spark, it will catch fire. There are enough people in India who want to do the right thing," adds Jindal, talking about the need to inspire the next generation of entrepreneurs, professionals and industrialists to come forth and invest in higher education.
Stay updated with latest Education News
More From Team Careers360