Pokhriyal: JEE Main exam dates to be announced soon, may increase attempts
Pokhriyal: JEE Main exam dates to be announced soon, may increase attempts
Ramesh Pokhriyal Live: There are discussions on holding JEE Main 2021 as many as four times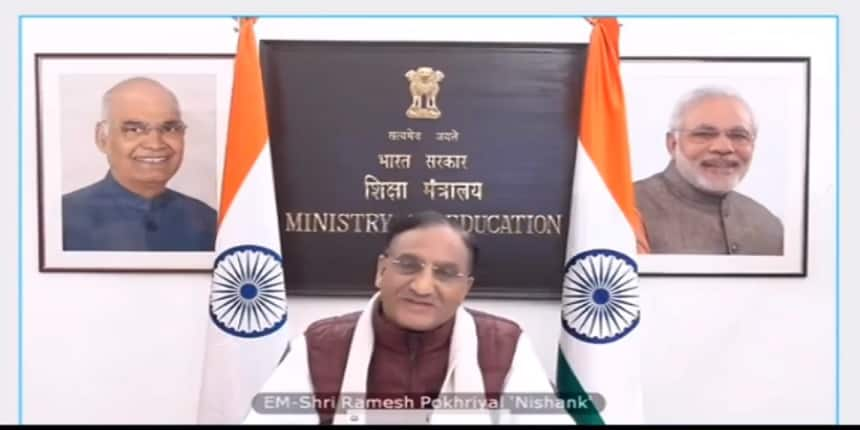 NEW DELHI: Education Minister Ramesh Pokhriyal 'Nishank' while holding a live interaction with students and parents today said that his ministry is looking into the option of holding JEE Main examination more than two times in the year to help students.
Talking about the date to be announced for JEE Main exam, he said that we are working on a mechanism to announce the examination dates as soon as possible. He also said that some of the students have requested that an increasing number of JEE Main exams can be conducted two, three or four times, it is being discussed and soon a decision will be taken in this regard.
Pokhriyal had earlier announced to hold a webinar to address concerns related to upcoming competitive and Central Board of Secondary Education's Class 10 and Class 12 examinations dates. The education minister said that as the situation is changing very fast he is hopeful that students will soon be returning to schools as it was the case earlier.
'No plan to cancel NEET 2021'
Concerned about their safety due to COVID-19 pandemic students have been demanding postponement of Classes 10 and 12 board exams slated for February- March 2021.
Students are also demanding postponement of JEE Main and NEET 2021. The syllabus for these exams is also a cause for concern as several school boards, including the CBSE, have docked their syllabus for the 2020-21 academic year because of the loss of teaching hours caused by the pandemic. However, there is "no plan to cancel NEET 2021," Pokhriyal stated categorically.
Talking about CBSE board examination next year Pokhriyal said that the board had reduced the syllabus by 30 percent for the year 2021. He said: "I am happy that CBSE has organised for education counsellor for students, who are from different countries like Japan, Oman, etc"
Jigyansh, a class 12 student raised his concern that as students like him could not attend practicals will CBSE be postponing the practical examination. Pokhriyal replied that as practicals are internal still if the situation doesn't improve we will be looking into this area seriously. Talking about the clash of JEE Main exam dates with board practicals, he said: "We will ensure that practical exams do not coincide with JEE Main exam."
Avisham another student demanded that if the syllabus of competitive examination can be reduced by 10-20%, then students will be able to complete it. Minister said that CBSE has already reduced its syllabus, and as far as examinations are concerned and if the situation is not feasible for examinations we will look into it as the examinations were postponed earlier also.
Priyanshu said that there is concern among students about the reduced syllabus, as students and teachers do not have clarity on what portions have been reduced and what is still there. Minister informed that all the reduced syllabus details have been shared by CBSE with schools and has also been uploaded on CBSE official website.
Examination dates will be announced much earlier

Abhay Singh questioned that all the board examinations are held in February- March and to understand the new pattern can examinations be postponed further, the minister replied that examination dates will be announced much earlier and students will have enough time to prepare for them.
Sudha asked that if schools for Class 10, 12 students are reopening how will the safety of students be maintained, the minister replied that safety is in our hands and we have to follow all the SOPs and remain safe. "Whenever schools are reopened I would urge school administration, parents and students, to follow all the guidelines issued related to COVID-19," the education minister said.
Another student Manish demanded that if the syllabus is not reduced, examinations can be postponed. The minister replied that we have reduced the syllabus to reduce the burden on students and as soon as situation normalises we will increase it.
He also said that to what extent questions can be asked in Joint Entrance Examination (JEE) as only CBSE has reduced its syllabus and some of the state boards have not done that.
Another student Keshav demanded cancellation of NEET 2021 exam, Pokhriyal replied that we held examinations successfully this year and NEET 2021 will not be cancelled. "We are right now working on announcing the examination dates in advance so that students get time to prepare for JEE or NEET exam."
Medical and engineering aspirants have also requested for the postponement of engineering entrance exams, JEE Main 2021 syllabus and date, and the same for the medical entrance test, NEET 2021. The education minister said that this year we successfully organised JEE and NEET examinations by increasing the number of examination centres, for NEET examination centres were increased by 52 percent.
Pokhriyal said: "Till now we hold NEET exam in offline mode and we will see if it can be conducted in online mode and if we get too many suggestions for this we will see how to go about it."
Pokhriyal said that the situation is changing very fast and he is hopeful that students will soon be returning to schools as it was the case earlier. He said that 17 states have reopened schools although the attendance is low.
Talking about the CBSE class 10 board results, the education minister expressed his happiness over 91% passing percentage and congratulated CBSE and Kendriya Vidyalaya, which saw 99 percent passing percentage.
He also expressed happiness over the passing percentage of class 12 students despite COVID-19 pandemic.
Talking about the National Education Policy, NEP 2020, Pokhriyal said that it is a vision document which will transform the education sector in the country.
Also read:
Write to us at news@careers360.com