REET 2022: Candidates asked to remove dupattas; many in tears as they miss exam
REET 2022: Candidates asked to remove dupattas; many in tears as they miss exam
REET 2022 is being held on July 23 and 24 in two shifts to recruit candidates for the post of primary teachers for Classes 1 to 8.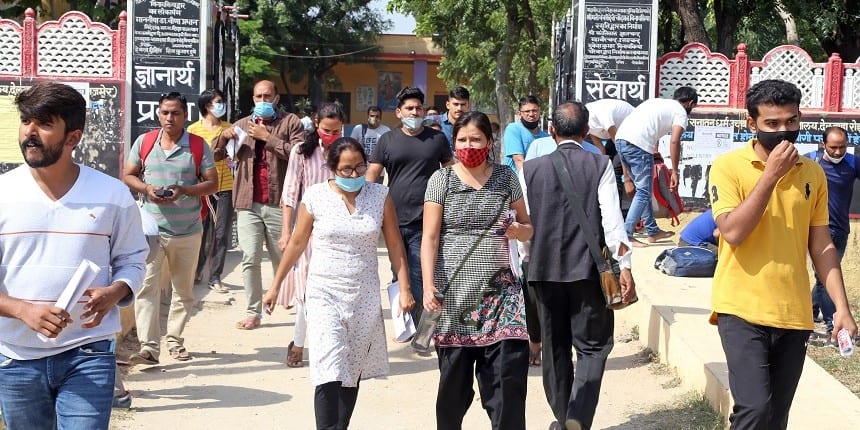 NEW DELHI: Days after Kerala National Eligibility Entrance Test (NEET) UG 2022 issue wherein women candidates were asked to remove innerwear at a centre in Kollam district, several Rajasthan Teacher Eligibility Test (REET) 2022 candidates alleged that they were asked to remove their dupattas and had to give away part of their clothes in today's exam. Videos of sleeves of REET 2022 women candidates being cut during checking at centres to avoid cheating surfaced. Many candidates were in tears as they missed their exam today due to wrong address details on admit card as well as bad weather. Aspirants alleged that they were not allowed to write exams for being even one minute late. Cheating was also reported at some centres.
Recommended: Free Download REET Previous Year Question Papers Along with Answers. Click Here
Don't Miss: REET 2022 Paper 1 & 2 Topic Wise Syllabus, Click here
Also Read | Chhattisgarh Govt to soon start process to recruit 10,000 school teachers: CM Bhupesh Baghel
REET 2022 is being held on July 23 and 24 across the state. A government school teacher was arrested in Barmer district on July 22 for allegedly conspiring to appear as a dummy candidate for today's exam.
A REET 2022 candidate missed his exam due to bad weather and said in a tweet, "My paper was in Ajmer since 10 am, I was coming from Delhi, due to rain storm, there was a jam from place to place and I reached the center at 9:30 in the morning but they did not give entry. And in many other places the entry was easily available even after 9 o'clock."
मेरा पेपर अजमेर में था सुबह 10 बजे से, मैं दिल्ली से आ रहा था, बारिश आंधी तूफान की वजह से जगह जगह जाम मिला और मैं सुबह 9:30 बजे सेंटर पहुंचा लेकीन उन्होंने एंट्री नही दी। और दूसरी कई जगह पर 9 बजे के बाद भी एंट्री आसानी से मिल गई।#ReetExam2022#ReetExam2022#REET2022

— ansab riyaz (@AnsabSSA) July 23, 2022
Another candidate wrote in a tweet that he could not appear for the exam for being 9 minutes late due to bad roads in Churu.
@ashokgehlot51 @_lokeshsharma @Rajendra4BJP
आपके शहर चूरू को तो सही कर लो राठौर राजा साहब। गंदे पाणि की वज़ह से #REET2022 exam center me 9 minut deri se entry nahi mili ...baddhuye le लीजियेगा pic.twitter.com/APSERkNxAm

— Jitendra Sharma(arj) (@jeeti_100) July 23, 2022
A candidate whose exam was scheduled in shift 2 missed his exam as he was 30 minutes late due to traffic on the road.
#REET2022
Mausam kharab hone ki wjh se traffic tha. 2 ghnte phle niklne pr bhi centre pe 30 min late phuche. Centre pe 2:15 tak entry ki agr 2:00 tak time h entry ka to 15 min entry kyu li yaa fr 2:30 pr phuche sbhi students ki entry leni chahiye thi
Shri krishna public school pic.twitter.com/Gtzl61NiYQ

— Satendra Singh (@Satendra2022) July 23, 2022
A Twitter user shared a video of candidates who missed their exam for being late and said "In the paper starting at 10:00, not giving entry to the students even after reaching the center at 9:02,v this shows the purpose of the Gehlot government, This is the condition of almost every exam center of Rajasthan today, a large number of children were prevented from taking the exam."
10:00 बजे शुरू होने वाले पेपर में 9:02 पर सेंटर पर पहुंचने के बाद भी छात्रों को इंट्री ना देना, यह गहलोत सरकार का उद्देश्य दर्शाता है,
राजस्थान के लगभग हर एग्जाम सेंटर का यही हाल रहा आज, भारी संख्या में बच्चों को एग्जाम देने से रोका गया #REET2022 pic.twitter.com/PAjl2df6My

— Dhulendra Raika 🇮🇳 (@dhulendraraika) July 23, 2022
Another Twitter user shared a viral video of frisking of candidates and wrote in a tweet, "A video from Rajasthan is becoming increasingly viral on social media, in which scissors are being used on the kurtis of girl students going to give papers to prevent copying at REET exam centres."
राजस्थान से एक वीडियो सोशल मीडिया पर बहुत तेजी से वायरल हो रहा है, जिसमें रीट परीक्षा केंद्रों पर नकल रोकने के लिए पेपर देने जा रही छात्राओं की कुर्तियों पर कैंची चलाई जा रही है. देखिये ये वायरल वीडियो #Jodhpur #Rajasthan #REET2022 #Viral #ViralVideo #Rajasthan #Teachers pic.twitter.com/huwUDc7zDz

— Mirza Sabir beg (@MirzaSabirbeg1) July 23, 2022
A handicapped aspirant was not given entry to exam centre as he was late for a minute.
इसी बारीश के कारण मे 1 मिनट लेट हुआ सर क्योकि मे 100% दिव्यांग था फिर भी मुझे #REET2022 #ReetExam2022 में बैठने नही दिया गया pic.twitter.com/rGB9RJUvps

— 🇮🇳 गोम सिंह शेखावत🇮🇳 (@GomOfficial84) July 23, 2022
---
Follow us for the latest education news on colleges and universities, admission, courses, exams, schools, research, NEP and education policies and more..
To get in touch, write to us at news@careers360.com.
More From Vagisha Kaushik