'South East Asia Public Health Education Institutions Network' concludes in Jaipur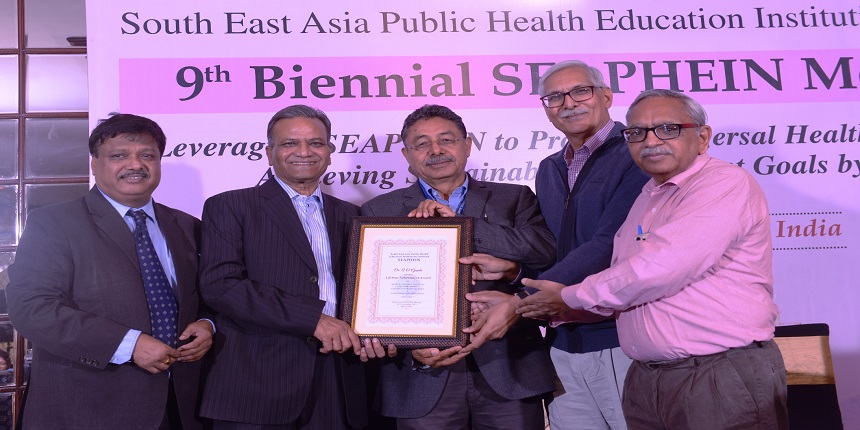 NEW DELHI: The 3-day annual session of 'South East Asia Public Health Education Institutions Network (SEAPEIN) concluded in Jaipur. This session was hosted by IIHMR University which saw the presence of more than 50 public health experts from 8 member countries of WHO-SERO including India, Bangladesh, Bhutan, Myanmar, Nepal, Sri Lanka, Thailand and Indonesia.
On the concluding day of the convention, about 12 MoU's on Public Health Education were signed between educational institutions of 8 member countries of WHO-SERO including Faculty of Public Health, Mahidol University, Thailand and National Institute of Preventive and Social Medicine (NIPSOM), Bangladesh, between national Institute of Social Medicine, NIPSOM, Bangladesh and University of Public Health, Yangon, Myanmar, Public Health Foundation, Bangladesh and IIHMR University, Jaipur etc. The objective of these MoU's was to include student and faculty exchange program including training programs among institutions. During the session, educational institutions and individual participants of the countries were also honoured with the award. Dr. S. D. Gupta, President, and Chairman, IIHMR University, Jaipur, was awarded the 'Lifetime Award' for his significant contribution to the public health sector.
The session covered several issues related to public health education, among which Dr. Anna Kalbusraki, Assistant Director, John Hopkins Center for Global Health, JHU, USA, spoke about Implementation Science. Dr. Anna Kalbarsaki shared her reflection "Most of us are already making use of Implementation Science without sharing the clear language". She explained basic concepts of the science using the 'Who', 'What' and 'How' of UHC are relatable with that of implementation sciences, and about the different dimensions of outcome measures. Dr Piyusha Majumdar, Associate Prof., IIHMR U shared her experiences of 'Synthesis and Translation of Research and Innovation in Polio Eradication (STRIPE)' an ongoing Implementation Science Project at IIHMR, Jaipur. She explained the methodology and challenges faced during the project and set an example in front of the SEAPHEIN group members.
Stay updated with latest Education News
More From Team Careers360