STUDY IN INDIA: INDIA, A LAND OF INCREDIBLE EDUCATION
STUDY IN INDIA: INDIA, A LAND OF INCREDIBLE EDUCATION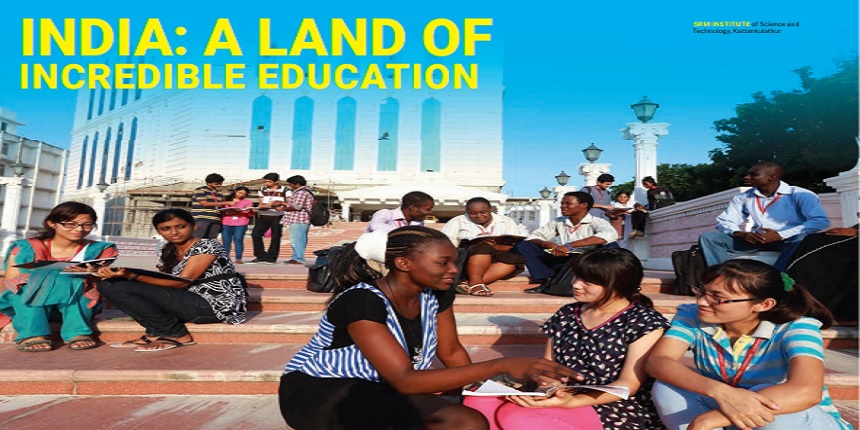 NEW DELHI, SEPTEMBER 11: India enjoys a good position at 26th rank in the QS Higher Education System Strength Rankings and is way ahead of many of its BRICS and some Asian counterparts. Among the cities, Bengaluru has featured at the 81st position in the global ranking scale, followed by Mumbai (85th place).
Delhi and Chennai are at 113th and 115th positions in the recent QS Best Student Cities ranking respectively. We also have five Indian institutions among the top 200 globally and 10 in the top 500. These numbers say a lot about the strength of Indian higher education system, which is one of the largest in the world in terms of students, next only to China and the United States.
Foreign students in India
India has been attracting foreign students for over 2000 years during the era of Takshashila University, Vikramashila University or Valabhi due to its advanced education system and rich cultural heritage and geographic location. In the modern era, the Indian education system is influenced by British higher education and covers Bachelor's, Master's and Doctoral degrees.
Presently, India attracts students from over 166 countries with universities covering knowledge in the area of medicine, engineering, arts and language, journalism, social work, business, commerce, planning, and other specialised studies. Most Indian universities teach in English and conduct special language classes for those who are weak in that language.
In the year 2017-18, the total number of foreign students enrolled in higher education was 46,144; which accounts for 1% of the global student mobility. The foreign students come from 166 different countries from across the globe.
The top 10 countries constitute 63.4% of the total foreign students enrolled. The highest number of foreign students coming to India is from the neighbouring countries of which Nepal accounts for 24.9% of the total, followed by Afghanistan (9.5%), Sudan (4.8%), Bhutan (4.3%) and Nigeria (4.0%).
Keeping all these factors in mind, the Government of India has launched 'Study in India' initiative, which has set a goal to quadruple its foreign student numbers and to host 200,000 visiting students by 2023. Presently, institutions can offer 10-15% supernumerary seats to foreign students in higher education.
The new scheme of 'Study in India', with a sanctioned budget of Rs. 150 crores for two years, is expected to promote India as a top education destination for higher education and increase demand in the direction of the supernumerary seats. It is expected that the increase in the number of foreign students would have many benefits like heightened economic benefits, improvement in quality of education, an increase in soft power and improvement in relations with foreign countries.
The 'Study in India' Initiative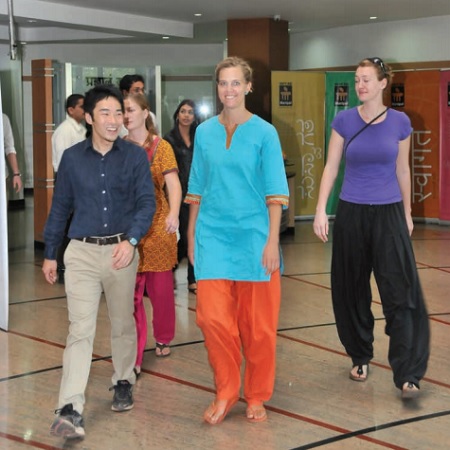 The Indian education system is vast in size as well as in academic offerings, which translates to availability of a wide variety of courses from the modern and cutting edge to the traditional. Indian education ranges from exposure to the latest advancements of science and technology like Virtual and Augmented Reality, Artificial Intelligence and Cognitive Computing to Yoga, Ayurveda, Sanskrit and classical dances.
The immense potential and growth of Indian IT and Services sector has led to a robust placement-oriented education and is also an important attraction for foreigners. Giving a fillip to the 'Study in India' programme, the Indian government has launched a new campaign, announcing full or partial fee waivers for up to 15,000 international students in the country's top 160 universities and colleges.
These institutions include Indian Institutes of Technology (IITs), Indian Institutes of Management (IIMs), National Institutes of Technology (NITs) and other highly ranked institutions. 'Study in India' programme also aims to position India as an Asian education hub. The new recruitment strategy targets students from Africa and Asia; reserved spaces for international students at India's top universities; along with a new waiver system and expedited visa processes for students.
The top 25 percent of foreign students will receive a full 100 percent subsidy for their studies. The next 25 percent are covered for 50 percent of study costs and the remaining students will receive a 25 percent discount on tuition. Key target countries for Study in India are: Nepal, Vietnam, Kazakhstan, Saudi Arabia, Nigeria, Thailand, Malaysia, Egypt, Kuwait, Iran, Sri Lanka, Bangladesh, Bhutan, and Rwanda.
Aman Mittal, Head International Affairs, LPU said, "Presently, international students constitute 7 to 8 % of LPU's total student strength. LPU is now targeting to enhance this percentage to 15%, almost double, within a few years. We at LPU are regularly working to identify new countries like China and other South Asian countries. We are also working with task-forces and embassies of various countries to favour 'Study India' opportunities available at LPU. In addition, our present students and international alumni are true spokespersons and canvassers about their alma-mater in their respective nations."
Our journey across eight campuses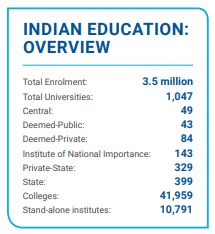 For this special issue on 'Study in India', we interacted with hundreds of students from leading Indian universities located in different parts of the country to understand the factors which attracted them to India and their experience of studying in India. During this process, we met students from the USA, France, China, Australia, Caribbean Islands, Zimbabwe, Kenya, Iran, Syria and neighbouring countries like Afghanistan, Bangladesh, Sri Lanka, Bhutan, Nepal and many more.
Some common factors that attract foreign students to India are the cost of education and living costs, quality of education, rich cultural heritage and vastness of the country.
Many students also feel that Indian degrees have high value in the international market while others feel that India is a lot safer. The foreign students also like the large libraries, labs and sports facilities and opportunities provided to them by universities to take part in various intra-college and inter-college sports competitions and cultural festivals.
However, some feel that there is a need for relaxation in the visa process while some suggested changes in the assessment and evaluation process.
Most Indian institutions provide on-campus accommodation for international students, but students wishing to stay off-campus can do so as well.
In the reportage and stories that follow, you would read stories of hope, collaboration, best practices that make 'Study in India' a huge opportunity for India in general and Indian education in particular. If a few of the institutions have become centres that foreign institutions aspire to be, the same can be replicated at many more institutions. However, we have a long way to go to be reckoned as a destination for education.
Stay updated with latest Education News