Total MBA applications to B-schools dipped from pandemic-level spikes: GMAC
Total MBA applications to B-schools dipped from pandemic-level spikes: GMAC
Applications Trends Survey 2022: Total MBA applications showed a 3.4% decline to B-schools in India while there was a 3.2 % y.o.y increase globally.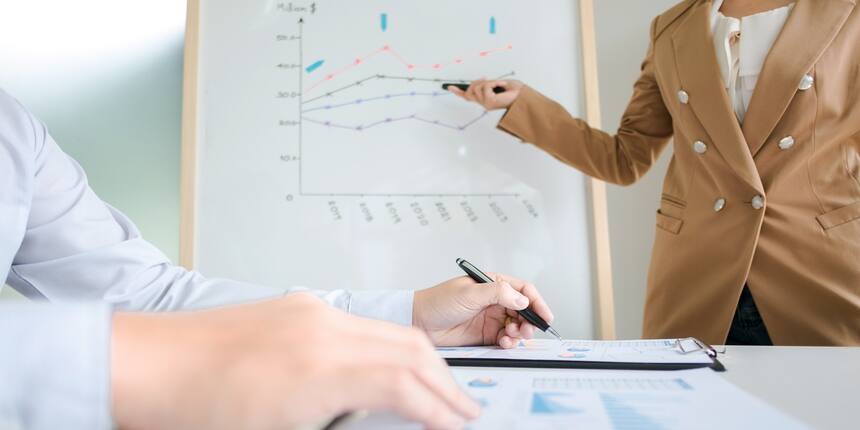 NEW DELHI: The latest Applications Trends Survey from the Graduate Management Admission Council (GMAC) 2022 showed a 3.4 percent decline in total applications to graduate business schools in India. 56% of responding institutions saw drop in applications.
In comparison, 2021 had a boom in master's in business (MBA) applications where 69% percent of the programmes in India reported total application growth. However, in 2022, the application volumes moderated to a 56% of total programmes reporting decline.
The key findings of the survey were a rebound in international applications to programmes in USA while Europe had stability or a slight increase in international students. Overall global applications to business master's programmes such as master in management, master of finance, and master of data analytics witnessed a year-on-year (y.o.y) rise by 3.2 percent.
Also Read | Nearly 2 lakh Indian students enroll in US universities in 2021-22, a 19% increase: Report
The study showed a rise in the number of Indian students choosing to study abroad as international and domestic applications take a hit. Even among the programmes that responded to the last two surveys, total applications dropped down to 2.9 percent, driven chiefly by a 2.9 percent drop in domestic applications, that accounts for the majority of total submitted applications (81 percent). Out of the small base of 81 percent, the application volume fell by 54%.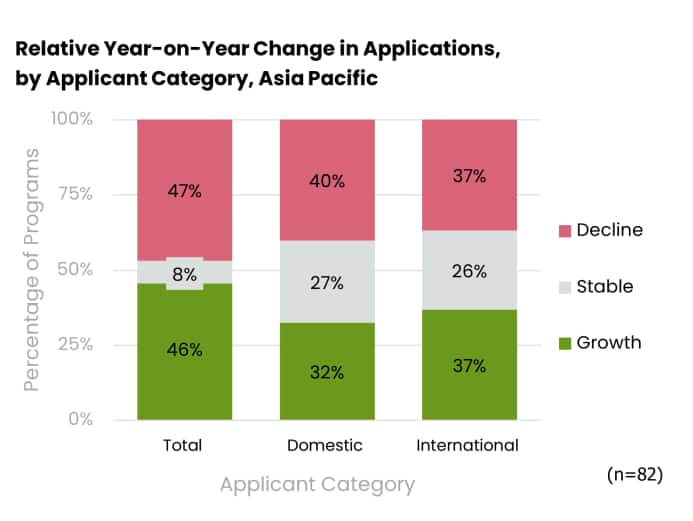 Applications Trends Survey 2022 - Overall India statistics
"A reason for this decline is the current hot hiring market and the 'great resignation' in the US with employers increasingly focused on retention, this is putting pressure on the domestic candidate demand for graduate management education (GME) who might have otherwise exit the workforce to pursue an MBA to stay, in the form of advancement, increased pay or other opportunities." the Applications Trends Survey report 2022 stated.
Overall global survey statistics
80% of US full-time two-year MBA programmes reported 19% increase in international applications this year. At the same time, 85 percent of these programmes reported 25% decline in domestic applications.
Total application to European programmes declines by 5.1 % year-on-year. In addition, more than half of the United Kingdom MBA programmes reported total application increase.
Canadian programmes saw drops in both domestic and international applications. Among Canadian programmes that responded to the last two years' surveys, total applications were down 23 percent y.o.y with 75% of programmes reporting declines in domestic applications and 68% reporting decline in international applications.
Programmes in Greater China report a 59% y.o.y increase in total applications.
While Canada experienced a reverse in application trends in comparison to the previous year, Asia retained applications in-region.
Most programs reported a 54% increase in international applications, while less than 1 in 4 reported increases in domestic applications (24%).
Most programmes in Europe and Asia grew or maintained women's representation in applicant pools. A majority of responding programmes in Europe (58%) and Asia (57%) grew or sustained the number of applications received from women. "I'm very pleased to see that women in Europe and Asia and underrepresented groups in the US are increasingly aspiring to pursue the business education that could empower and equip them to achieve their career objectives," said GMAC, CEO, Joy Jones.
The GMAC Application Trends Survey 2022 was conducted between July and September with application figures submitted by 950 programs of 264 business schools in 33 countries across the world. The 2022 study reflects the possible end to pandemic- disrupted years and indicates how the post-pandemic market may take shape hereafter.
---
Follow us for the latest education news on colleges and universities, admission, courses, exams, schools, research, NEP and education policies and more..
To get in touch, write to us at news@careers360.com.
More From Ishita Ranganath