Admissions on hold at Delhi Govt engineering college, students protest
Admissions on hold at Delhi Govt engineering college, students protest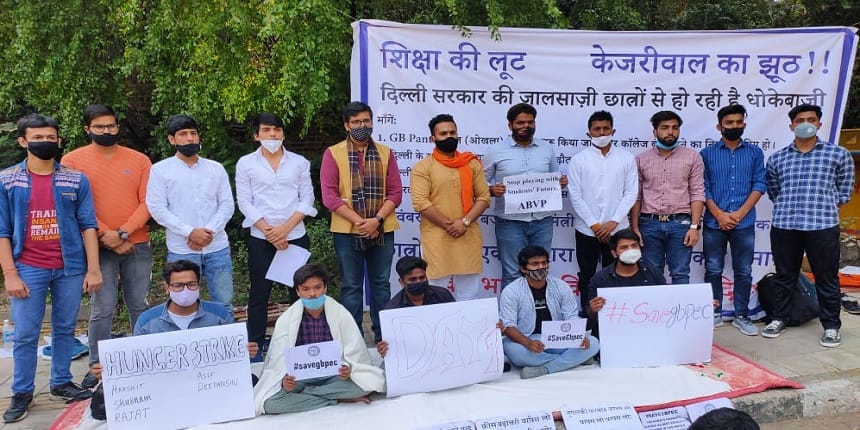 NEW DELHI: Around 150 students of GB Pant Government Engineering College in Delhi are sitting on dharna for the past two days outside Vikas Bhawan after the college was removed from Guru Gobind Singh Indraprastha University (GGSIPU) counselling list this year. The college is funded by the Delhi Government and is affiliated to IP University.
Students are concerned that the omission of the college from the counselling list implies that it is being shut down. This, argue third and final-year students,will impact their employment prospects after existing the course as companies would shy away from hiring from a campus which is shutting down. Delhi education minister Manish Sisodia on Monday said that the college will not enrol students this year, and will soon be a part of the upcoming Skill and Entrepreneurship University which will have better courses and infrastructure.
The students are alleging that they were promised an integrated campus in 2017 which was to be built at a cost of Rs 526 crores but now the government has changed its plans and decided to merge it with Netaji Subhas University of Technology (NSUT), or the yet-to-launch Skill and Entrepreneurship University. Tushar Gupta, a fifth semester student told Careers360: "The picture is still not clear about that and when we asked for some written proof they denied to give anything to us."
Stopped counselling
"The government decided to stop the counselling and admission procedure without any official notification, said Gupta. "Students have been sitting in front of Vikas Bhawan since 10 am on November 2. We gave a deadline of 24 hours to the government to resolve our issue but didn't get any positive response, hence, we have converted this into an indefinite hunger strike."
An IP University official, on condition of anonymity, confirmed to Careers360 that GBPEC is not among the list of affiliated colleges participating in counselling and admission for first-year BTech courses take place. As per reports, Delhi Government plans to invest the Rs 526 crore allocated to the college for construction of its new college building and also increase its intake, which is around 600 right now. The college offers BTech courses in computer science, mechanical engineering and electronics.
"If the college doesn't admit students this year, many students from poor families will not be able to pursue engineering in Delhi. This is the only college left in Delhi which teaches engineering at Rs 40,000 per year. All other government colleges charge more than Rs 1.5 lakh," Gupta said.
Engineering becoming expensive
The GB Pant Government Engineering College was established by the Delhi Government in 2007 to provide high-quality engineering education at a lower fee. Along with it, two other colleges were also established -- the Chaudhary Brahm Prakash Government Engineering College and Ambedkar Institute of Advanced Communication and Research. Both were merged into NSUT this year.
Another student, Nikil Kumar, said: "If this college closes, the foundation of our academic background will be destroyed and the placement scope of the present second year will drop to zero. All the technical or non-technical societies that were there to help us will get dissolved too. With other two getting merged into NSUT, ours is the only affordable college in Delhi. We are on hunger strike to get the college included in the counselling list of GGSIPU but have received no answers."
Students' demands
Of over 150 on protest, five are on hunger strike. Students demand that all the plans that have been shared with them informally should be put in writing. They are concerned that these plans are not feasible to execute in any case. "Even if they try, it will take years to merge GB Pant Government Engineering College with the skill university, hence admissions should not be stopped this year at any cost," they argued
Saurabh Rathore, a fourth-year mechanical engineering student, said: "We want our education minister and deputy CM to meet the students and personally assure them of a safe future. Everything the government has planned should be shared with the college administration and students. We are willing to accept the plan only if we get all the details for the conversion and developments in writing."
He added that they want the government to assure them that the three existing courses in GBPEC will continue. "Whether the college gets merged, redeveloped or anything else, the name of GB Pant Government Engineering College should remain as it is. The identity of college should not be harmed," Rathore said. The students told Careers360 that the college principal had denied knowing about the government's plans and had not been consulted. Careers360 attempted to independently verify this but the calls to the principal remained unanswered at the time of publication. If they do respond, this copy will be updated.
Also Read:
Write to us at news@careers360.com.