Against co-education, not women's education: Jamiat Ulema-e-Hind
Against co-education, not women's education: Jamiat Ulema-e-Hind
Jamiat Ulema-e-Hind claims that Muslim girls are being targeted with the temptation of abandoning their religion due to the co-education system.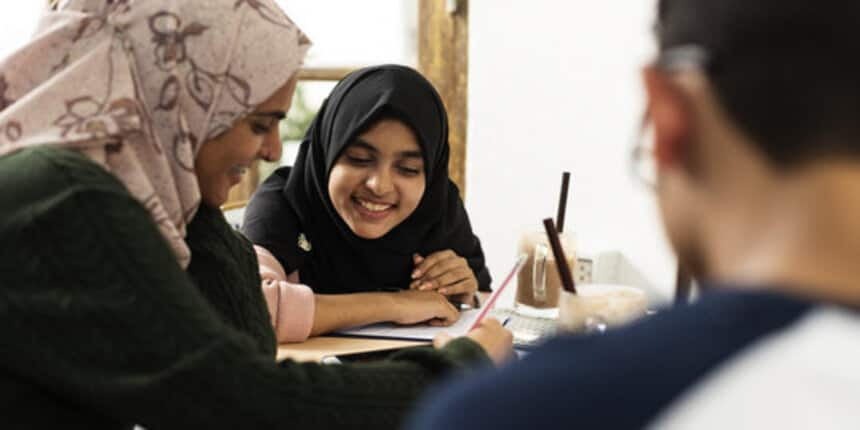 NEW DELHI: The Jamiat Ulema-e-Hind has claimed that Muslim girls are being targeted with the temptation of abandoning their religion due to the co-education system, while asserting that it is against co-education and not education for women.
The president of the prominent Muslim body, Maulana Arshad Madani, has also claimed that religious extremism is being encouraged in the country to divert people's attention from economic problems. "This game of dividing people on the basis of religious hatred and sectarianism will destroy the country. One cannot be led astray from the real issues for a long time. Instead of politics, if employment resources are not created, jobs are not given to educated youngsters, then the day is not far when these youngsters will be seen on the streets protesting," Madani said while addressing a meeting of the Jamiat's working committee on Sunday.
Also Read | Keep quiet or else...: A year after Hijab ban, Muslim students still face discrimination
Separate education institutions for Muslim girls

Claiming that the temptation of apostasy is spreading rapidly in the country, he alleged that it is aimed at Muslims in a planned manner, under which women and girls from the community are being "targeted". If immediate and effective measures are not taken to prevent this temptation, the situation may become explosive in the coming days, Madani said.
"This temptation is being strengthened due to the co-education system and that is why we are opposed to it. The media presented our point in a negative way and advertised that Maulana Madani is against education for girls. While we are against co-education, we are not against education for girls," he was quoted as saying in a statement issued by the Jamiat. "Whatever we can do, we have to do now for the welfare of the country and its educational development," Madani said.
Noting that the country is at a critical juncture, the Jamiat president said on one hand, Muslims are being entangled in various problems, while on the other, the channels for economic, social, political and educational development are being blocked for them.
Also Read | Child rights body asks states to conduct inquiry on government-funded madrassas admitting non-Muslim students
"If we have to defeat this conspiracy and achieve the zenith of success, we have to establish separate educational institutions for our boys and girls," he said. Madani said history is witness that education has been key to achieving progress in every age. "So we have to attract our children not only towards higher education, rather we have to encourage them for competitive exams by taking out the feeling of inferiority from them and this way, we can give a resounding answer to every conspiracy against us," he said.
In August 2021, the Jamiat had advocated setting up separate schools and colleges for women and girls and said non-Muslims should also refrain from opting for the co-education system for their daughters to "keep them away from immorality and misbehaviour".
At Sunday's meeting, an appeal was also made to all secular-minded people to unite and fight against the extremist and fascist forces at the political and social levels, instead of reacting emotionally. It called on people to make every effort to spread brotherhood, harmony, mutual tolerance and justice in the country.
"If the fascist parties and their supporters think that Muslims will become victims of their oppression and will be caught in the chains of their slavery and oppression in their own beloved country, then this is their vain hope," Madani said. "India is our country, we were born in this country.... Our forefathers have not only made this country strong and stable but have even sacrificed their lives for its protection and freedom. Therefore, we cannot tolerate injustice and discrimination against Muslims or any other group in the country," he said.
---
Follow us for the latest education news on colleges and universities, admission, courses, exams, schools, research, NEP and education policies and more..
To get in touch, write to us at news@careers360.com.
More From Press Trust of India