Despite sackings, anganwadi workers' protest against Delhi Government continues
Despite sackings, anganwadi workers' protest against Delhi Government continues
AAP government is cracking down on anganwadi workers demanding regularisation of jobs along with pension, health insurance, better wages.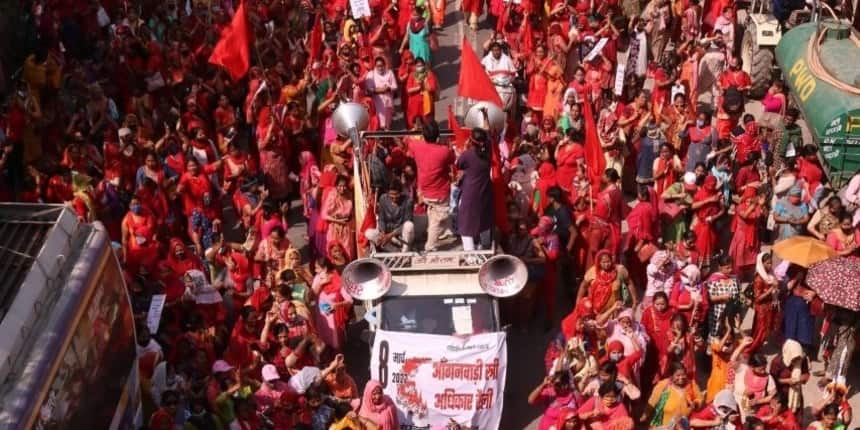 NEW DELHI: Bhagwati, 42, had just completed a decade as an anganwadi worker in Delhi when she was handed her termination notice, late evening on Sunday, March 6.
The sole breadwinner of the family with an unemployed husband and a child suffering from autism, Bhagwati is one of about 30 workers to be fired from their jobs at early childhood centres run by Delhi Government's department of women and child development. Her fault: she had been active in the protests against the government, demanding regularisation of their jobs and all the benefits it fetches, including better pay, pension and health insurance.
Thousands of anganwadi workers, led by the Delhi State Anganwadi Workers and Helpers Union, have been protesting since January 31.
Also Read| Uttarakhand Election 2022: Facing low pay, discrimination, mid-day meal cooks ask if their votes count
The Aam Aadmi Party (AAP) government in Delhi – its own leaders, veterans of many protests and sit-ins – has not taken kindly to the demands. As per a report by Asian News International, the minister of women and child development Rajendra Pal Gautam said that there are "some goonda elements" among the protestors and "further action will be taken against those who do not come to duty".
According to the union, around 2,000 workers received show-cause notices and over two dozen were fired. In protest, on International Women's Day 2022, thousands of anganwadi workers marched to the Delhi Secretariat in protest.
Anganwadi workers' demands
Tuesday's rally was a part of ongoing protests that started on January 31, demanding medical benefits, employee insurance and provident fund for the anganwadi workers and helpers. At present, they are not employees of the state but "volunteers" who are not paid salaries but "honoraria". Workers across states have been trying to have their status changed.
In Delhi, anganwadi workers and helpers had organised their first rally in September 2021 with a demand for regularisation. However, their movement was derailed by the COVID-19 pandemic.
"The first rally on the issue happened on September 4 and we had even met WCD minister Rajendra Pal who said that he will make sure our issue will be heard. We didn't hear anything for months. Then we held a small rally on January 6. At that time, the third wave of COVID was going on," said Vrishali Shruti, member of the Delhi State Anganwadi Workers and Helpers Union.
Anganwadi workers complained that their requests for a meeting with the minister of women and child development, Rajendra Pal Gautam, have been repeatedly rebuffed. It prompted them to call for an indefinite rally from January 31.
"We are asking for the government to give us pensions like in many states, that they give us medical benefits, Employee State Insurance (ESI) and Provident Fund (PF)," said Shruti.
Fight over wages
In February, Gautam had announced that the monthly wages for anganwadi workers were being raised from Rs 9,678 to Rs 12,720 and from Rs 4,839 to Rs 6,810 for anganwadi helpers from March 1.
That did not pacify the protesters.
"Actually, nothing has increased. In 2018, the central government said that wages for anganwadi workers will be increased. A year later, the Delhi Government said that their share of the ICDS scheme is being reduced since the central government has increased allocations. So, the wages they have promised should have been ours already," said Shruti.
Anganwadis are set up under the Integrated Child Development Services (ICDS), a central scheme that provides nutritional meals, preschool education, primary healthcare, immunisation, health check-up and referral services to children under six years old. The responsibility of funding for ICDS is shared by the states and the centre.
Anganwadi workers also alleged that the Delhi Government reduced their conveyance fee from Rs 500 to Rs 200 and the distribution of even that was erratic and stopped in the past year.
NEP and increased responsibility
Workers pointed out that with the National Education Policy (NEP) 2020, their responsibilities are likely to increase without a corresponding increase in benefits or remuneration.
According to the NEP 2020, "current Anganwadi workers/teachers will be trained through a systematic effort in accordance with the curricular framework". The policy also calls for training the anganwadi workers in early childhood care and education (ECCE) till "professionally qualified educators" are found.
"So far, pre-schooling at the anganwadis was informally done by us but after the NEP, it has been made formal. When there are already teachers for this job then why are they asking us to do this work for Rs 10,000?" asked Shruti.
Delhi Government payback
Neither the questions nor the protests have been received well by the Delhi Government.
"I was given show-cause notice on February 23 for which I had to reply by February 25," said Bhagwati. "I was accused of destroying anganwadi property when I had done no such thing. They also said that I was instigating other workers to join protests. But we all decided together that we will participate in this protest. Before one of the rallies, some members were reluctant to join and I had to convince them to join since we were there in protests from the beginning." Her termination notice came at 9:30 pm on Sunday. "I don't know what to do or what I can do," she said.
Following the thousands of show-cause notices and sackings, the union organised the rally demanding the government stop penalising protesters. "In this Hartal our main demands are that anganwadi workers should not be penalised or victimised for participating in protests. Delhi Government is sending show cause notices and terminations notices all around. Stopping the protest is an issue of their ego now," said Shruti.
Anganwadi workers also accused joint director Navlendra Singh of the women and child development department of calling the workers "lafanga" – ruffians – and encouraging the police to beat the workers. The workers demanded "strict action" against the officer.
Talking to the Indian Express, Singh defended himself by saying that he said nothing "wrong or objectionable" and that he still calls them "lafanga".
---
Follow us for the latest education news on colleges and universities, admission, courses, exams, schools, research, NEP and education policies and more..
To get in touch, write to us at news@careers360.com.