Ashoka University invites applications for Young India Fellowship 2020-2021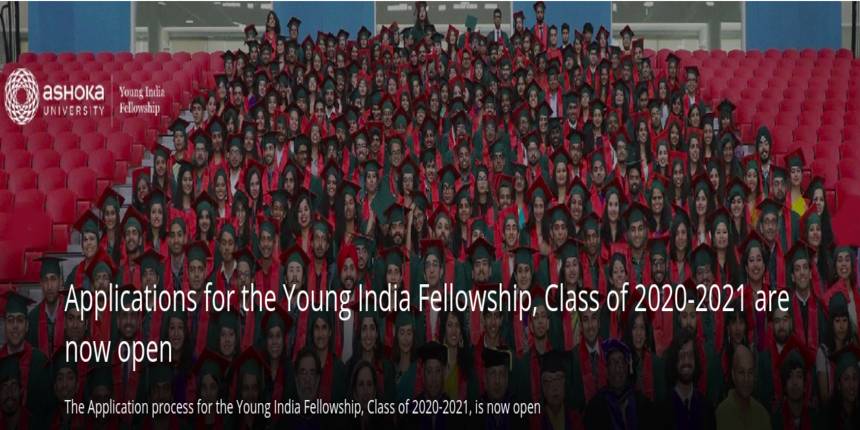 Compare Colleges
College Comparison based on Courses, Placement, Rank, Fee
New Delhi, August 30: Ashoka University is inviting applications for the Young India Fellowship (YIF), for admission to the class of 2020-21. The admission process for the YIF class 2020-21 at the Ashoka University has begun from August 20, 2019 and will close on March 31, 2020. The YIF is a one-year multidisciplinary postgraduate diploma programme in Liberal Studies will commence from July 15, 2020. The Fellowship brings together a group of bright young individuals who show exceptional intellectual ability and leadership potential from across the country, and trains them to become socially committed citizens of the country.
Admission process (Three rounds):
Round 1

Applications open on- 20th August, 2019

Last date to submit application- 17th November, 2019

Round 2

Applications open on- 18th November, 2019

Last date to submit application- 2nd February, 2020

Round 3

Applications open on- 3rd February, 2020

Last date to submit application- 31st March, 2020
YIF exposes them to a diverse set of subjects and perspectives, delivered by some of the finest teachers from India and around the world. The aim is to help fellows become well-rounded individuals who are able to think critically about issues from multiple perspectives, communicate effectively and go on to become self-aware leaders with a commitment to public service. YIF offers full and partial scholarships to successful applicants and there is no fee for applying to the programme.
Eligibility Criteria for YIF
The YIF programme is open to:
Those with a recognised undergraduate or postgraduate degree
The Fellowship promotes diversity and applicants from all areas of specialisation are encouraged to apply. While applicants who have been educated in a vernacular language as their medium of instruction are welcome, it is expected that they will be able to converse, read and write in English, since the medium of instruction at the programme is English.
For more details on YIF, visit https://www.ashoka.edu.in/YIF
Highlights of the YIF Programme:
1. Unique Curriculum: The Fellowship offers a broad range of learning through courses which build skills and multiple perspectives. Some of the areas of learning at the YIF include Sociology, Economics, Statistics, Physics, Philosophy, Psychology, Art, History, Literature, Business, Leadership, Group Dynamics, International Relations, Writing and Visual Communication.
2. Faculty: The courses are taught by accomplished and inspiring academics and practitioners from India and around the world. Some of our eminent instructors include Kenwyn Smith, Professor of Organisational Behaviour from The Wharton School, University of Pennsylvania; A.K. Shiva Kumar, Development Economist & Visiting Professor, Harvard University; Rudrangshu Mukherjee, Historian, Author & Chancellor, Ashoka University; Dwight Jaggard, Professor and Undergraduate Curriculum Chair, University of Pennsylvania; Dilip Simeon, Author, Historian, Founding Member of the Association of the Indian Labour Historians; Arun Kumar Singh, Former Indian Ambassador to United States and France; Narendera Jadhav, Indian Economist, Educationist, Public Policy Expert, Member of Rajya Sabha.
3. ELM: To complement coursework with real work experience, the Experiential Learning Module (ELM) is an integral part of the programme. The ELM includes an eight-month long part-time engagement with an organisation on live projects. Each project is taken up by a team of 5 Fellows and involves working closely with the organizations and individuals across a variety of domains. Besides giving a glimpse of real-world issues, the module is aimed at equipping the students with basic team-building and problem-solving skills. Some of the ELM projects undertaken have been with Microsoft, Cipla, Media for Change, Natural Justice, PRATHAM, Shri. Naveen Jindal's Office of Development, McKinsey Global Institute, Abbott India, India Innovation Centre, Samagra, MP Rajiv Gowda's Office, Government of NCT of Delhi, Accountability Initiative, UNFPA, MP Jayant Sinha's Office, Trivedi Centre for Political Data at Ashoka University, Evalueserve, FutureBrands, and LaUltra.
4. Critical Writing: Critical Writing, an integral part of the YIF, helps Fellows engage with the world of ideas and enables them to develop and express their own ideas in a lucid, engaging, ethical, and well-reasoned manner. These skills act as building blocks for the multi-disciplinary liberal arts education that they receive in the YIF, and help them navigate the academic, social, and professional worlds around them.
5. Guest Lectures: The Fellows attend guest lectures by global achievers and role models drawn from a range of sectors in the further pursuit of education through experience. Young India Fellows have been inspired by pre-eminent individuals like Dalai Lama, Madeleine K. Albright, Raghuram Rajan, Kaushik Basu, Ramachandra Guha, Nandan Nilekani, Pranoy Roy, Rajdeep Sardesai, Shashi Tharoor, Jairam Ramesh, Harsh Mander and Robert Swan, among others.
6. Peer Learning: The Young India Fellowship offers an invaluable opportunity for Fellows to forge relationships for the future. Typically, a YIF class comprises engineers, scientists, accountants, lawyers and designers, as well as those who have graduated with degrees in the social sciences and humanities. There are also those who come with some work experience. This multidisciplinary environment, coupled with the demographic diversity in each class, gives every Fellow a unique exposure to multiple perspectives. Through group activities and projects, Fellows are exposed to – and eventually learn and absorb – a wide range of skill-sets and interests from their peers. For many, this learning from others in their class is as invaluable as the more formal education they receive.
7. Need Based Scholarships: The YIF offers appropriate need based scholarship support (ranging from 25% to 100%) depending on the financial status of the student.
8. Centres: Ashoka University has developed research centres to encourage academic and research activities, as well as provide guidance to our student body in matters relating to campus life, in order to establish an exciting interdisciplinary and extra-curricular environment on campus. These include the Centre for Entrepreneurship, Ashoka Centre for Well-Being, Centre for Social Impact and Philanthropy, Centre for Writing and Communication, Trivedi Centre for Political Data, Centre for Social and Behaviour Change, Centre for Studies in Gender and Sexulaity.
9. Beyond YIF: Some Young India Fellows are studying at some of the world's leading universities like University of Oxford, Stanford University, Yale University, Kellog Business School, London School of Economics and Political Science, Sciences Po, Central European University, University of Michigan, Geneva Institute, Berlage Center for Advanced Studies in Architecture and Urban Design, Columbia University and the University of Chicago. Many alumni have been awarded prestigious scholarships like the Chevening, Commonwealth, Fulbright and Rhodes Scholarships. Many have been placed at top corporate houses like American Express, BCG, McKinsey, Microsoft, Schlumberger, Cipla, Ernst & Young, Genpact, Goldman Sachs, Business Standard, Deloitte, Axis Bank, Godrej, Airtel and Hidesign, etc. A couple of Fellows have also qualified for the UPSC examinations with all-India ranks under 50.
10. International Partners: Ashoka University has partnered with some of the top institutions across the world including the University of Pennsylvania, Carleton College, and University of Michigan, King's College London, University of California - Berkeley, Trinity College Dublin, Sciences Po, Yale University, Wellesley College and HEC Paris.
Stay updated with latest Education News
More From Team Careers360