'Astronomy just happened' to first woman to head Astronomical Society
'Astronomy just happened' to first woman to head Astronomical Society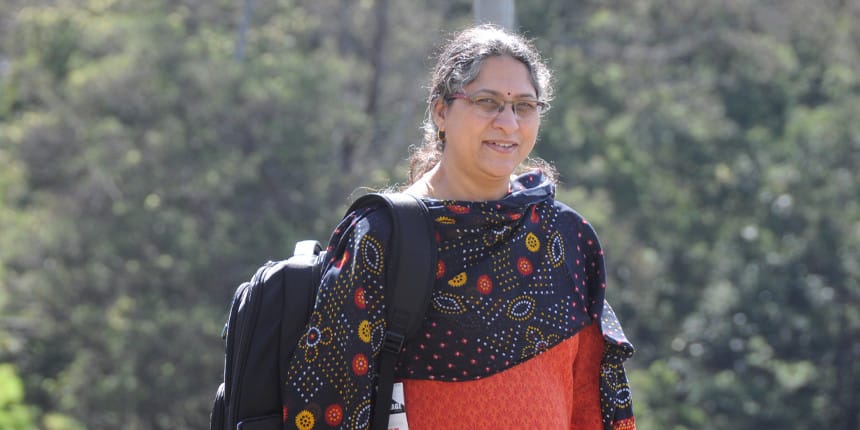 G C Anupama loved going to school, loved science and at age eight, she had decided she wanted to be a doctor. But as she grew older, it was physics that drew her. She joined the Indian Institute of Astrophysics, Bangalore, as a junior research fellow in 1983 and went on to dedicate her career to astronomy.
4 min read
Mar 05, 2022
Now a dean and senior professor at the same institution where she was a researcher, she became the first woman president of the Astronomical Society of India, a professional body for astronomers. Apart from her own determination, Anupama attributed her success to her family. She spoke to Careers360 about women in science and why the perception that physics and mathematics are not for women is "absurd".
Q. Astronomy is considered a male-dominated field. How did you enter it?
A. I would put it more like an accident. I was always interested in doing research and in science as a career right from the beginning. In my master's I chose physics and I knew I would continue in the same area. Astronomy just happened. I am glad it happened.
Q. Why was it an accident?
A. I say it was an accident because it is not that I always felt I needed to do something in astronomy or astrophysics. When Indian Institute of Astrophysics put out an advertisement for a JRF position I felt okay, this sounds interesting, let me apply for it and then I got selected. So, in that way, it's an accident as I had not planned that I should become an astronomer.
Q. Let us go back to your childhood, then. How was it?
A. I had a great childhood. I was born in Bengaluru but moved around. I did my schooling in three different places – Trichy, Bengaluru and Aurangabad. There is a story my parents keep repeating. When I had to be admitted in a school, I straight away joined Class 1. I did not go to kindergarten. I was about four-and-a-half years old. My father was speaking to the principal and I wanted to know from my dad, right then itself, what the principal was telling him. He said: "The principal says there is no room for you in the class." I wanted to know what that meant. My dad explained: "He says there is no table and chair." I had apparently said I would get my own table and chair upon which the principal said, "Okay, fine. We'll admit her."
Something I distinctly remember from the first few days of school is my classmates crying when their parents left them. I would wonder why they were crying about coming to school. It was so enjoyable being there! I was a good student and also a little pampered by my teachers.
Q. Did your parents play a major role in your decisions?
A. The decisions were all more or less taken by me. My family was very supportive. What my parents wanted from me and my sister was that we should do well in studies. Although there was no great pressure, the understanding was that in the class we should be amongst the top five, which anyway did happen. They were very encouraging, especially my mother was extremely encouraging. Immediately after my MSc in 1983, I joined IIA as a research student. And since then I have been in this field.
Q. Why are there such few women astronomers?
A. I think there are various reasons for that. There are societal issues and quite often, women who do take up science tend to go for the biological sciences for whatever reason. The perception may be that physics and maths are not for women, which is absurd. This, of course, has changed. Also, there are dropouts and by and large, for both women and men, the tendency is to go for professional courses. So, the number of people who come into [general] science has reduced. Plus, there are issues of girls getting married off almost immediately after they have completed their graduation and some immediately after their post-graduation. So, the people who come into research is dwindling.
Q. How did you handle the hurdles?
A. We do have to face hurdles and my attitude is that it all depends on the way you look at these things. Either you look at them as challenges and say, okay this is fine and I am going to get past these, or you can look at them as real hurdles and get stopped. I believe in the former and that is what I have done.
I had tremendous support from my family. My parents always encouraged me and after I got married, I got tremendous support from my family. Plus, in the IIA, people look up to you. I must say that this institute is very supportive of women.
When I first went to the observatory and I looked at the night sky – that was fantastic, it only made me glad that I wanted to become an observer,
an astronomer.
Q. What does research on a galaxy have to do with the common man?
A. At the surface level, it looks like a very specialized subject for the people who are interested in physics and all that but the understanding that we gain from the physical conditions of these objects will help us understand our own planet. For example, if you take the sun, it is the closest star and everything on the earth depends on the sun. For example, the communication that we have, now if the condition of the sun changes it can affect the communication on the earth because what happens on the sun will affect the upper atmosphere. The astronomers studying the sun are looking at these various phenomena. Today what they call the 'space weather' aspect of the solar astronomy is
very important.
Q. What is the scope for jobs in astronomy?
A. Right now, the employment opportunities will be in research, teaching, handling data and programming that also finds a place in the industry. For example, we use a lot of techniques in astronomical studies which are coming into the Artificial Intelligence range. Today, people are realising that astronomers are capable of handling large datasets. An astronomer also develops the skills for analysing Big Data.
Q. How do you spend your leisure time?
A. I just laze around (laughs). But yes, I love spending time with my family, with my parents and love reading. I love Indian classical music and Bollywood numbers from the 1960s and '70s.
We do have to face hurdles and my attitude is that it all depends on the way you look at these things. Either you look at them as challenges and say, okay this is fine and I am going to get past these, or you can look at them as real hurdles and get stopped. I believe in the former.
Write to us at news@careers360.com
More From Pritha Roy Choudhury